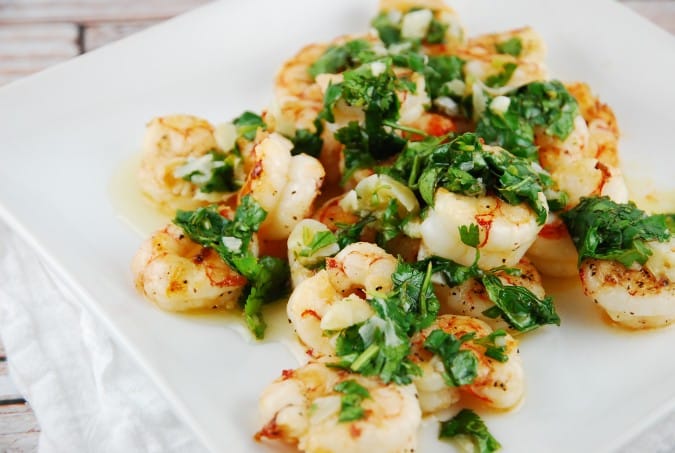 Summer is in full swing, and I'm all about healthy and delicious Weight Watchers Grilling Recipe that are quick and easy! This Roasted Garlic Cilantro Shrimp Recipe is just the ticket – it's so fresh and light, yet absolutely bursting with flavor. The roasting of the garlic adds such a wonderful, slightly sweet taste to the sauce, so make sure to NOT skip that step! It's a bit of extra work, but totally worth it. I also like to take the extra sauce and serve it on the side for dipping, or spoon it over some fresh Italian bread, then place face down on the grill – so incredibly good. For this recipe, I used my cast iron grill pan, but a regular outdoor grill works just as well. Enjoy!
Roasted Garlic Cilantro Shrimp
Tangy, sweet, and garlicky shrimp makes the perfect grilling recipe for summer. Pair it with some roasted vegetables and steamed brown rice for a complete meal.
Ingredients
2 lbs uncooked shrimp, peeled and de-veined
1 small head of garlic
1/2 cup fresh cilantro, finely chopped
1 tbsp honey
1 tbsp dried red pepper flakes
2 tbsp olive oil
Juice of 2 limes
Salt and pepper to taste
Instructions
Preheat oen to 400 degrees. Cut off the top of the head of garlic and mist with olive oil or a cooking spray. Roast in the oven for about 15 minutes until garlic is tender. Remove from oven and let cool for about 10 minutes. Chop finely.
In a small bowl, combine roasted garlic, cilantro, olive oil, lime juice, honey, and red pepper flakes.
Prepare grill or heat a cast iron grill or griddle over medium high heat. Mist the shrimp with an olive oil mister or cooking spray, and season with salt and pepper. Cook shrimp for about 3-4 minutes on each side, or until shrimp is pink, cooked through and slightly charred.
Remove from grill and immediately place in the bowl with the garlic cilantro. Toss well to coat a ll the shrimp.
Transfer to a serving platter and enjoy.
Preparation time: 10 minute(s)
Cooking time: 25 minute(s)
Diet type: Pescatarian
Diet tags: Low calorie, Reduced fat, Reduced carbohydrate, High protein, Gluten free
Number of servings (yield): 6
Culinary tradition: USA (General)
Calories: 242
Fat: 7.5g
Protein: 36g
Entire recipe makes 6 servings
Serving size is about 3/4 cup of shrimp
Each serving = 5 Smart Points/7 Points
PER SERVING: 242 calories; 7.5g fat; 1g saturated fat; 13g carbohydrates; 3.3g sugar; 36g protein; 0g fiber