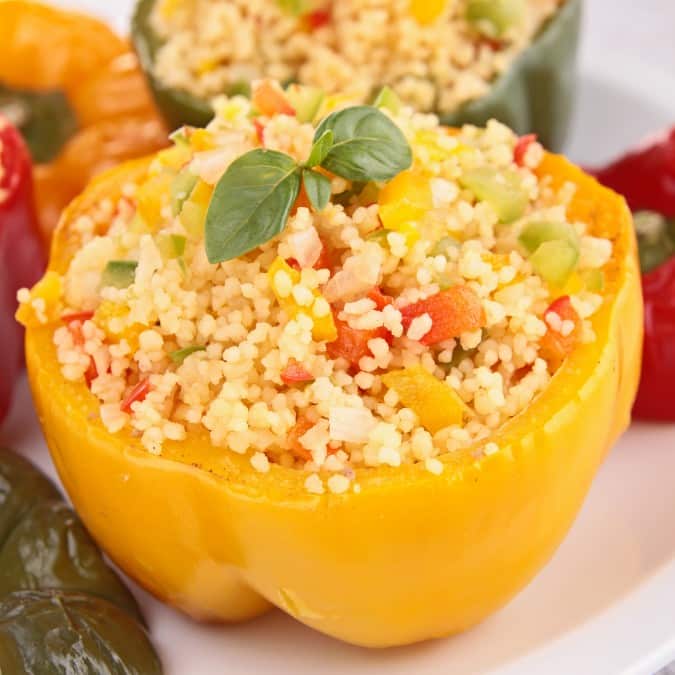 Stuffed peppers are something that I really enjoy, especially when I make them with pepper jack cheese. The spicy cheese adds a little spice and makes them delicious. The downside of my original stuffed pepper recipe is that it's not healthy, not with all the meat and cheese in it. So, I went about trying to make a healthier, vegetarian version of these peppers. Well, it's not exactly the same, but they're delicious all the same. I used couscous, since it's a light and fluffy way to fill these, and since my husband doesn't like quinoa. The lemon juice, olive oil and parsley provide additional flavor in these peppers. And once you've got them in the oven, you can take the time to finish the rest of dinner, not to mention the leftovers are perfect for lunch.

These easy and simple bell peppers are perfect for dinner. While they're baking, you have plenty of time to make a simple side salad. Leftovers are perfect for lunch the next day.
Ingredients
1/2 cup couscous, uncooked
1 cup water
6 whole bell peppers, any color
1 red bell pepper, diced
1 yellow bell pepper, diced
3 celery ribs, chopped
2 scallions, diced
2 Tbsp lemon juice
1 Tbsp olive oil
1/4 cup fresh parsley, chopped
Salt & pepper to taste
Instructions
Bring the water to a boil and add the couscous to the water. Cover and remove from the heat. Let the couscous sit for 20 minutes. Fluff with a fork and set aside.
Preheat the oven to 350 degrees F.
Meanwhile, slice the tops off the bell peppers and remove the seeds. Set aside.
In a bowl, combine the couscous, diced bell peppers, celery and scallions.
In a separate bowl, mix together the lemon juice, olive oil, parsley, salt and pepper. Whisk together.
Pour the dressing over the couscous mixture and toss to combine.
Evenly divide the couscous mixture into the bell peppers.
Place the peppers in a baking dish and add a 1/2 inch of water to the pan.
Bake the bell peppers for about 20 – 30 minutes, or until the peppers are tender.
Serve hot.
Preparation time: 20 minute(s)
Cooking time: 30 minute(s)
Diet type: Vegan
Diet tags: Low calorie, Reduced fat
Number of servings (yield): 6
Culinary tradition: USA (General)
Calories: 122
Fat: 3
Protein: 4
Entire recipe makes 6 servings
Serving size is about 1 bell pepper with filling
Each serving = 3 Smart Points/3 Points
PER SERVING: 122 calories; 2.7g fat; .4g saturated fat; 22g carbohydrates; .1g sugar; 4g protein; 4.3g fiber