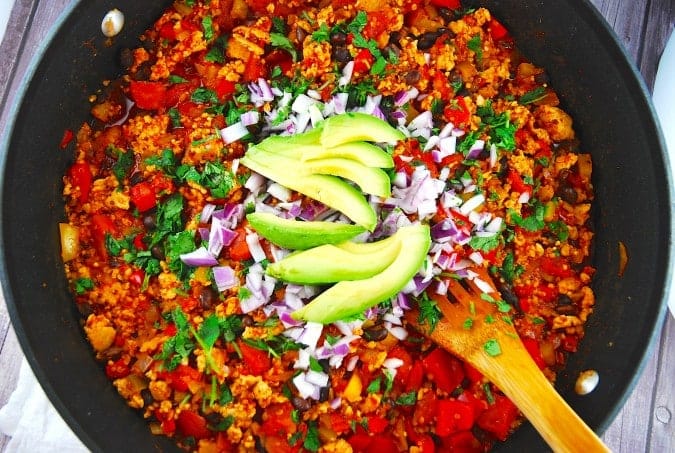 As much as I love cooking, there's nothing more I hate than doing the dishes and cleanup afterwards. Most of my cooking tools and pots and pans need to be hand washed, so depending on the complexity of my recipe, that can lead to a LOT of post-cooking work. Which is why I have become a huge fan of one-pan/pot meals – they are super easy to cook, and require a lot less cleanup. This One Pan Quinoa Taco Skillet Recipe has become a recent favorite in our home. Made with quinoa instead of rice and lean ground turkey instead of ground beef, it's a lot healthier and absolutely delicious. Top with shredded cheese, red onion, avocado, roasted corn, shredded lettuce – or whatever your taco-loving heart desires. Just make sure to count the extra Points you may incur. Enjoy!
One Pan Quinoa Taco Skillet
Easy, delicious and filling, you'll get the most out of your meal in just one pan with this dish. A simple recipe that's loaded with nutrition and flavor for just 7 Points.
Ingredients
1 lb lean ground turkey
1 cup quinoa (rinsed)
1 medium yellow onion, diced
1 tsp olive oil
2 bell pepper diced
4 cloves garlic, minced
1 15 oz can black beans, drained and rinsed
1 15 oz can diced tomatoes
1 4oz can diced green chiles
1 cup salsa
1/4 cup cilantro, chopped
2 cups fat free chicken stock
2 tsp cumin
1 – 2 tsp chili powder
1 tsp smoked paprika
Salt and pepper to taste
Instructions
Heat oil over medium high in a large, nonstick skillet. Add in ground turkey, season with salt and pepper, and cook until no longer pink.
Add in onions and garlic and cook until onion is soft, about 1-2 minutes.
Stir in diced tomatoes, chiles, bell peppers and black beans and cook for another 2 minutes.
Add in quinoa, chicken stock, and salsa and stir well to combine.
Mix in the spices, and add salt and pepper to taste. Cover and let simmer on low until quinoa is soft and liquid has all cooked off, about 15-20 minutes.
Top with fresh cilantro (and any other fixins' you may desire) and serve.
Preparation time: 10 minute(s)
Cooking time: 25 minute(s)
Diet tags: Low calorie, Reduced fat, High protein
Number of servings (yield): 6
Culinary tradition: Mexican
Calories: 303
Fat: 8g
Protein: 22g
Entire recipe makes 6 servings
Serving size is about 1 cup
Each serving = 8 Smart Points/7 Points
PER SERVING: 303 calories; 8g fat; 2.1g saturated fat; 36g carbohydrates; 5.3g sugar; 22g protein; 6g fiber