Have you heard of this new trend? It's called Crack Slaw. It's apparently a big deal and it's got such an interesting name that I just had to see what it was. It's pretty simple, actually.
Once I figured out what it was, I knew it would be an ideal low-calorie recipe. It's high in protein but low in sugar and carbs – so it's perfect. I did some research and came up with my own version – and it's amazing.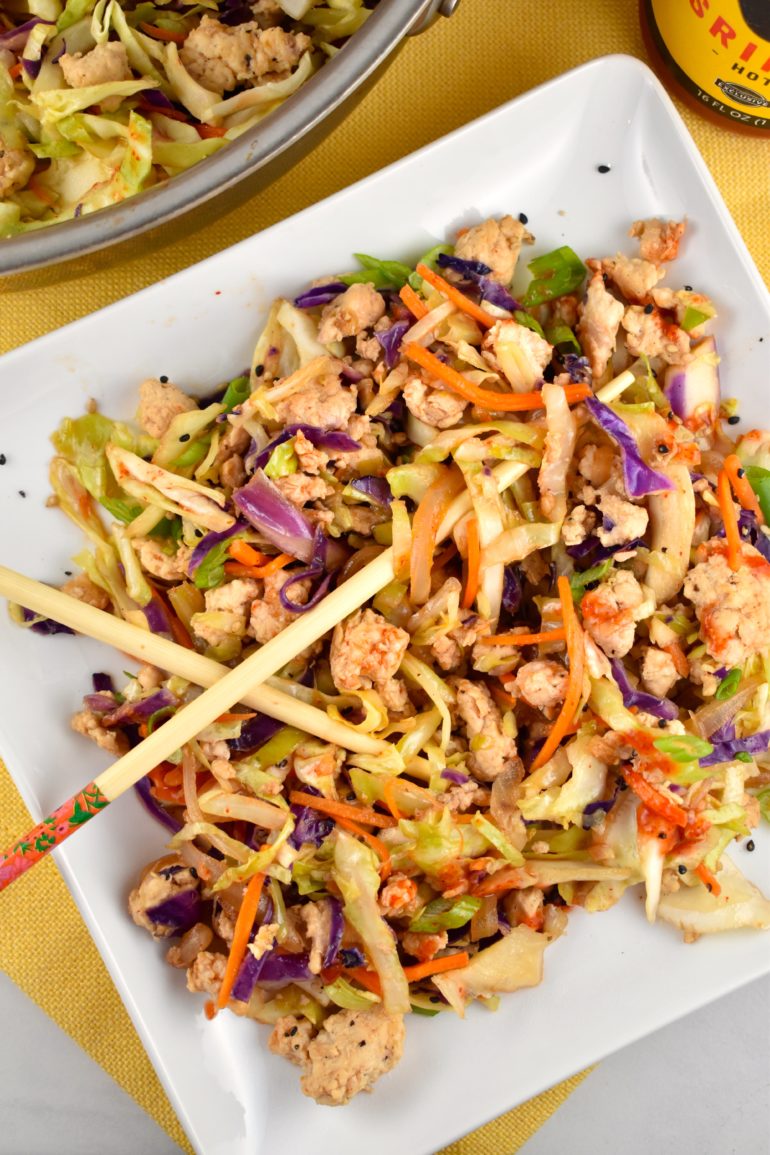 What is Crack Slaw?
It's a quick and easy stir-fry recipe made with shredded cabbage and ground beef. It earned the moniker "crack slaw" because it tastes so incredibly delicious that it's addictive. Just like crack.
The first thing that I did was to swap out the ground beef with ground chicken breast. It lowers the fat content and lowers the point content. You could use ground turkey breast if you happen to have that on hand.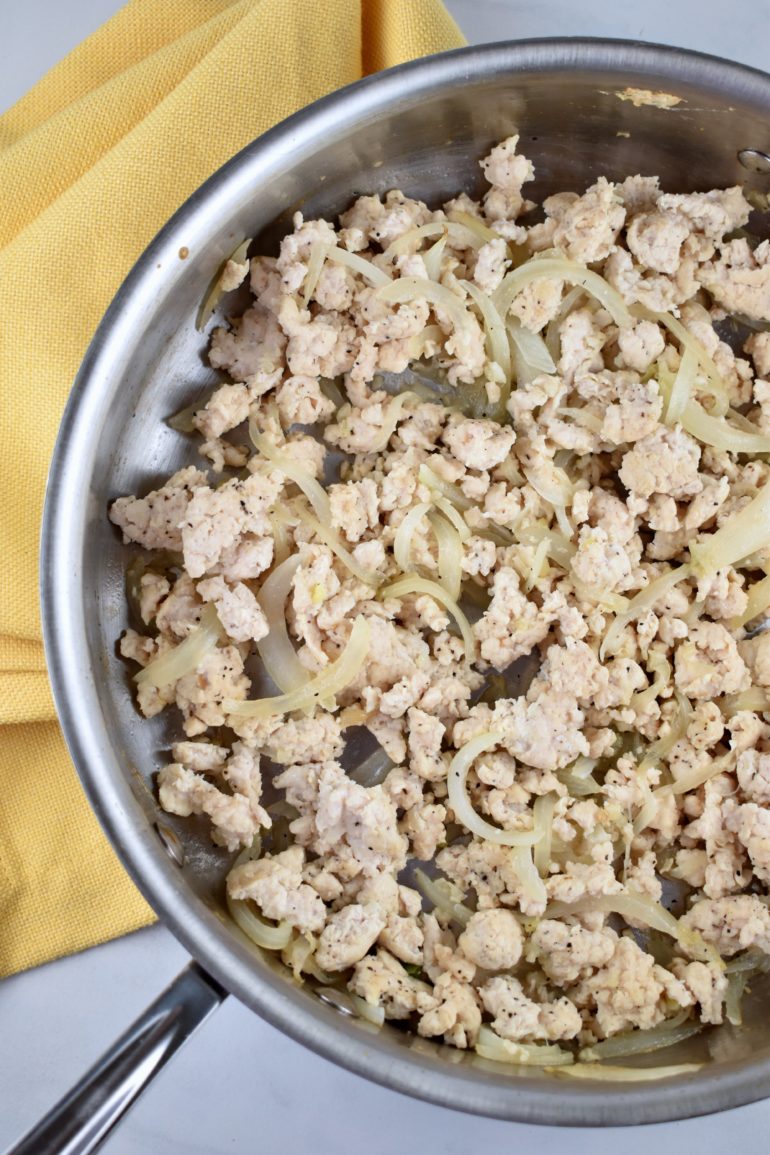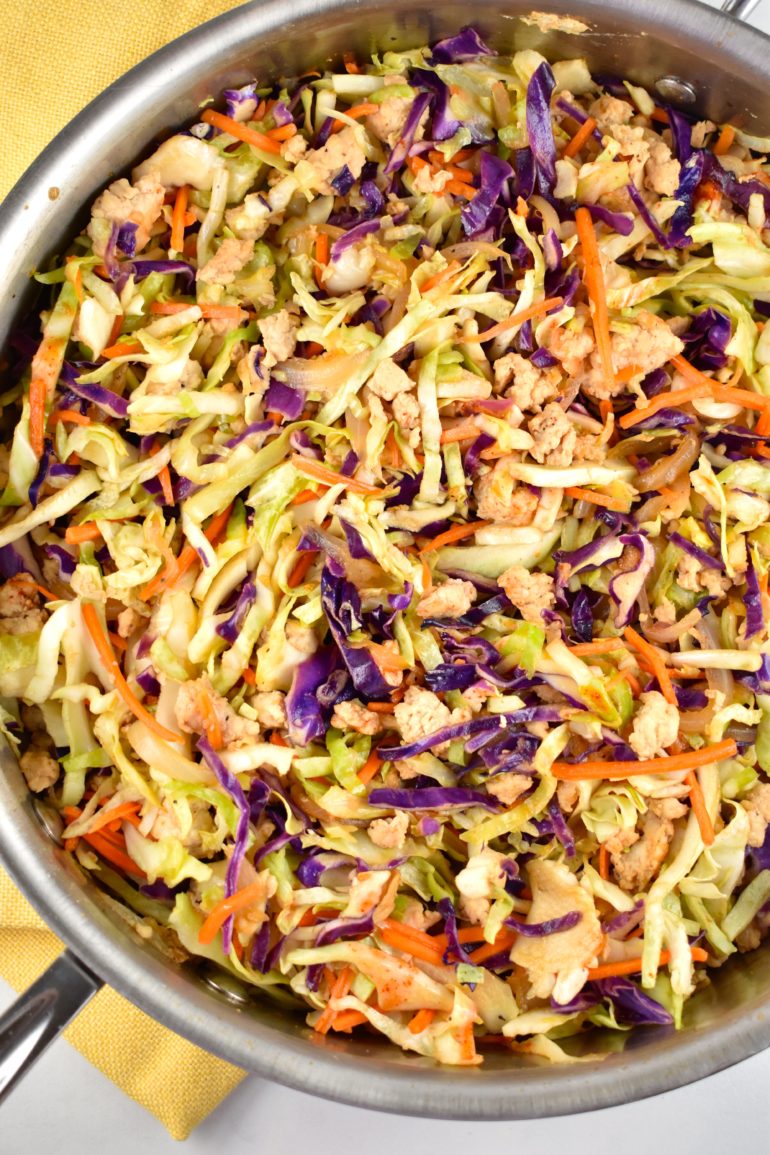 Your ground chicken doesn't have to be store-bought either. I'll often have leftover roast chicken that I can use in recipes like this. Just stick it in the food processor and pulse it until it's finely chopped and add it in. It's a great way to use up leftovers that you have on hand instead of buying special ingredients.
For this recipe, I used some packaged, shredded cabbage, because I'm all about making life in the kitchen faster and easier. But you could just as easily shred a head of cabbage yourself if you'd prefer. The cabbage adds fiber to the recipe and helped it stretch farther without adding extra ingredients or Points expense.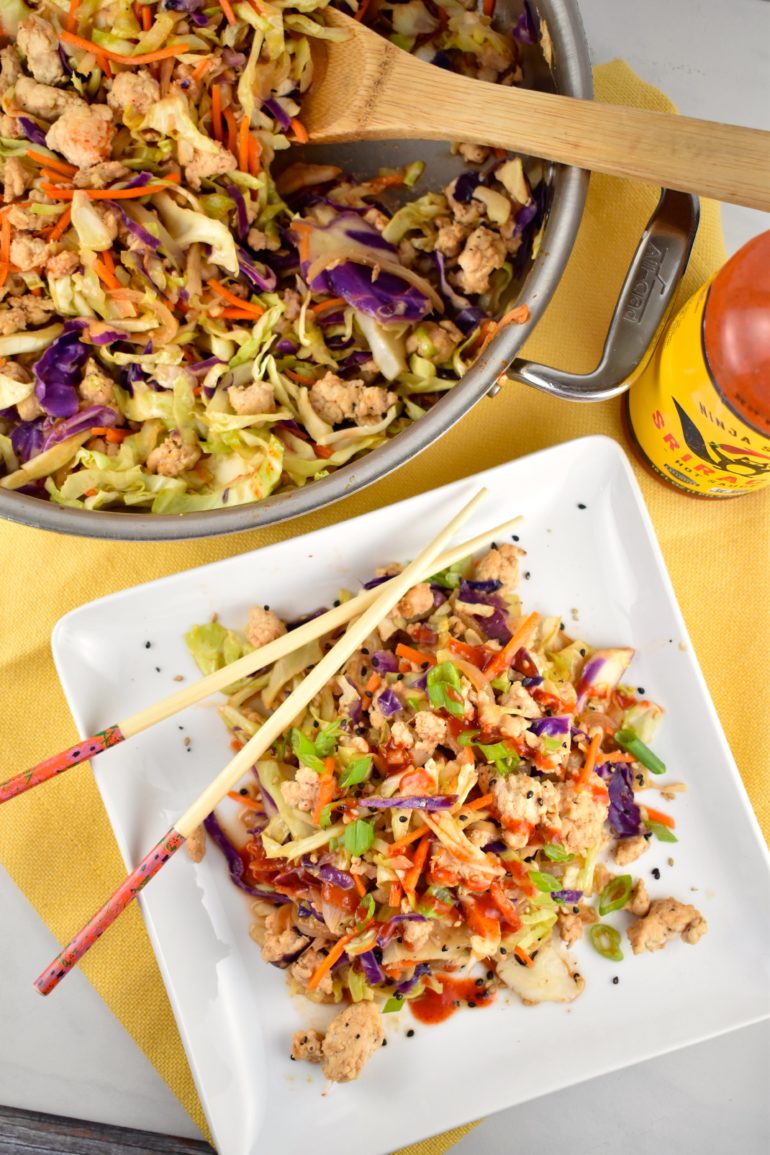 The onion, garlic and ginger are perfect to add the flavor and give it a more Asian flavor.
I've also made this recipe with a package of broccoli slaw, instead of cabbage, and I really like that version too! If you haven't tried broccoli slaw before, it's basically just shredded broccoli. It's got a brighter and bolder flavor than cabbage and packs some extra nutrition in there.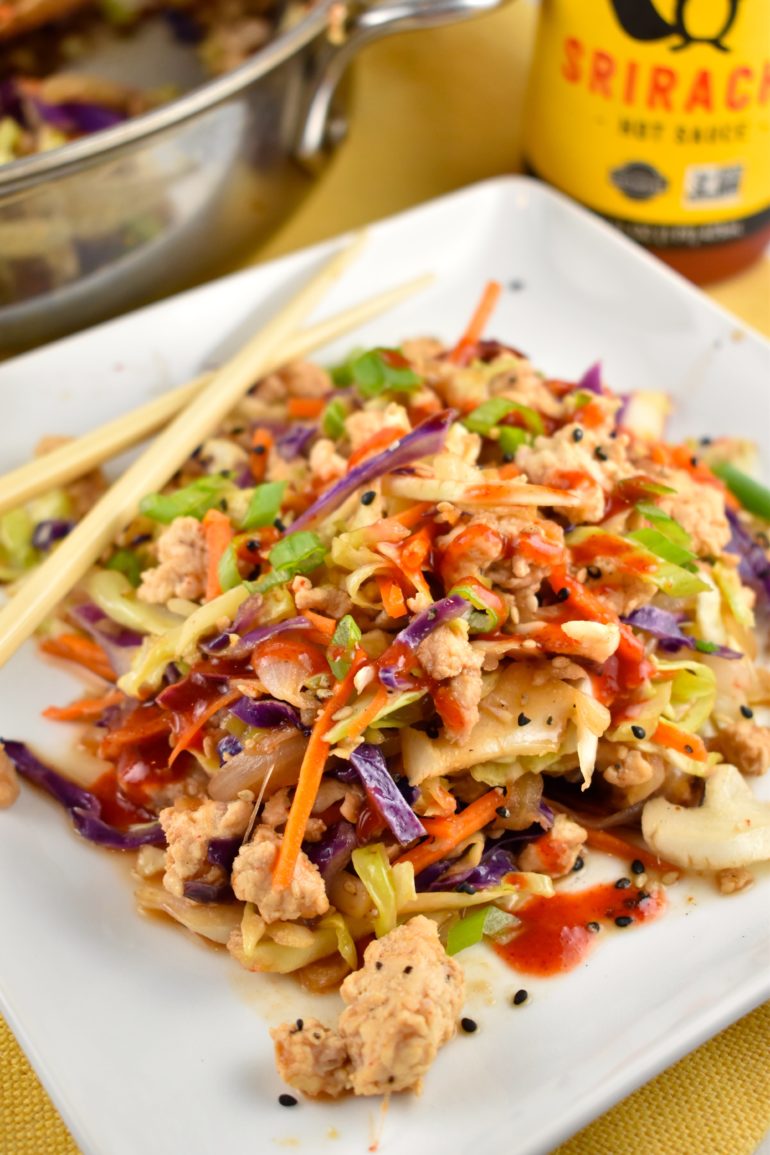 You can make your own broccoli slaw, but many grocery stores have broccoli slaw with bags of shredded cabbage, coleslaw, and lettuce. I use Trader Joe's Organic Broccoli Slaw. It's just shredded broccoli stems and carrots. It's organic and has great flavor and is packed with vitamins and minerals from that rich green broccoli.
The seasonings in this crack slaw recipe are simple but just make the whole dish come alive. I used a little olive oil to cook the onions, but then seasoned the whole dish with soy sauce, sesame oil, rice vinegar, and sriracha.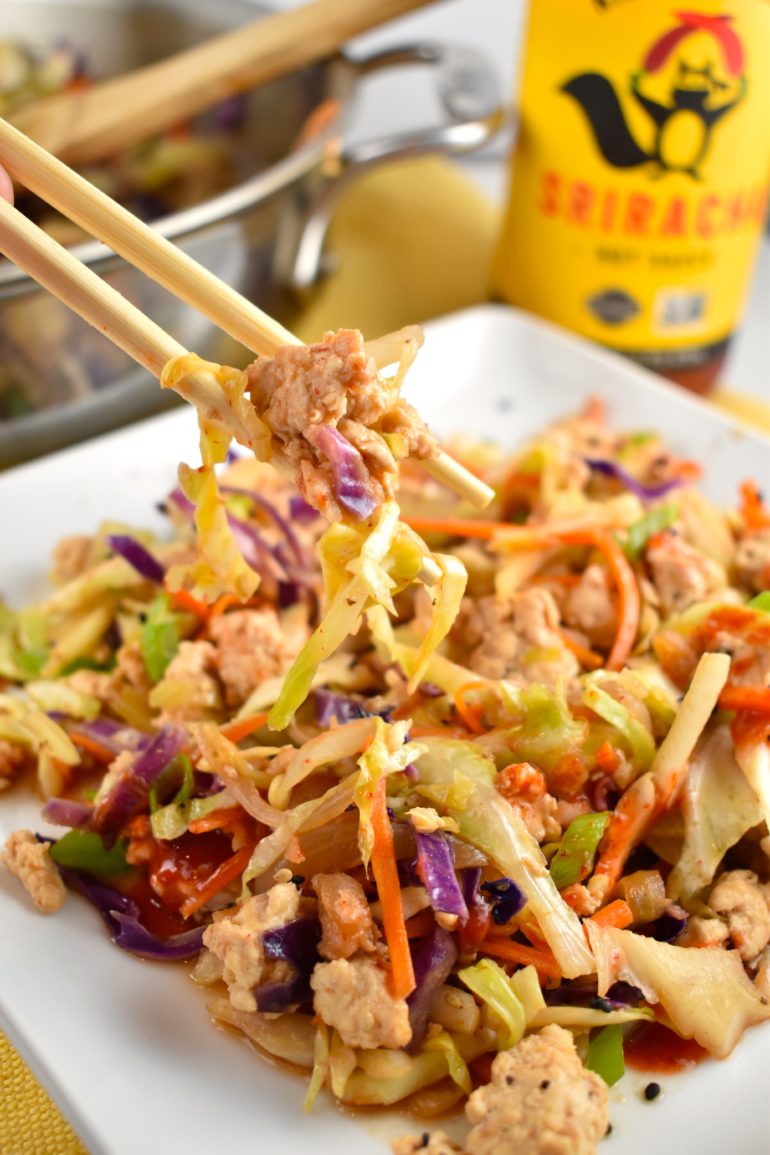 And, boy, was it amazing! The bold soy sauce and the tangy vinegar work perfectly together. The toasted sesame oil smooths out the flavor a little bit, and the sriracha adds that spicy kick that just puts it over the top.
Sriracha is a spicy pepper sauce you can find in the Asian section of just about every grocery store. My personal favorite brand is Ninja Squirrel Sriracha, which I buy at Whole Foods. It tastes exactly the same as the original sriracha, but it's cleaner, with no preservatives.
You can play with the heat of this Crack Slaw as well. If you like it hot, you can add some more, or just use a few drops if you like it milder. But I wouldn't recommend leaving it out entirely, since it adds that little extra spice that makes this amazing.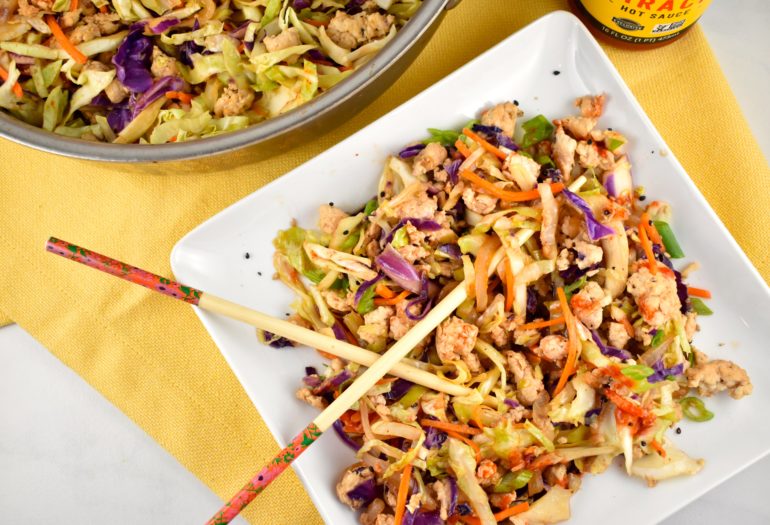 While I've used broccoli slaw and cabbage to make this dish, you can toss in any veggies you have on hand, and that's one of the best parts. You could do some bell pepper, snow peas, or mushrooms.
It's so simple and easy to put together, tastes amazing, and is really low in fat and calories. A perfect Weight Watchers meal for a busy night. And once you try it, this Crack Slaw recipe will easily become a staple meal.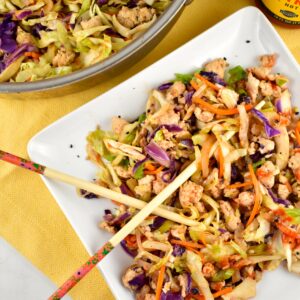 Crack Slaw Recipe
This low calorie, low carb, high protein recipe is all the rage these days. It's a simple chicken and veggie stir fry dish that is so good, it's addictive.
Ingredients
1

lb

ground chicken breast

16

oz

shredded cabbage

1

medium

onion

-

(finely chopped)

4

cloves of garlic

-

(minced)

½

tsp

fresh grated ginger

1

tbsp

olive oil

¼

cup

reduced sodium soy sauce

1

tsp

toasted sesame oil

1

tsp

rice vinegar

1

tsp

sriracha sauce

Salt and pepper to taste
Instructions
Heat olive oil over medium heat heat in a large skillet. Add in onions and saute until fragrant, 1-2 minutes. Add in chicken, garlic and ginger, and cook, while breaking up with a wooden spoon, until browned.

Remove chicken from skillet, and add in the cabbage. Cook until wilted and mostly tender, about 4-5 minutes.

Return the cooked chicken to the pan. Stir in sesame oil, soy sauce, vinegar, and sriracha. Season with salt and pepper and more sriracha as desired.
Nutrition
Serving:
1.5
cups
Calories:
235
kcal
(12%)
Carbohydrates:
15.4
g
(5%)
Protein:
32.9
g
(66%)
Fat:
6
g
(9%)
Saturated Fat:
0.7
g
(4%)
Cholesterol:
71
mg
(24%)
Sodium:
656
mg
(29%)
Potassium:
477
mg
(14%)
Fiber:
5.2
g
(22%)
Sugar:
6.1
g
(7%)
Calcium:
70
mg
(7%)
Iron:
1.4
mg
(8%)