I don't know about you, but I love pasta recipes. My kids love pasta and it's an easy and quick meal to do. Anything that's easy and everybody likes is one that gets made frequently in our house. Unfortunately, pasta is full of carbs and very high in Points.
However, recently, I bought a ton of zucchini, so I've been experimenting with Zoodles. And let me tell you, this is another amazing zoodles recipe. I just can't contain my excitement as I share these delicious recipes with you.
The other night, my kids requested spaghetti and meatballs. I made regular, whole wheat pasta for the kids, but I decided to use some of my zucchini and make zoodles for my husband and me.
You guys…it was SO good. I'll admit, I was definitely a bit skeptical about using zoodles in place of spaghetti. I've substituted for the pasta before with roasted spaghetti squash, but that can be a bit of a hassle. That, and the fact that I'm not a big fan of the flavor, means that I was game to try and find something I liked better.
This was definitely better. It was way easier and faster. Not only that, it had a better flavor. I will admit though, the key to really enjoying your meal with a noodle substitute is to make sure that your sauce is flavorful.
My sauce and chicken meatballs are amazing (if I do say so myself) and so you don't even really notice that you are eating zoodles instead of the classic pasta.
Zoodles are great. If you haven't gotten yourself a spiralizer, I highly recommend you do so ASAP. I recommend THIS one since it's got multiple blades and is so easy to use and clean up. There are some hand ones, but in my experience, they don't work as well to spiral slice things. This one does fabulous zoodles, but you can also spiral slice your cucumbers, or even your carrots.
If for some reason, you don't want to get a spiralizer and jump on the zoodles wagon, you could always try peeling your zucchini and making extra wide linguini noodles. Just take your vegetable peeler and peel long strips off your zucchini and lightly steam them. The disadvantage of that is that the texture won't quite be right.
When you make proper zoodles with a spiralizer, the texture that you get is much more like pasta than you might expect. If you cook your pasta according to the package directions and make it al dente, it's firm but still tender. Lightly cooking your zoodles results in a texture that is firm but still tender, and zucchini has a very mild flavor.
Trust me, once you try this Chicken Meatballs with Zoodles, you'll be saying goodbye to your high carb and high calorie pasta noodles.
The delicious and tender zoodles topped with juicy and flavorful chicken meatballs are absolutely mouthwatering. It's simple and easy to make – ready in about 30 minutes – so it's perfect for a weeknight dinner. The whole family will end up loving this lighter and healthier favorite.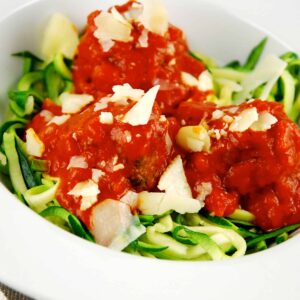 Chicken Meatballs and Zoodles Recipe
A much healthier and lighter version of spaghetti and meatballs, this tasty recipe will have you saying goodbye to high carb and high calorie pasta noodles forever!
Ingredients
4

medium

zucchini

-

(spiraled)

1

25oz jar

marinara sauce

-

(I used Trader Joe's Organic Tomato Basil Marinara)

1

lb

ground chicken breast

1

egg

2

tbsp

grated parmesan cheese

2

cloves of garlic

-

(minced)

2

tsp

dried basil

2

tsp

dried oregano

1

tsp

dried parsley

2

tbsp

whole wheat Panko

1

tsp

salt

½

tsp

pepper
Instructions
Preheat oven to 400 degrees and line a rimmed baking sheet with parchment paper.

In a large bowl, mix together all ingredients except for the zucchini and pasta sauce. Shape the ground meat mixture into 24 meatballs (about 1" each) and place on baking sheet. Bake in oven for about 15-18 minutes, or until meatballs are cooked through and browned on the outside.

In a large sauce pan, combine marinara sauce with the cooked meatballs, and simmer own low until sauce is heated through, about 3-5 minutes.

Meanwhile, wrap noodles completely with paper towels, and place in a large, microwave safe dish. Heat in microwave for about 2 minutes. The paper towels will help to absorb the extra water that the zucchini releases.

Divide noodles into 4 different serving bowls. Top each with with meatballs and pasta sauce. Sprinkle with a bit of extra grated parmesan cheese, if desired.
Notes
The entire recipe makes 4 servings
The serving size is about 6 meatballs with sauce and zoodles
Nutrition
Calories:
302
kcal
(15%)
Carbohydrates:
25
g
(8%)
Protein:
36
g
(72%)
Fat:
7.3
g
(11%)
Saturated Fat:
0.9
g
(6%)
Cholesterol:
114
mg
(38%)
Sodium:
1210
mg
(53%)
Potassium:
553
mg
(16%)
Fiber:
6.6
g
(28%)
Sugar:
8.5
g
(9%)
Calcium:
120
mg
(12%)
Iron:
4
mg
(22%)