Every time I cook salmon, I ask myself why I don't make it more often. It's an easy fish to work with, it's loaded with nutrients and heart healthy fats, and everyone in my family will eat it.
One of my favorite ways to prepare salmon when I'm in the mood for something simple and delicious is this fabulous Lemon Butter Seared Salmon. It's classic – with just a few simple ingredients, but it's a wonderful and healthy meal that can be ready to eat in just a few minutes.
In fact, it's so fast that from start to finish it's usually ready in just 15 minutes!
I tend to roast salmon since it's simple and healthy. Whenever I roast my meat, it frees up my attention so that I can finish the rest of the meal.
However, this Seared Salmon is an exception to that. I love the way that the pan frying gives this such a nice crispiness. The outer layer is perfectly crisp, and the inner meat is moist and delicious.
When you pan fry the meat, it doesn't take long for the meat to cook, but you usually have to marinate it or chop up veggies, or any manner of other prep work things that end up taking a long time before you finally have your meal ready to go.
Not with this one. You just have to season the salmon with salt and pepper, sauté garlic and sear the salmon. That's it. Man, do I love easy.
Another thing that I love about this recipe is the flavors. All the ingredients are simple things that I frequently have on hand, so it's easy to whip up this recipe.
But just because the ingredients are simple, the flavors they end up producing are anything but. Lemon and dill are perfect to pair with salmon. They give it a light and refreshing flavor that isn't overwhelmed by the fish and doesn't overwhelm the fish. There's just enough lemon and dill in this to perfectly compliment the rich salmon flavor.
The nice thing about salmon is that it's so easy to pair with, well, just about everything. I usually serve this with some roasted veggies and rice to make it a complete meal.
But salmon is so versatile! You can serve it with cauliflower rice, zoodles, roasted veggies, a salad, and just about anything that you want.
It doesn't always happen, but when I actually plan meals, I try to make sure that my meal is well thought out so that it goes together. I try to make sure that I've got a variety of colors, textures and flavors. This helps make the meal more appealing and helps to make sure that I've got a variety of nutrients as well.
Sure, sometimes I end up with tilapia, cauliflower and mashed potatoes, but usually not.
The beautiful color of salmon makes it perfect to pair with a variety of other bright and colorful side dishes. My Balsamic Garlic Roasted Green Beans and Mushrooms is one of the most popular on the site, and with good reason.
It's simple and easy, low in points and delicious. It's also got the bright green and tan of the mushrooms, so it adds a different color to your meal.
If that's not what sounds perfect to you, you can try the Zucchini Alfredo to go with your Lemon Butter Seared Salmon. The Zucchini Alfredo is delicious and a quick and easy side dish. You'll have a scrumptious meal ready to go in less than 30 minutes!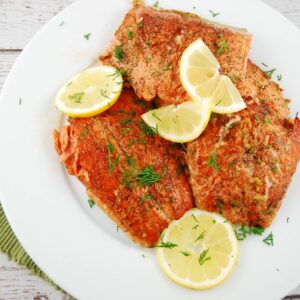 Lemon Butter Seared Salmon Recipe
Flaky, light, and delicious, this easy salmon recipe is a classic. Simple ingredients that work together to form fantastic flavors.
Ingredients
1

lb

salmon

-

cut into 4 fillets

2

tbsp

butter

Juice of 1/2 a lemon

3

cloves of garlic

-

minced

1

tsp

dried dill

Salt and pepper to taste
Instructions
Pat salmon dry with paper towels. Season with salt, pepper, and dried dill.

Melt butter over medium high heat in a medium sized skillet. Add in garlic, and sauce until fragrant, about 1 minute.

Place salmon skin side up in the pan and sear for 4 minutes. Flip salmon and cook for an additional 3-4 minutes until barely pink in the middle.

Squeeze fresh lemon juice over top of salmon, and sprinkle with fresh dill, if desired.
Notes
The entire recipe makes 4 servings
The serving size is 1 fillet
Nutrition
Calories:
208
kcal
(10%)
Carbohydrates:
1.9
g
(1%)
Protein:
22.3
g
(45%)
Fat:
12.8
g
(20%)
Saturated Fat:
4.7
g
(29%)
Cholesterol:
65
mg
(22%)
Sodium:
92
mg
(4%)
Potassium:
470
mg
(13%)
Fiber:
0.1
g
Sugar:
1.5
g
(2%)
Calcium:
40
mg
(4%)
Iron:
0.9
mg
(5%)