This cauliflower rice trend that's been going around has really been working for me! I'm amazed at how many places I can switch out a high calorie, flour based carb, for a much lighter and healthier vegetable instead. This Chicken Taco Bowl is no exception.
Because the meat and beans are so wonderfully seasoned, and the 0 Points toppings are also immensely flavorful, you can barely notice that the traditional Mexican rice has been replaced with some 0 Point riced cauliflower. Not only is it healthier, but it's just as delicious and filling.
I even mixed some of the cauliflower rice in with regular rice and gave it to my kids….they gobbled it right up. If you need a taco bowl fix, try this low calorie Chicken Taco Bowl recipe with Cauliflower Rice and save yourself some precious Smart Points!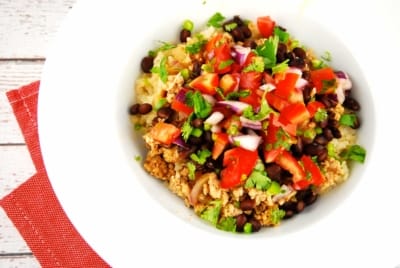 Chicken Taco Bowl with Cauliflower Rice
A filling taco bowl with a lot less calories! Subbing out the traditional rice with cauliflower rice helps gives this popular Mexican dish a big nutritional boost for less Smart Points.
Ingredients
1

lb

ground chicken breast

1

package

cauliflower rice

(or 1 medium head of cauliflower, riced with a food processor)

1

15oz can

black beans

drained and rinsed

1

tbsp

olive oil

4

cloves of garlic

minced

1

small

onion

finely chopped

1/4

cup

cilantro

finely chopped

2

tsp

chili powder

2

tsp

ground cumin

Juice of 1 small lime

Salt and pepper to taste
Instructions
Heat oil in a medium sized skillet over medium high heat. Add in onion and garlic, and sauté for 1-2 minutes.

Add in ground chicken, chili powder, cumin, and salt and pepper. Cook until meat is browned and no longer pink. Add in beans and cilantro, and cook until beans are heated, about 2 minutes. Squeeze in fresh lime juice, and stir. Transfer to a bowl, and set aside.

Return pan to heat, and mist with a bit of cooking spray. Add in the cauliflower, and use wooden spoon or rubber spatula to scrape the meat juices from the pan. Stir into the riced cauliflower and season with some additional salt and pepper.

Divide cauliflower evenly into 4 serving bowls. Top with meat and bean mixture. Cover with favorite toppings like pico de gallo, fresh onion, salsa, and jalapeños.
Recipe Notes
Entire recipe makes 4 servings
Serving size is 1 bowl
Each serving = 1 Point*
*based only on ingredients with an SP Freestyle value