I don't know about you, but I'm running out of steam. It's the last few weeks of the school year, and I'm done (so are the kids and the teachers!).
What that really means is that I need fast and easy weeknight dinners that are tasty, everyone likes, healthy and Weight Watchers friendly. No biggie.
And what's even better than all the above requirements? Something that doesn't make a lot of dishes! This One Pan Crispy Parmesan Chicken is absolutely delightful. You can have a home cooked meal without a lot of effort.
One pan meals are great. This one has the lean protein, chicken, in with the veggies. You just prep everything, pop it in the oven and go do whatever else you need to get done. I love the simplicity and convenience.
Chicken is a wonderful lean protein. Boneless, skinless chicken breast is a wonderful way to increase your protein intake without adding a lot of fat to your meal. I like to have chicken breast in the freezer, so I can have it on hand for quick and easy dinners like this.
For the veggies, I used zucchini and broccoli. I had them both on hand and everybody in my family likes them. They're easy to prep, taste good and cook at the same time and temperature as the chicken.
But when it comes to veggies, feel free to swap them out or add more. Carrots, mushrooms and tomatoes would all go well in this dish and add a pop of color as well.
To keep the calories, fat and point slow, I used just a little bit of olive oil and a little light butter. That provided the moist coating I needed on the chicken breasts.
Once they were coated, then I dipped them in the breadcrumbs and Parmesan mixture. Using whole wheat Panko breadcrumbs keeps the fiber high and helps to keep the points low.
I like to keep the spices simple when it comes to breaded dishes like this. A little garlic, parsley, oregano and basil and that's all this chicken needed to really shine.
Be sure to salt and pepper your chicken. I like to salt and pepper the chicken first, then prep my veggies. That way the salt has time to sit and begin to season the chicken and help get the juices going.
This chicken was absolutely amazing. I know I've said that before – but trust me, it's fabulous. The chicken was so incredibly juicy, and the Parmesan coating was perfectly seasoned with the flavors of Italy. A little of the leftover coating was perfect for the veggies. It seasoned them and used up the leftover breadcrumbs, so I didn't have to throw them away.
One Pan Crispy Parmesan Chicken was so delectable that my kids ate every last bite. We had a few leftovers, and my son even took them to school the next day for lunch! This meal is simple, easy, and delicious.
It's perfect for busy nights when you need a healthy and tasty meal but don't want to put a lot of effort into the prep or the cleanup. It's so good and easy to make, you will not regret adding this dish to your meal plan. Enjoy!!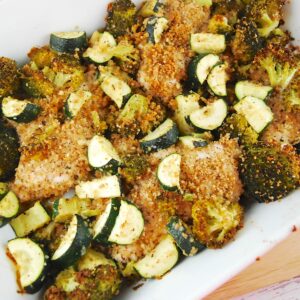 One Pan Crispy Parmesan Chicken Recipe
An easy dinner recipe that has the convenience of being prepared all in one pan. The tender, juicy chicken is coated with a delicious, crispy, parmesan and garlic coating.
Ingredients
1

lb

boneless skinless chicken breast

-

divided into 4 cutlets

2

medium

zucchini

-

chopped

2

cups

broccoli florets

2

tbsp

light butter

1

tsp

olive oil

¾

cup

whole wheat Panko breadcrumbs

½

cup

grated parmesan cheese

1

tsp

garlic powder

½

tsp

dried parsley

½

tsp

dried oregano

½

tsp

dried basil

Salt and pepper to taste
Instructions
Preheat oven to 375 and mist a 9 x 13 baking dish with cooking spray.

In a shallow dish, mix breadcrumbs with parmesan cheese, garlic powder, parsley, oregano, basil, and salt and pepper.

Melt butter, and brush over each side of 1 chicken cutlet. Then dip into the breadcrumb mixture. Coat both sides of chicken evenly. Place into baking dish. Repeat with remaining pieces of chicken.

In a large bowl, toss the chopped vegetables with the olive oil. Then add some salt and pepper, and the remaining breadcrumb mixture. Toss to coat all vegetables evenly. Add them into there pan around the chicken.

Bake for 30-40 minutes until chicken is cooked throughout and vegetables are tender.
Notes
The entire recipe makes 4 servings
The serving size is 1 piece of chicken with about 1 cup of vegetables