I won't keep you in suspense any longer. If you've never had Balela Salad – you need to try it. But if you've never had it, or heard of it, let me let you in on what it is. Balela is a Middle-Eastern garbanzo bean and black bean salad that is dressed with a tangy, herbed vinaigrette.
Balela is something that I typically make any time I need to cook for vegans or vegetarians. It's perfect since it's filled the beans and fresh produce. The dressing is simple but incredibly delicious – just a tangy vinaigrette that's seasoned with parsley and mint.
One of the great things about this salad is the beans. Beans are a great food. They're perfect to fill you up and help satisfy you, but also add a nice dose of protein into your day. Both garbanzo beans and black beans are rich in vitamins and minerals and are a great source of fiber.
Black beans are a great food for you if you're watching your carbohydrate intake or your blood sugar. Even though black beans are high in carbohydrates, most of the carbohydrates in black beans are in a form that isn't broken down by the body.
This means that it passes through the intestines without being broken down or absorbed, and since the starch isn't converted into simple sugars, blood insulin levels don't rise.
They aren't just as good as low glycemic food. Black beans are a great source of folate (important in prenatal health), fiber, vitamin B1, and iron.
Garbanzo beans are the other nutrient rich ingredient in this salad. Garbanzo beans are a great source of fiber, like black beans, and are a low glycemic food. They're a good source of folate, iron, and several minerals.
But this salad isn't just full of beans. It has bright, fresh, and ripe tomatoes. The tomatoes add beautiful color to the salad, but they also add a bright and summery taste. Tomatoes are full of lycopene, a type of antioxidant, as well as a great source of several vitamins – including vitamin C.
Herbed Vinaigrette. I am telling you, the dressing is the coup de grâce of this salad. Heart healthy olive oil and tangy apple cider vinegar create the perfect base for the vinaigrette. A little lemon juice adds a bright and refreshing citrus flavor.
Next up is the spicy flavor of the minced garlic. Topping off this amazing dressing is the fresh parsley and mint that add a bright and refreshing note to this salad.
You'll end up falling in love with this salad. I can't blame you. It's delicious and simple. With the convenience of canned beans, it's ready to go in 10 minutes – TEN MINUTES!!! You don't have to do anything fancy or whisk the dressing by itself. Just toss everything into a bowl, mix, and go!
This is such a versatile recipe. You can serve it as a side salad, top meat, or fish with it, or you can use it as a dip for crackers, bread, or pita chips. It's also great in a sandwich or a wrap. I'm telling you…a ton of things can be done with this recipe!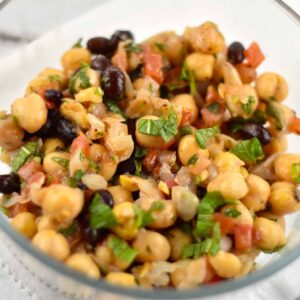 Vegan Balela Salad Recipe
A tasty and healthy dish that makes the perfect vegan side to any meal. Serve it as a salad or even as a dip for game day.
Ingredients
1

15 oz

can garbanzo beans

-

(drained and rinsed)

1

15 oz

can black beans

-

(drained and rinsed)

½

medium

white onion

-

(finely diced)

1

large

tomato

-

(finely diced)

¼

cup

parsley

-

(finely chopped)

¼

cup

fresh mint

-

(finely chopped)

2

tbsp

olive oil

1

tbsp

apple cider vinegar

1

tbsp

lemon juice

2

cloves of garlic

-

minced

Salt and pepper to taste
Instructions
Combine all ingredients together.
Notes
The entire recipe makes 6 servings
The serving size is about 1/2 cup
Nutrition
Calories:
208
kcal
(10%)
Carbohydrates:
27.8
g
(9%)
Protein:
9.5
g
(19%)
Fat:
6.2
g
(10%)
Saturated Fat:
0.9
g
(6%)
Sodium:
9
mg
Potassium:
448
mg
(13%)
Fiber:
9
g
(38%)
Sugar:
3.3
g
(4%)
Calcium:
40
mg
(4%)
Iron:
1.8
mg
(10%)