It doesn't matter what the weather is like, when I'm craving some rich and creamy comfort food, nothing else will do. It's been in the 90s this week, here in Orange Country, CA, but this creamy and comforting Chicken and Broccoli Noodle Casserole is the only thing that I've wanted to make.
Not even the heat wave can keep me from my comfort food.
And this week, my craving has been for a rich, decadent, and filling casserole. One that has it all – meat, veggies and carbs all rolled into one dish.
Sometimes, I just don't feel like going through all the work to prepare side dishes as well as the main dish. Well, and when everything is in one dish, there are far fewer dishes to clean up in the end.
Chicken is perfect in these dishes. It's a lean protein that's low in points and has a mild flavor that is the perfect backdrop for the dish without overwhelming any of the other flavors in the dish.
I used boneless, skinless chicken breast that I had cooked and shredded. It was easy and delicious. I've also made this with thighs, which is even better if you have an extra point or two to spare for the dark meat.
It's easy to roast or grill up a couple of chicken breasts to use in a recipe like this. However, often, I like to plan my meals ahead of time. It's the perfect time to make a dish like this a day or two after I have a roast chicken. The leftover chicken is perfect for meals like this and all the prep work is already done.
Roasting a chicken is very easy to do, but it's also easy to make one in the Instant Pot. My Instant Pot Rotisserie Chicken is fabulous!
Broccoli is something that my family will always eat. Especially when it's smothered in a creamy sauce and topped with bacon bits! It's high in vitamin K, vitamin C, and folate. It's also a great source of fiber. It's readily available year-round, but spring and early summer is the peak season for fresh broccoli.
If necessary, you can always use frozen broccoli, and it'll be nearly as tasty.
If broccoli isn't your thing, you can use whatever other vegetable you like. Zucchini, mushrooms, carrots, and peas would all work well in this instead of the broccoli. Or, you can use a combination of your favorite veggies (or what you happen to have on hand). It's so versatile and will end up delicious with your favorite veggies.
Don't skimp on the bacon and almond meal topping – it's what really makes this the ultimate comfort food! It's rich and delicious and the cream sauce with the mozzarella cheese makes it something that tastes and feels oh-so-good but won't use up all your points for the day.
What are No Yolk Noodles?
No Yolk Noodles are a brand of noodles that are made with egg whites instead of egg yolks. The company originally started back in 1922 after the Pucci family immigrated to the US from Italy.
The first cholesterol free noodle was developed in 1976 and is made with wheat flour, corn flour, and egg whites. They are a healthy version of your favorite egg noodle and cook up to be just as delicious in your favorite recipes. You can find these in most grocery stores.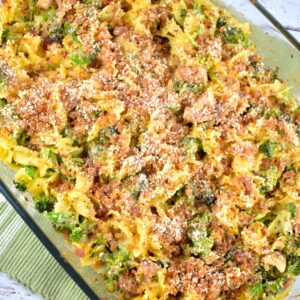 Chicken and Broccoli Noodle Casserole Recipe
Tender, juicy chicken and broccoli baked in a velvety cream sauce and topped with bacon bits and crisp almond meal. A simple casserole recipe that is sure to be a family favorite.
Ingredients
6

oz

No Yolk Noodles

-

(egg free egg noodles)

1

lb

boneless skinless chicken breast

-

(cooked and shredded)

12

oz

fresh broccoli florets

-

(chopped)

1

large

shallot

-

(finely chopped)

4

cloves of garlic

-

(minced)

2

tsp

olive oil

1

tbsp

butter

¼

cup

whole wheat flour

1

cup

fat free milk

½

cup

reduced fat mozzarella cheese

-

(shredded)

2

tbsp

almond meal

4

slices

lean turkey bacon

-

(cooked and finely chopped)

1

cup

fat free chicken broth

Salt and pepper to taste
Instructions
Cook noodles in water until al dente (mildly undercooked). Drain and transfer to a large bowl.

Heat oil in a large skillet over medium high heat. Add in the broccoli and garlic. Season with a bit of salt and pepper, and sauté until broccoli is slightly tender, about 2-3 minutes. Transfer to bowl with noodles.

Preheat oven to 400 and mist a baking dish with cooking spray.

Melt butter in a large sauce pan over medium high heat. Stir in shallot, and cook until tender, about 1-2 minutes. Turn heat down to medium low, and whisk in flour. Cook for another 1-2 minutes. Now turn heat up to medium and slowly whisk in the chicken broth until well combined. Then stir in the milk, and bring to a boil. Let simmer, whisking occasionally, until thickened - about 7-8 minutes. Remove pan from heat and stir in the cheese. Mix thoroughly, allowing the cheese to melt.

Add chicken and sauce to the large bowl with the noodles and broccoli. Pour entire mixture into prepared casserole dish. In a small bowl, mix together the almond meal and bacon bits, then sprinkle over the top of the casserole.

Place in oven and bake for about 20 minutes.
Nutrition
Serving:
1
cup
Calories:
312
kcal
(16%)
Carbohydrates:
31
g
(10%)
Protein:
33.5
g
(67%)
Fat:
10
g
(15%)
Saturated Fat:
2.7
g
(17%)
Cholesterol:
98
mg
(33%)
Sodium:
329
mg
(14%)
Potassium:
528
mg
(15%)
Fiber:
2.8
g
(12%)
Sugar:
3.7
g
(4%)
Calcium:
100
mg
(10%)
Iron:
2.5
mg
(14%)