There are always those vegetables that fill you with trepidation. They're the ones that if they're cooked right are delicious and amazing, but if not, well, there's always the garbage can. Cabbage is one of those vegetables. It's usually overcooked, bland, and doesn't win any prizes for its looks either.
Don't get me wrong, cabbage can be good. When you fry it up with onions and apples in bacon grease, it's pretty good. Not healthy, but good. Well, luckily for you, I've got a cabbage recipe that is both good and healthy. This Garlic Roasted Cabbage Wedges recipe is amazing.
Often, it seems like vegetables are cooked by steaming or boiling them. This might be in a pot or in the microwave. While for some veggies that works fine, for others, it just means that you end up with a mass of unappealing and tasteless fiber.
The solution to this, I've found, is roasting the vegetables. Quite often, when I roast veggies, it seems like it brings out the natural, smoky sweetness. It gives a depth of flavor to the vegetable that you don't get when you steam or sauté the vegetable.
And that's definitely true for this delicious Garlic Roasted Cabbage Wedges recipe.
I am absolutely in love with this recipe. The lemon and garlic infused olive oil that is brushed on the cabbage gives it the flavor that makes this whole dish stand out.
Simply roasting the cabbage would be one thing, but it's a whole other thing when you drizzle on the olive oil that's been flavored with lemon juice and garlic.
Garlic gives this cabbage a spicy flavor that adds so much to the dish. It takes the cabbage from just ordinary and makes it something that's delicious. The light, citrusy flavor of the lemon juice adds a bright note to the flavor.
Make sure to add a generous sprinkle of salt to really help the flavors blend together well and bring out the best of the lemon, garlic, and cabbage.
Cutting the cabbage into wedges means that this is not only a quick and easy recipe to prep, but it is also one that looks beautiful. It's so easy to serve, everyone can just grab a wedge, and garnishing the wedges with fresh parsley is the perfect way to set them off.
While I usually use this as a delicious side dish, it's the perfect way to add veggies and class to a dinner party or a potluck.
Cabbage is more than just a great side dish for your meal. Cabbage is a pretty good source of fiber and is also a good source of vitamins and minerals.
Not only that, but cabbage is one of the most economical veggies per cooked cup. It's got lots of nutrition, but it's a great buy. What better way to feed your family than something that is delicious, healthy, and inexpensive?
This Garlic Roasted Cabbage Wedges recipe is something that you'll find yourself making repeatedly. It's delicious, simple, and packed with flavor and nutrients. Plus, it's low in points, so it's got everything you need!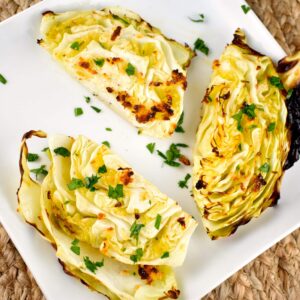 Garlic Roasted Cabbage Wedges Recipe
Tender roasted cabbage with a heavenly garlic oil topping makes for an easy and healthy side dish that is so good, you may forget about the main course!
Ingredients
1

large

head of green cabbage

-

(cut into 8 wedges)

2 ½

tbsp

olive oil

5

cloves of garlic

-

(minced)

1

tbsp

lemon juice

¼

cup

parsley

-

(finely chopped)

Salt and pepper to taste
Instructions
Preheat oven to 425 degrees, and line a baking sheet with parchment paper.

In a small bowl, combine the olive oil, garlic and lemon juice. Lay cabbage wedges on prepared baking sheet, and brush both sides evenly with the garlic mixture. Season with salt and pepper as desired.

Roast in oven for 30 minutes, flipping once halfway through. Garnish with fresh parsley before serving.
Notes
The entire recipe makes 8 servings
The serving size is 1 cabbage wedge
Nutrition
Calories:
45
kcal
(2%)
Carbohydrates:
1.4
g
Protein:
0.3
g
(1%)
Fat:
4.4
g
(7%)
Saturated Fat:
0.7
g
(4%)
Sodium:
4
mg
Potassium:
20
mg
(1%)
Fiber:
0.5
g
(2%)
Sugar:
0.5
g
(1%)
Calcium:
10
mg
(1%)
Iron:
0.2
mg
(1%)