The big day is almost here! I'm talking about Super Bowl Sunday. And as much as I love football, one of the best parts about this event (besides the commercials) is the incredible array of delicious foods set out for you to feast upon during this 4 hour program.
Of course, all the Super Bowl snacks can definitely create a danger zone if you are counting Points. So, if I'm hosting, I make sure that about 90% of my snack table is food that is diet-friendly, but of course, still mouth-wateringly delicious. The remaining 10% is for splurges. Though, my secret to this is to make that 10% food that I don't like so that I won't be tempted to eat them.
If you plan on preparing some tasty dishes for the big game this year, you came to the right food blog this week! I'll be posting some new and delicious Weight Watchers Super Bowl Recipes that are quick, easy and brimming with flavor. I'm starting the week off with my copycat Chipotle Barbacoa recipe, prepared in the Instant Pot.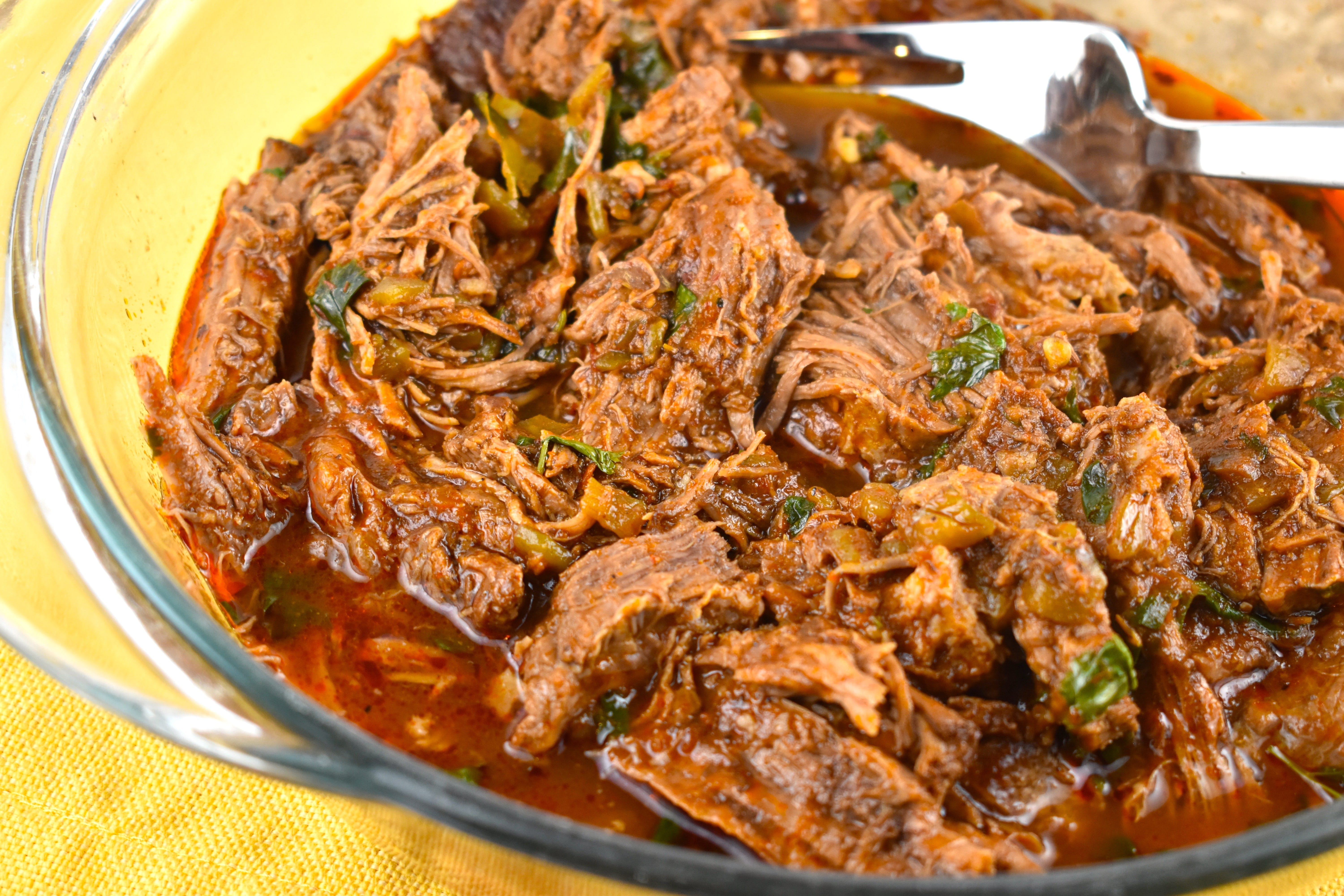 Chipotle is one of my go-to restaurants whenever I need to pick up something fast and light for dinner or lunch. Because it's so easy to customize my meal there, it's not hard to put together a delicious, yet low Points dish. Their Beef Barbacoa is the perfect topping for a salad, so I decided to see if I could whip up my own version of it at home.
As many of you know, cooking beef can take a long time. It's got to be tender, so there's no way around a super long cook time to get the result of juicy, succulent beef. Or is there? Instant Pot to the rescue! The amazing pressure cooking ability of the Instant Pot allows me to get my beef cooked in about 80% less time than if I slow roasted it in an oven or slow cooker. And it's still just as moist and luscious as you'd want it to be.
This beef barbacoa recipe starts with a big, beautiful cut of beef, which is seasoned and seared right in the Instant Pot, and then smothered with a mouth-watering, aromatic blend of smoky chipotles in adobo sauce, Mexican spices, beer, and fresh garlic and herbs. It takes just about 65 minutes to cook under high pressure to result in fall-apart tender, melt in your mouth meat that is going to be the star of your burrito, salad, tacos, nachos, quesadillas, or whatever you want to put it on or in.
I made this Instant Pot barbacoa for dinner last week, and the whole family was over the moon for it. I ate it over a salad, my kids had it atop rice, and my husband rolled his up in a burrito. One dish – three different dinners. Boom.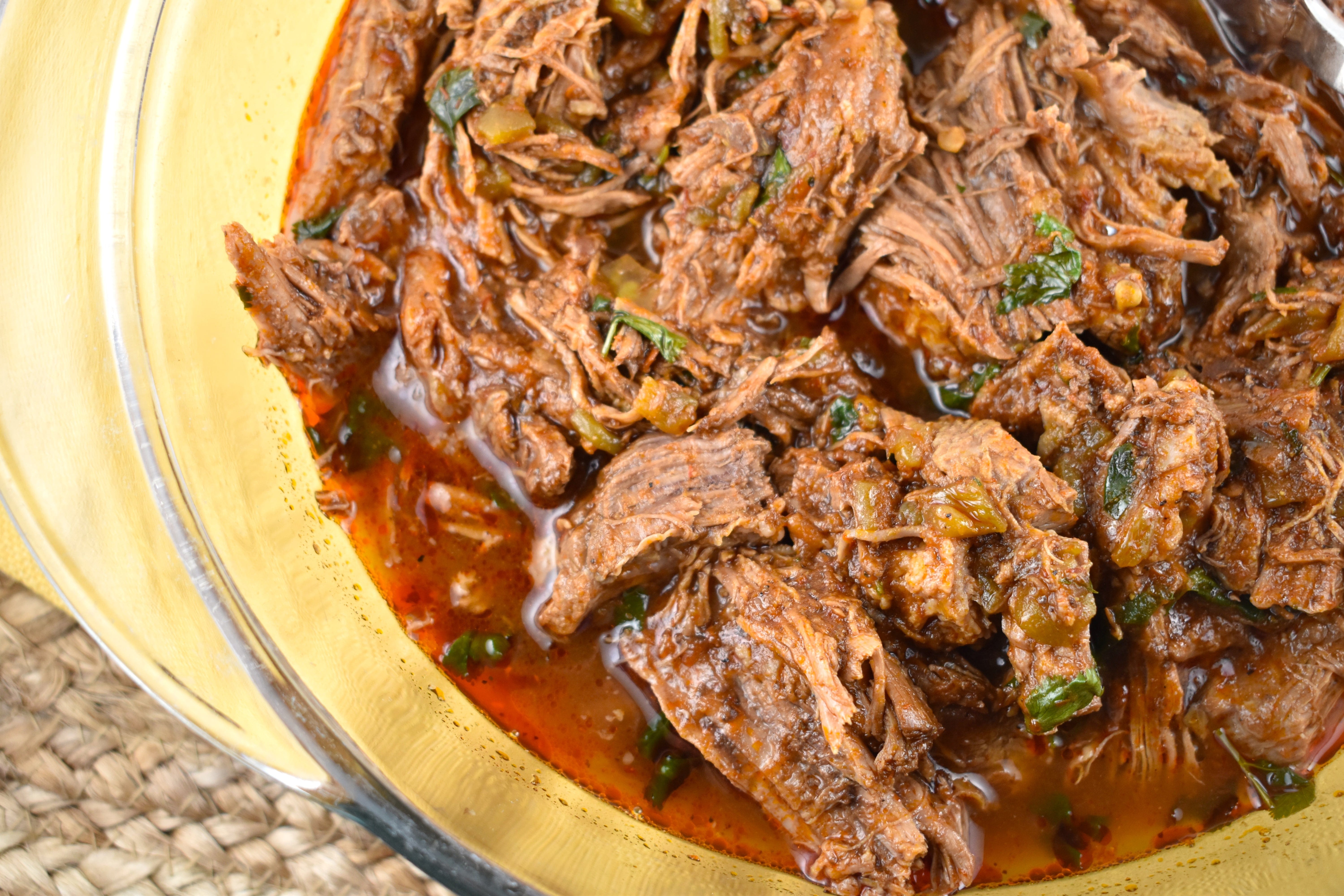 I love the idea of serving this up on Super Bowl Sunday because you can give your guests a few options on how to eat it. Set it out with some tortilla chips, taco shells, a bowl of fresh salad greens and a nice array of toppings, and you're gonna have a lot of happy party goers (even if their team is losing)!
Before you go running to pull out your Instant Pot and get this recipe going…I have a few quick notes. Firstly, chipotles pack a lot of heat and flavor, and a little can go a long way. But in a dish like this, where you have a big hunk of meat to season, you don't need to be too cautious with it. But if you are really worried about the spice, 1 chipotle and a tablespoon of the sauce should be enough to give you the flavor without all the heat. Secondly, if you're not into beer, no worries…just sub it out with some beef broth instead. Easy peasy.
But no matter how you plan to serve up this easy barbacoa recipe, you are going to flip over how incredible it is. I might even dare to say it's better than Chipotle's (gasp!). Now go grab your Instant Pot and get to gettin', because this recipe is a GOOD one!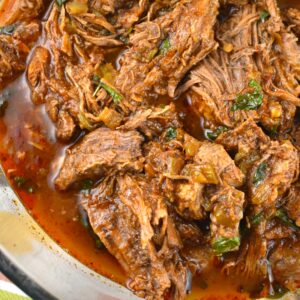 Instant Pot Beef Barbacoa Recipe
Get tender, juicy, beef barbacoa cooked fast and furiously in your Instant Pot. Smoky chipotles in adobo sauce, Mexican spices, and fresh herbs deliver the most heavenly shredded beef!
Ingredients
3

lbs

boneless beef

-

(round or bottom roast, lean, all fat trimmed)

1

small

onion

-

(roughly chopped)

6

cloves of garlic

2 - 4

chipotle peppers in adobo sauce

1

cup

Mexican beer

1

tbsp

tomato paste

1

tbsp

ground cumin

2

tsp

chili powder

2

tsp

dried oregano

2

bay leaves

½

tsp

ground cloves

½

cup

cilantro

-

(chopped)

1

tsp

olive oil

Juice from 1 lime

Salt and pepper to taste
Instructions
In a blender, combine onion, garlic, chipotles in adobo sauce, tomato paste, lime juice, beer, cumin, chili powder, cloves, oregano, and ¼ cup of the cilantro. Puree until smooth.

Cut the beef into cubes and season generously with salt and pepper.

Turn your Instant Pot to the saute setting. When hot, add in the oil and brown the meat on all sides (in batches, if necessary).

Pour in the sauce from the blender and the bay leaves, making sure to cover all the meat. Lock on the lid and cook on high pressure for 65 minutes. Allow to naturally release for about 10-15 minutes.

Discard the bay leaves, and transfer the beef to a dish. Shred with two forks and top with some of the sauce from the pan. Garnish with remaining cilantro.
Notes
The entire recipe makes 10 servings
The serving size is about 3/4 cup shredded beef
Nutrition
Calories:
306
kcal
(15%)
Carbohydrates:
3.4
g
(1%)
Protein:
36.4
g
(73%)
Fat:
14
g
(22%)
Saturated Fat:
4.5
g
(28%)
Cholesterol:
83
mg
(28%)
Sodium:
200
mg
(9%)
Potassium:
481
mg
(14%)
Fiber:
1.2
g
(5%)
Sugar:
0.5
g
(1%)
Calcium:
20
mg
(2%)
Iron:
5
mg
(28%)