Also known as Jewish Penicillin, Matzo Ball Soup is an age-old comfort recipe that never goes out of style. There are about a million recipes for it, and every chef/food blogger/Jewish grandmother has their own special technique or tip. Everyone has their own best matzo ball soup recipe.
Some recipes are fast and easy, and some are complicated with many different steps and ingredients. And the sheer volume of these options can be overwhelming and intimidating. Admittedly, I make my matzo ball soup in many different ways, depending on time, resources, and mood. And depending on what flavor or texture I'm going for. But today I wanted to share a super simple, uncomplicated version that just about anyone can throw together quickly and easily, without any previous matzo ball making experience or Jewish genes.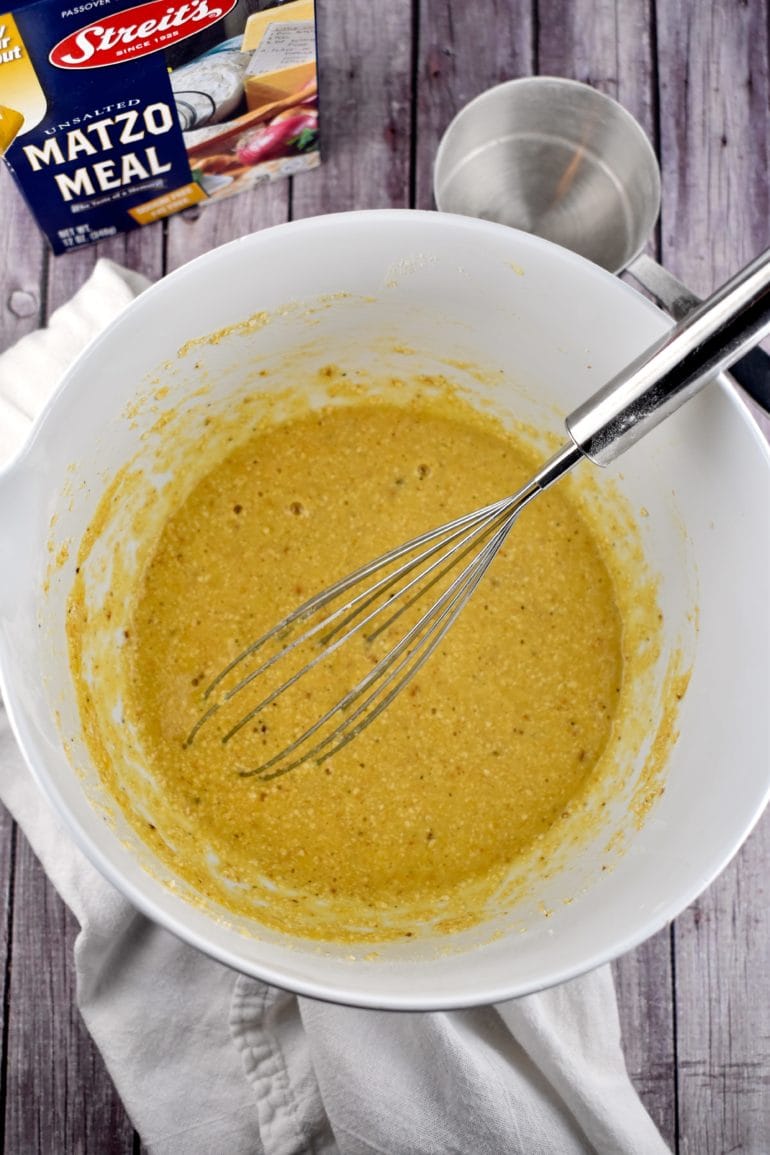 HOW TO MAKE THE BEST MATZO BALLS
This is probably the most common question people seem to have about making matzo ball soup. Some people like the light, fluffy "floaters" matzo balls, and others prefer the denser "sinkers". There's no right or wrong here, but the important thing to remember is that your preference not only influences the texture of the matzo balls but the flavor.
Dense matzo balls end up tasting more like the matzo meal or dough. The lighter matzo balls are able to absorb more of the broth, so they end up tasting more like the broth. The lighter the matzo balls are, the more they will taste like broth, and less like the matzo meal.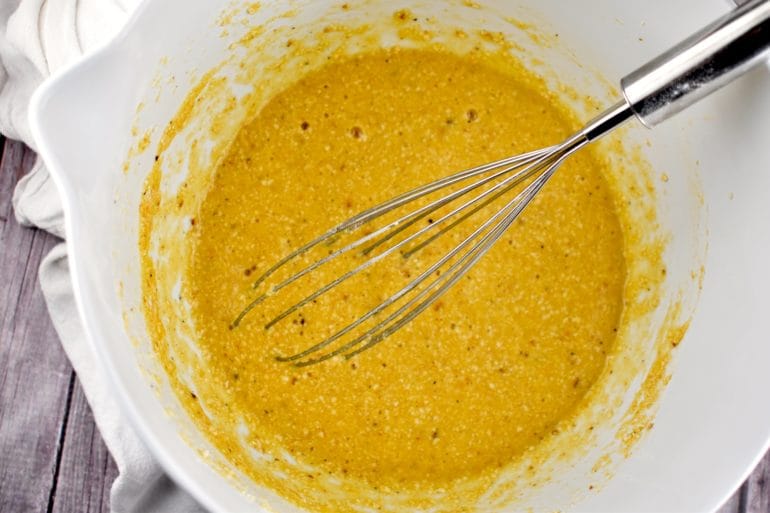 The basic steps to remember when deciding whether to make the sinkers or the floaters are the following:
For dense matzo balls, don't use club soda or baking soda. Just use plain old water.
For light and fluffy matzo balls, use both club soda AND baking soda, or use more baking powder – about 1 tsp per cup of matzo meal.
For a more middle ground matzo ball, use the club soda instead of water, or cut down the amount of baking soda used to ¼ tsp.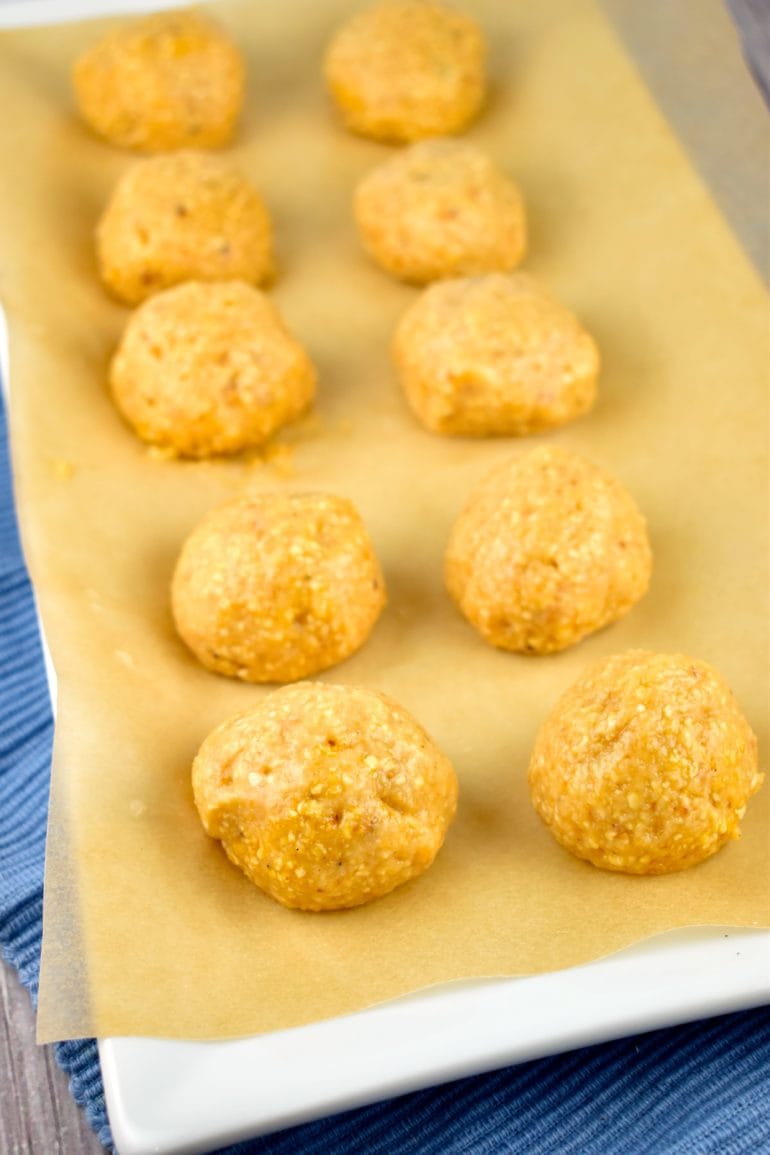 Now that you've got your matzo ball process down, let's talk about the soup itself. This easy recipe that I'm sharing calls for a cooked chicken breast. If you really want to make matzo ball soup, but don't have any cooked chicken on hand, you can roast the chicken breasts yourself beforehand. I actually prefer to do this, because I love the flavor that the freshly cooked chicken offers. But again, if you are looking fast and easy, pre-cooked chicken breast is the way.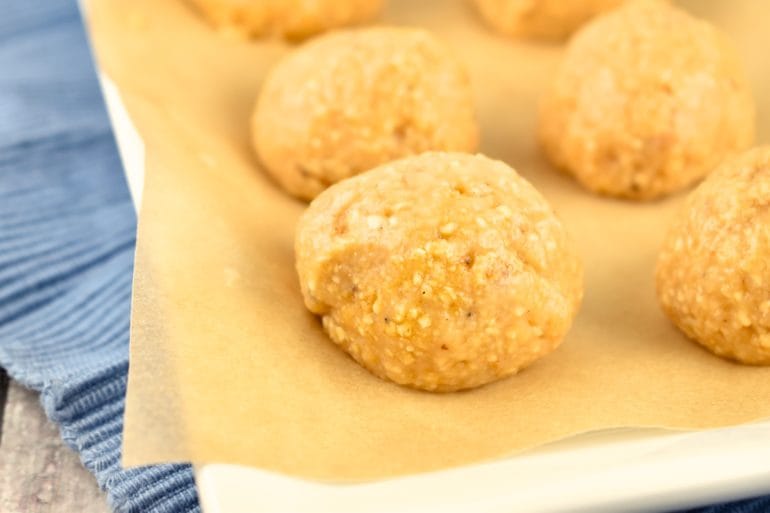 HOW TO ROAST CHICKEN BREAST
Just some olive oil and a few herbs and spices from your pantry are all you need to achieve delicious, tender, oven roasted chicken breasts that are perfect for using in recipes that require cooked chicken, or enjoying as is!
Preheat oven to 400. Mist a glass baking dish with cooking spray. Rub olive oil over both sides of the chicken breast. Season generously with salt, pepper, garlic powder, and parsley.
Roast, uncovered for about 20 minutes or so, or until the centers are no longer pink.
Let chicken cool 5-10 minutes before using.
PRO TIP: Pour any of the drippings from the baking dish into the soup for a boost of extra flavor!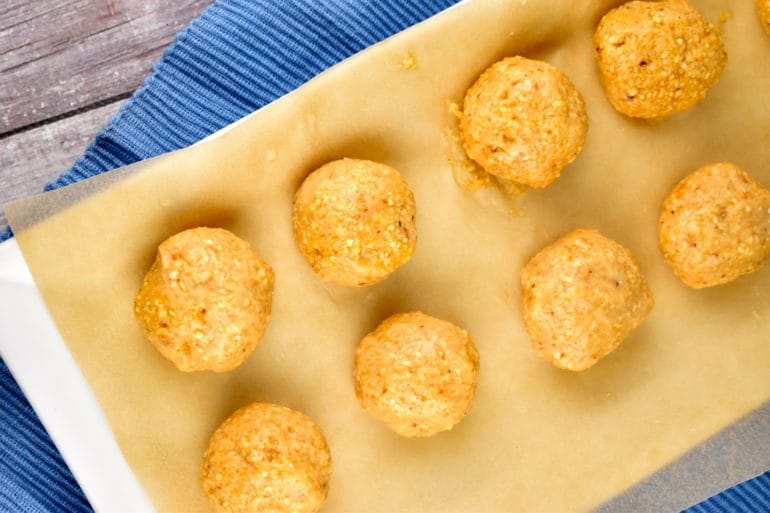 I use this method almost all the time when making recipes that call for cooked chicken. If you decide to use this method, just make sure you account for the Points that the added olive oil would make. It's typically about 1 extra Point per serving.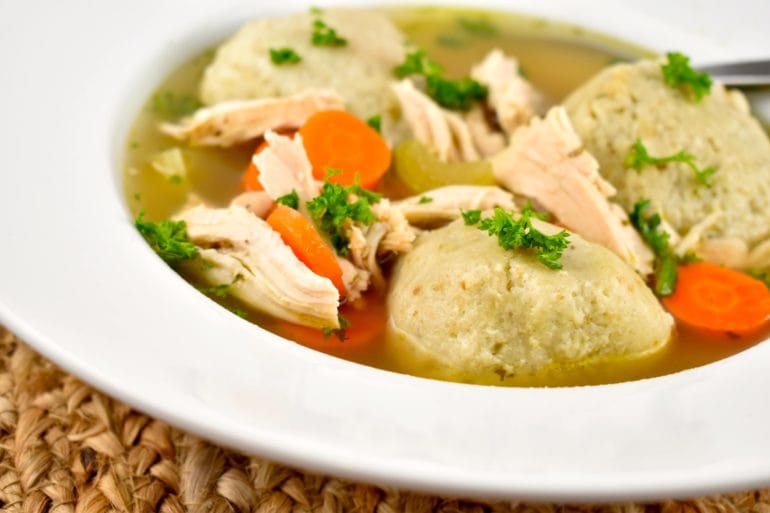 Before you head off into the kitchen to simmer up your own homemade matzo ball soup, I want to leave you with a few extra tips that will help you sharpen your skills. And so that you can learn how to make the best matzo ball soup that is sure to deliver a warm, cozy, and comforting feeling.
TIPS FOR MAKING MATZO BALL SOUP
When you are making your matzo balls, use wet hands while rolling them. Keep a small bowl of water nearby, and wet your hands after every couple of balls.
Cooking the matzo balls in the soup is quicker and easier, but it may make your soup more cloudy. If you prefer a clearer soup, just cook the matzo balls separately in another pot of simmering water or chicken stock.
Instead of oil, use schmaltz! You can make your own, or buy it at most Kosher grocery stores. It's an extra step, but the flavor can't be beaten!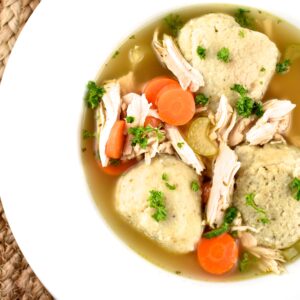 Matzo Ball Soup Recipe
A simple, comforting matzo ball soup that is perfect for beginners. Full of traditional flavor, and light, fluffy matzo balls that are mouth-wateringly delicious.
Ingredients
Matzo balls
1

cup

matzo meal

4

large eggs

3

tbsp

avocado oil

¼

cup

club soda or water

1 ¼

tsp

salt

½

tsp

baking soda

-

(if you are using water instead of club soda)

1

tsp

onion powder

½

tsp

granulated garlic

Pinch

of black pepper
Soup
1

lb

roasted chicken breasts

-

(shredded)

1

tbsp

olive oil

3

large carrots

-

(chopped)

3

celery stalks

-

(chopped)

1

small yellow onion

-

(diced)

2

cloves

garlic

-

(minced)

6

cups

fat free chicken stock

2

cups

water

Salt and pepper to taste
Instructions
In a medium sized bowl, combine all ingredients for the matzo balls. Cover and refrigerate for 30 minutes.

While matzo ball dough is setting in the fridge, make the soup. Heat oil in a large pot over medium heat. Add in onion, garlic, celery, and carrots, and saute until the onions are translucent, about 4-5 minutes.

Add in the chicken, the stock, the water, and season with salt and pepper. Bring to a boil. Then, turn heat to low, cover, and let simmer gently for 30 minutes.

While soup is simmering, form the matzo balls. Using wet hands, form the dough into balls that are about the size of a golf ball.

Add all the matzo balls to the soup, while it's simmering. Cover with lid, and let simmer for 20 minutes. Do not remove the lid during this time.

Remove from heat and spoon into bowls. Garnish with fresh parsley or dill.
Notes
The entire recipe makes 6 serving
The serving size is about 1 3/4 cups of soup and 3 matzo balls
Nutrition
Calories:
283
kcal
(14%)
Carbohydrates:
11.3
g
(4%)
Protein:
31.4
g
(63%)
Fat:
12
g
(18%)
Saturated Fat:
3.1
g
(19%)
Cholesterol:
191
mg
(64%)
Sodium:
1022
mg
(44%)
Potassium:
415
mg
(12%)
Fiber:
1.8
g
(8%)
Sugar:
3.8
g
(4%)
Calcium:
40
mg
(4%)
Iron:
2.2
mg
(12%)