By now, if you're active on social media, and follow along in Weight Watchers communities, you've most likely heard about the infamous 2 Ingredient Bagel Recipe. It's all over the Internet, Instagram, Twitter, and Facebook. Basically, there's a recipe using just 2 ingredients to make a delicious, low calorie dough that is being used for bagels, pizza, breadsticks, rolls, naan, pretzel bites and SO. MUCH. MORE.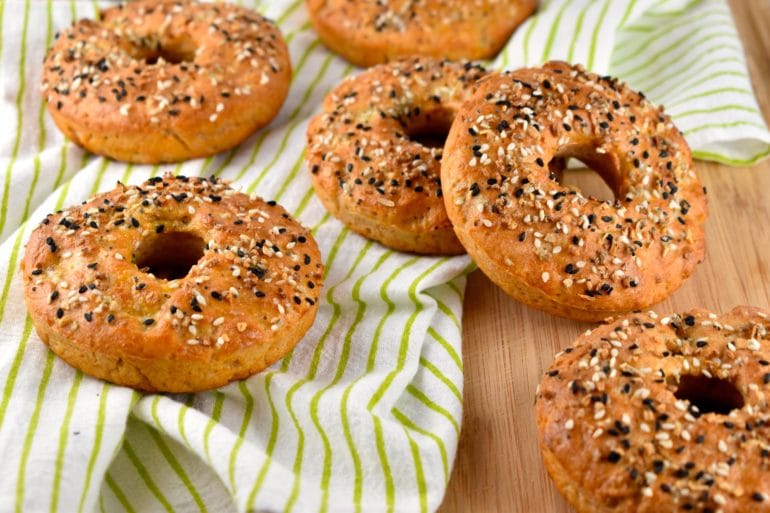 I first came across the concept at Skinnytaste, and you guys, my mind was BLOWN. Gina Homolka at Skinnytaste, used the dough to make the most lovely, no-fuss, no-boil, super easy to make bagels that came out to just 3 Points! I was sold. A little online research led me to an avalanche of two ingredient dough recipes, and I was beyond excited to give this a try!
I love bagels. Like seriously, LOOOOOVE bagels. They are my kryptonite. I just cannot pass them up. But they are typically very high in Points, so I avoid them. Like the plague. Because I have little self control, and know that I simply cannot be trusted around bagels. And it's sad, because bagels are so good, but I feel guilty eating them. And they use up too many of my precious Points!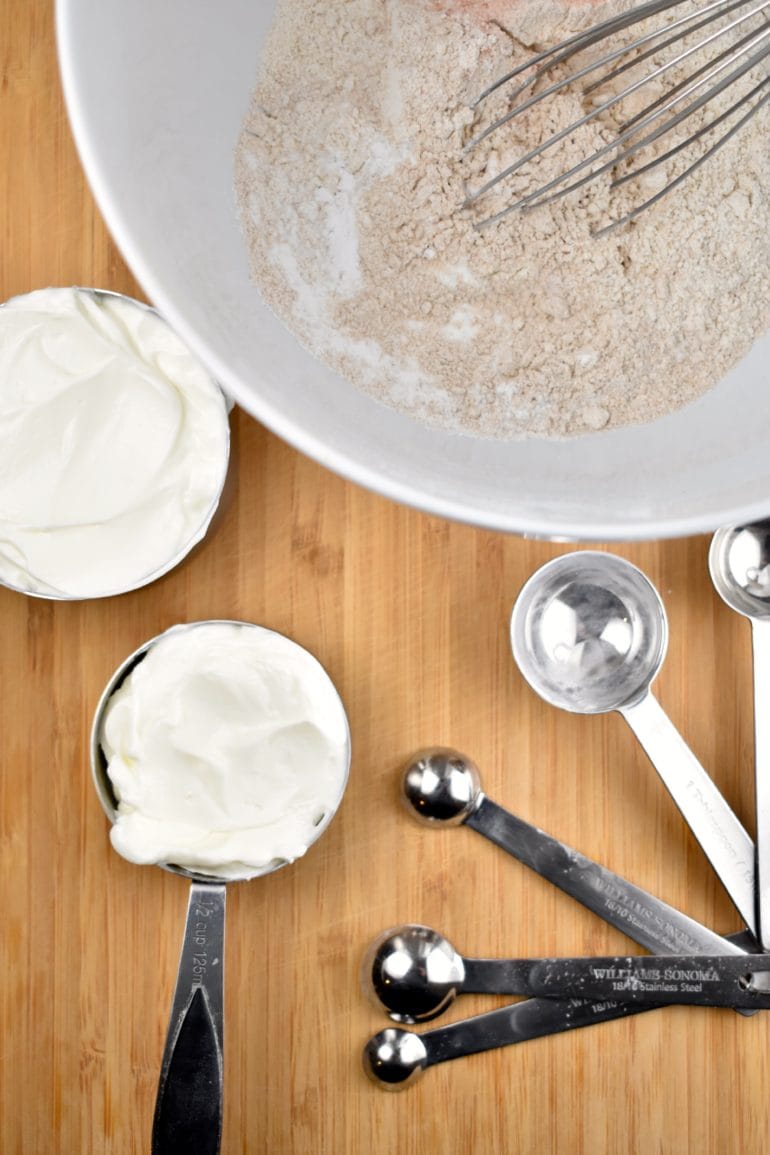 That's why I got beyond excited when I first found out about the 2 Ingredient Bagel Recipe, and I couldn't wait to give it a try myself and share it with all of you! Are you excited about this yet?
First, let me point out that there are definitely some variations to this recipe out there. The original two ingredient dough recipe does use just two ingredients – self-rising flour, and plain Greek yogurt.
If you have some self-rising flour on hand, you're good to go. But I rarely bake, so I typically only have whole wheat all-purpose flour on hand. Therefore, the two ingredient bagel recipe that I used, actually has a couple of other ingredients so that I could basically make my own self-rising flour. Which technically makes it not a 2 ingredient bagel recipe, but I'm a rule breaker, and you can forgive me, right?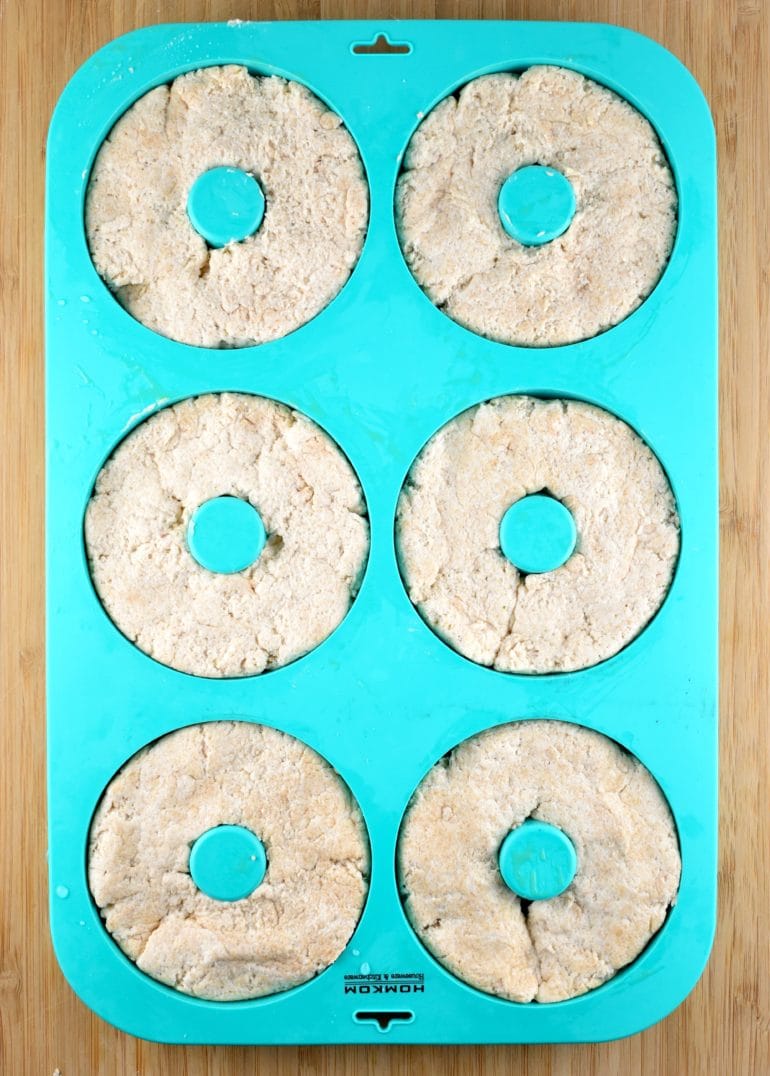 Don't worry though…the extra ingredients are very basic, and you most definitely already have them on hand in your kitchen right now. I know you are going to be PUMPED to make these bagels, so I'm not going to send you out to the store to purchase more ingredients.
Another thing I love about this recipe is how INCREDIBLY easy it is. It doesn't even involve boiling!!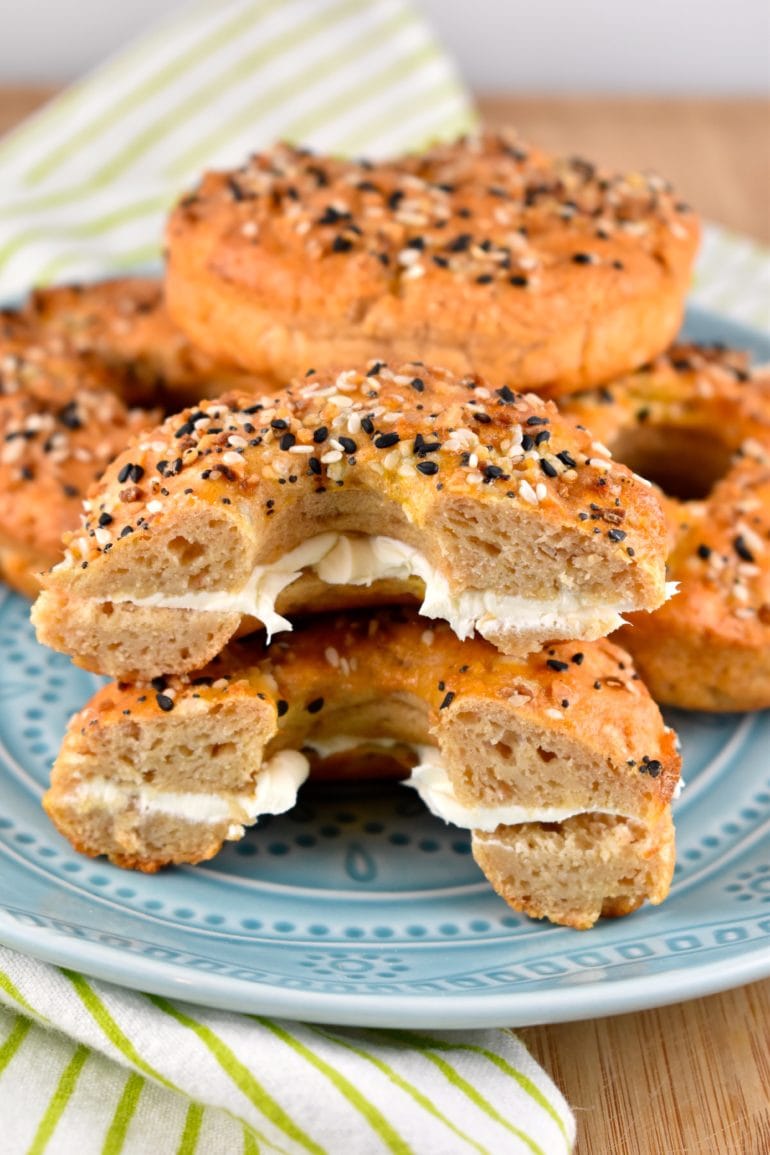 While these do taste a lot like traditional bagels, they are not, and I didn't expect them to be. But, they do taste similar, and are surprisingly very good. Much like traditional bagels, they do have a chewy, thicker exterior, and a chewy, airy interior. But they don't expand as much as regular bagels do, so expect them to be a bit on the smaller/personal size.
To make it easier, and because I wanted my bagels to all be uniform in their shape, I used a silicone bagel mold. If you don't have one, you can just roll the dough into "snakes" and then connect them together at the ends to create your bagel shape.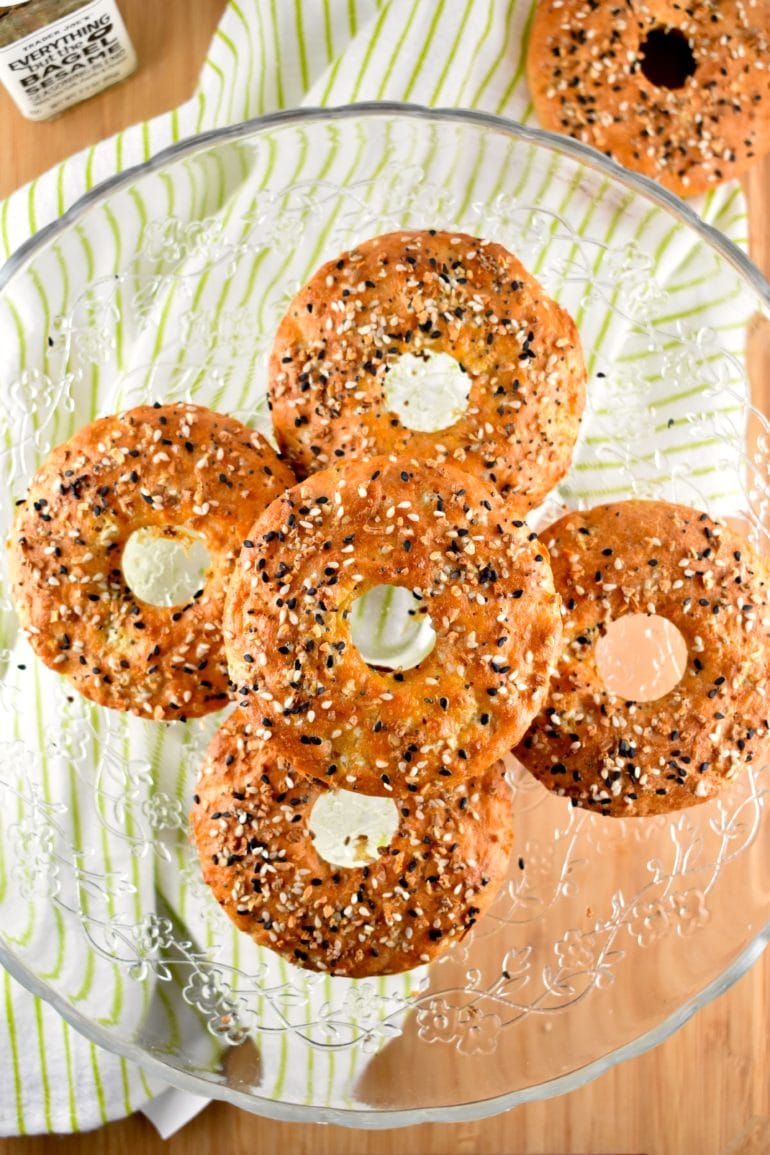 WHAT TO MAKE WITH 2 INGREDIENT DOUGH
Don't stop at bagels! Here are some other great ideas of what you can make with your two ingredient dough:
Pizza crust
Naan
Pretzels/Pretzel Bites
Breadsticks
Garlic knots
Cinnamon buns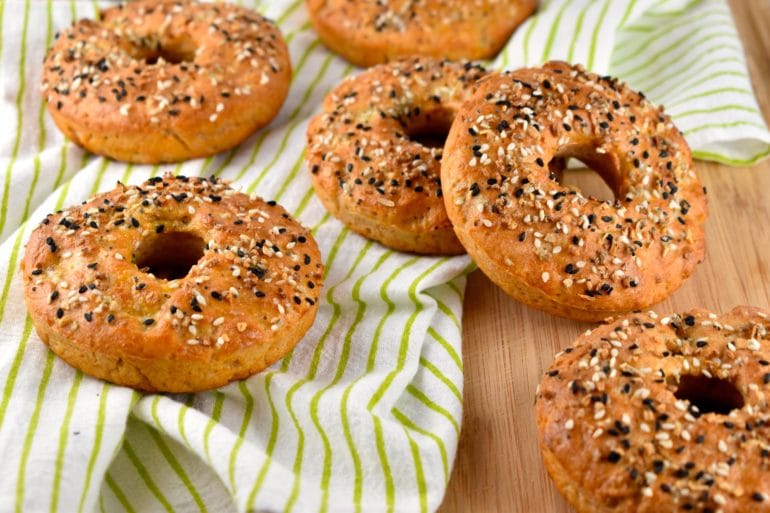 As for toppings, my favorite is Trader Joe's Everything But the Bagel Sesame Blend. But you can use just about anything you'd like.
I did use an egg wash before adding my topping. I've seen it done successfully without the egg wash, but I like the texture and color it adds, so I prefer to use it.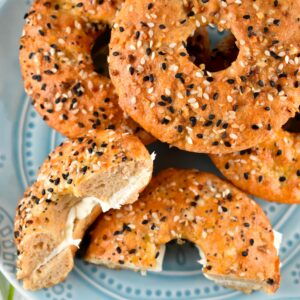 2 Ingredient Bagel Recipe
Fresh, homemade bagels that don't require any yeast, proofing or boiling! You can make warm, soft chewy bagels in less than an hour.
Ingredients
1 ½

cups

self-rising flour

1 ½

cups

plain, non-fat Greek yogurt
WITHOUT SELF-RISING FLOUR
1 ½

cups

all-purpose flour

-

(I used whole wheat pastry flour)

1 ½

cups

plain, non-fat Greek yogurt

1 ½

tbsp

baking powder

¾

tsp

salt
Instructions
Preheat oven to 375 degrees, and line a baking sheet with parchment paper and mist with cooking spray, or use a silicone bagel mold and mist with cooking spray.

In a bowl, combine the flour, baking powder and salt. Whisk well. Then, using a spatula, fold in the yogurt, and mix well, until the dough begins to look like crumbles.

Lightly dust a countertop surface or large cutting board with flour. Transfer dough to the floured surface, and knead and turn the dough, using hands, until it is well combined and no longer sticky.

Divide dough into 6 equal parts. Using your hand, roll each segment into ropes, and join them at the ends to form bagels. *If you're using a bagel mold, just press the dough into each mold.

Brush each bagel with an egg wash, and sprinkle with desired toppings.

Bake for 25 minutes, then remove from oven and allow to cool for 8-10 minutes.
Notes
The entire recipe makes 6 bagels
The serving size is 1 bagel
Nutrition
Calories:
146
kcal
(7%)
Carbohydrates:
29.1
g
(10%)
Protein:
6.2
g
(12%)
Fat:
0.3
g
Saturated Fat:
0.1
g
(1%)
Cholesterol:
1
mg
Sodium:
46
mg
(2%)
Potassium:
188
mg
(5%)
Fiber:
1.6
g
(7%)
Sugar:
4.6
g
(5%)
Calcium:
90
mg
(9%)
Iron:
1.4
mg
(8%)