There's nothing quite like the taste of gingerbread during the holidays. The warm, spicy flavor is synonymous with Christmas, making it the perfect sweet treat to enjoy during the festive season. While store-bought gingerbread muffins can be loaded with sugar and fat, it's easy to make your own healthy version at home.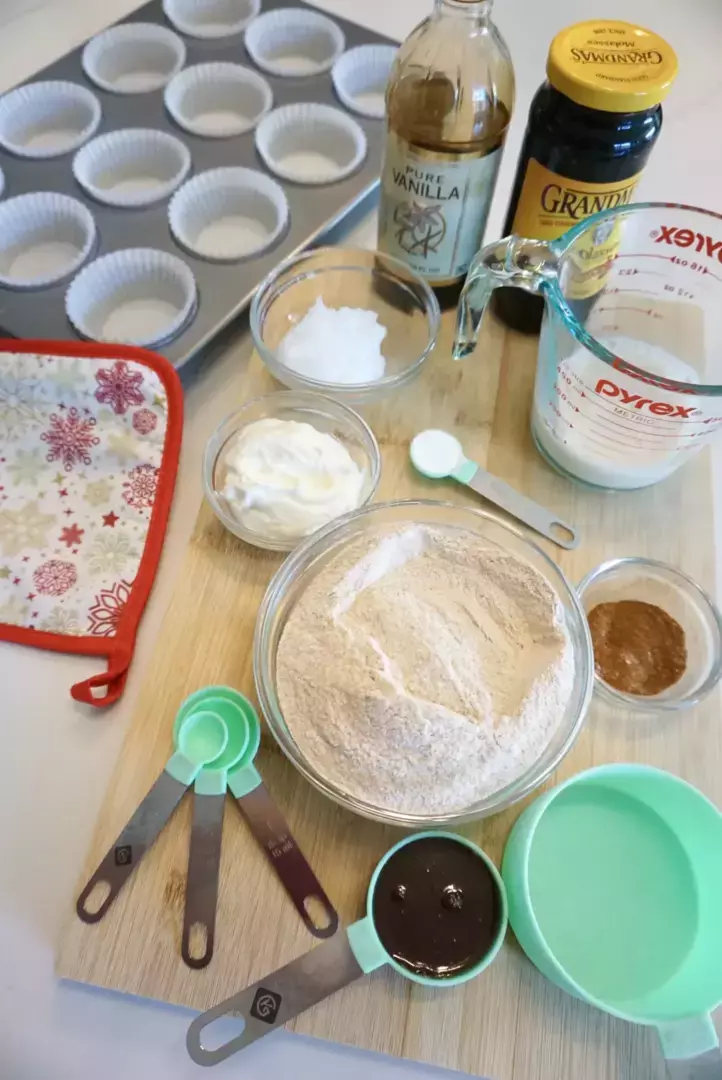 These healthy gingerbread muffins are made with whole wheat flour, molasses, and a touch of maple syrup for sweetness. They're also packed with plenty of healthful ingredients like ginger, cinnamon, and nutmeg. Best of all, they're just as delicious as traditional gingerbread muffins – if not more so! So if you're looking for a healthier holiday treat this year, give these gingerbread muffins a try.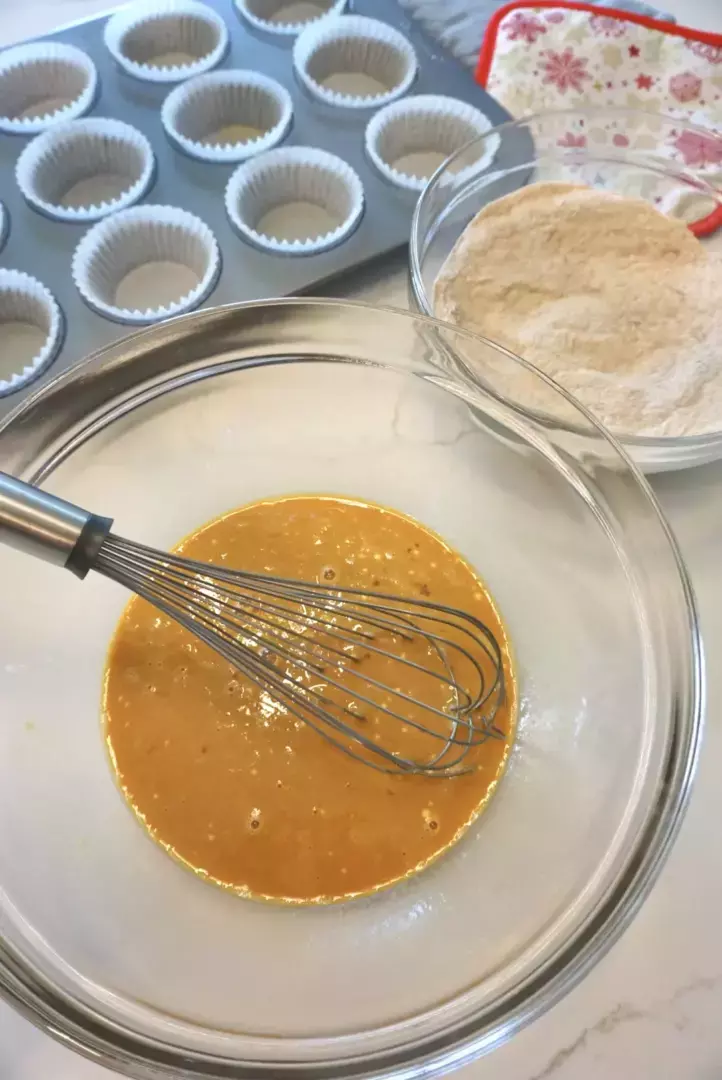 Why Bake With Whole Wheat Flour?
Baking with whole wheat flour is a great way to enjoy a sweet treat, whilst giving your body a dose of healthful nutrients. Whole wheat flour has many benefits that make it a better choice than white flour. For one, whole wheat flour is richer in nutrients. It contains more fiber, vitamins, and minerals than white flour. Whole wheat flour is also less processed than white flour. This means that the nutrients in whole wheat are more bioavailable to the body.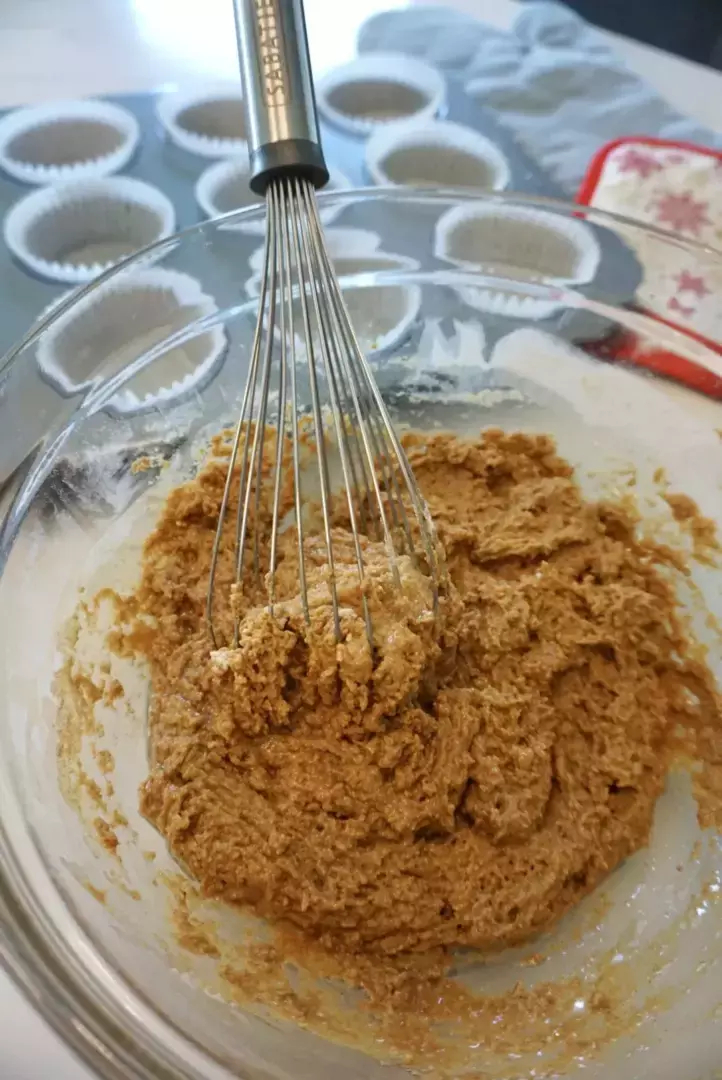 Whole wheat flour can also help regulate blood sugar levels. This is because the fiber in whole wheat slows down the digestion of carbohydrates. This results in a more gradual release of sugar into the bloodstream, which helps prevent spikes in blood sugar levels.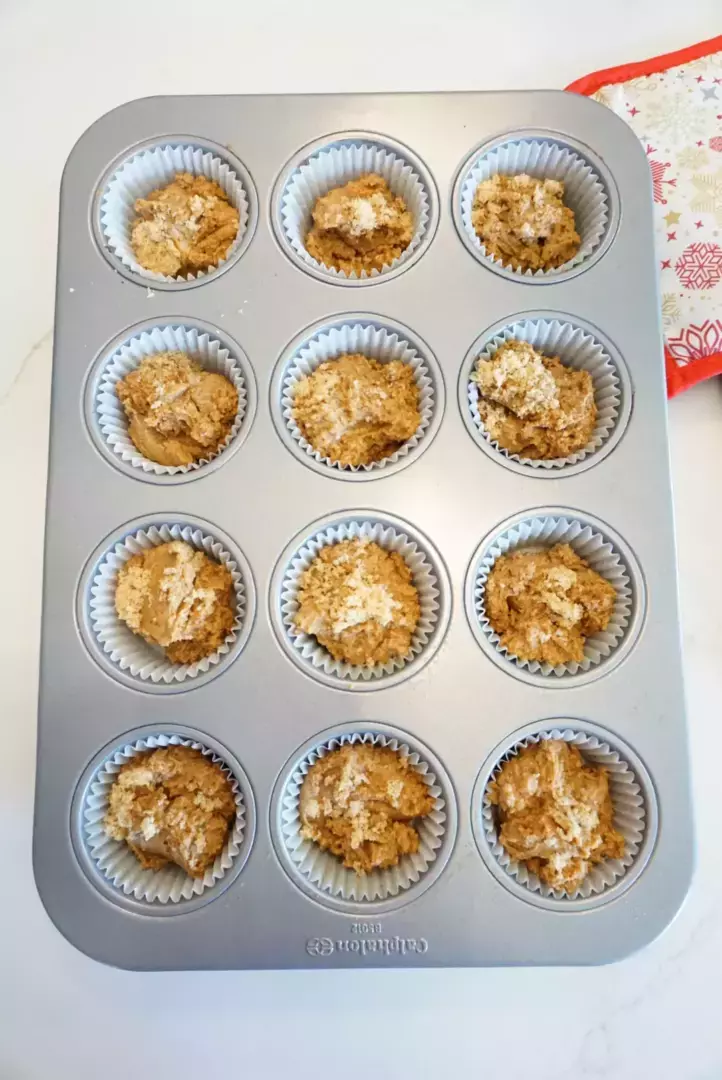 Pro Muffin-Making Tips
There are a few key tips that will help you to make the best muffins possible. First, be sure to use fresh baking soda – this will make all the difference in the flavor and texture of your muffins. Secondly, be careful not to overmix the batter – this will result in tough, dry muffins.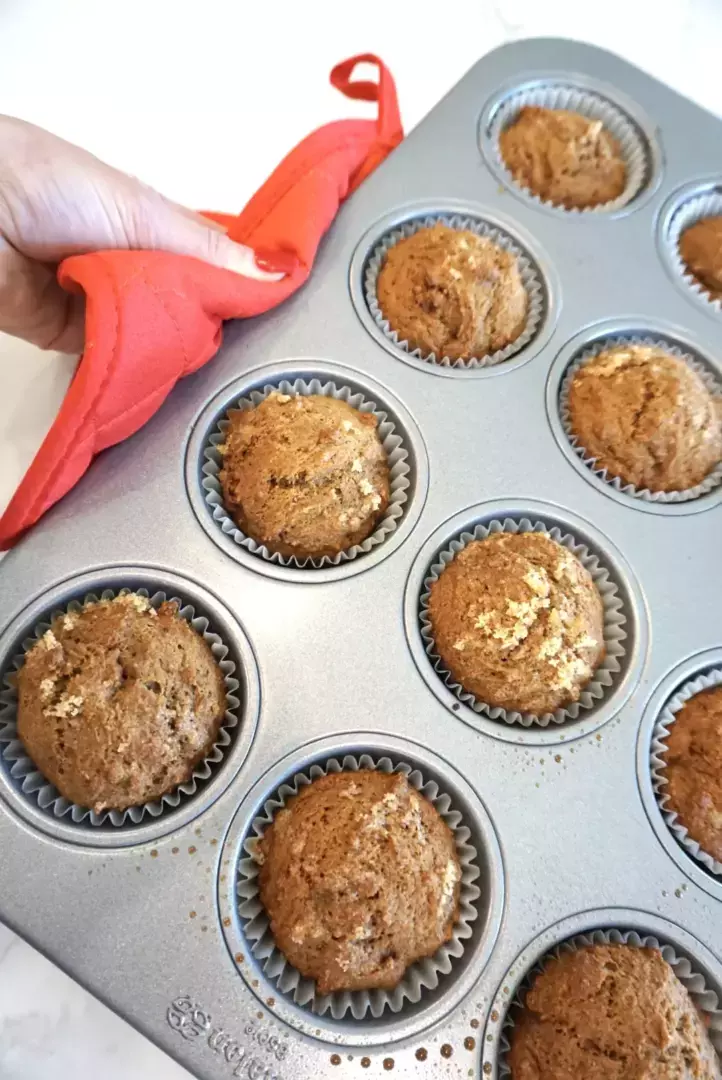 Another pro tip is to make sure your eggs and oil are at room temperature before adding them to the batter. This ensures that the ingredients mix together evenly and produce a smooth texture. If it looks like the ingredients are beginning to coagulate when you add the coconut oil, that is a sign that the oil has not been properly cooled.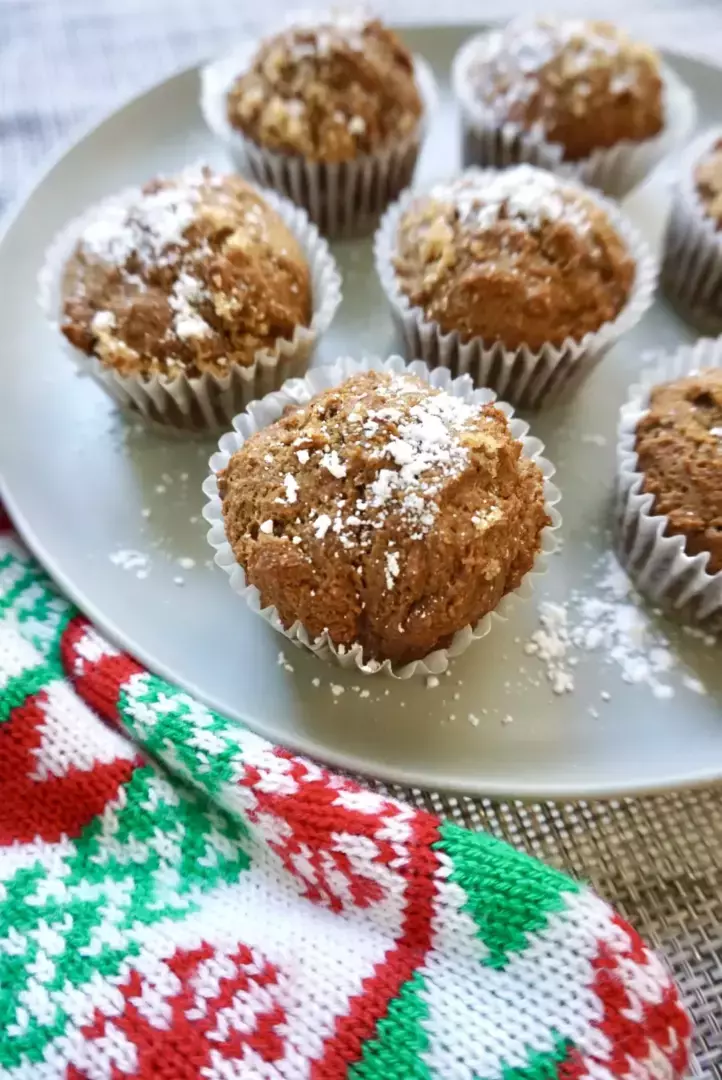 Finally, bake your muffins until they are just golden brown – if you overcook them they will be dry and crumbly. Follow these simple tips and you'll be sure to bake perfect muffins every time!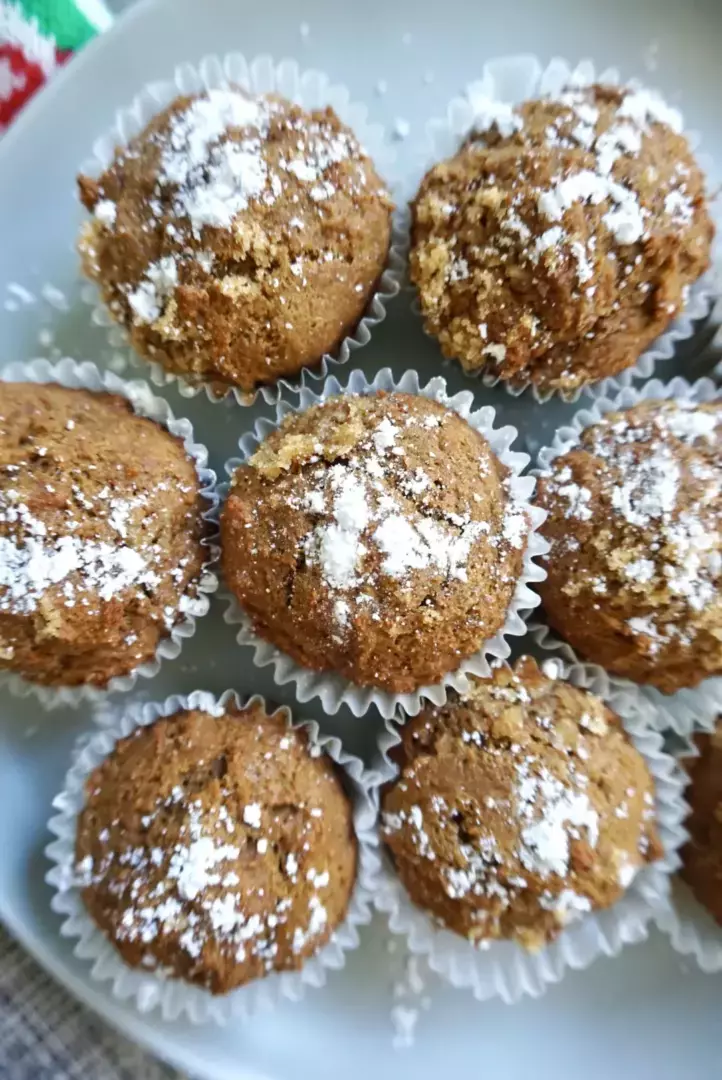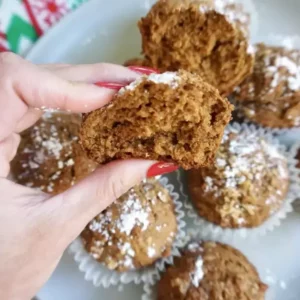 Healthy Gingerbread Muffins Recipe
If you're in the mood for something sweet but want to stay on the healthier side, these gingerbread muffins are the perfect treat. Made with whole wheat flour and maple syrup instead of sugar, they're a guilt-free way to enjoy the classic flavor of gingerbread. The entire family will be begging you to whip up these muffins all year round!
Ingredients
Nonstick cooking spray

1 ½

cups

whole wheat flour

1

teaspoon

baking soda

1

teaspoon

cinnamon

1

teaspoon

ground ginger

¼

teaspoon

nutmeg

½

teaspoon

salt

1

large egg

¼

cup

dark molasses

¼

cup

pure maple syrup

1

teaspoon

vanilla extract

⅓

cup

plain greek yogurt

½

cup

milk of choice

¼

cup

coconut oil

-

melted and cooled

Dash of brown sugar to top
Instructions
Preheat the oven to 350 degrees F and line a muffin pan with muffin liners. Lightly spray the inside of the liners with nonstick cooking spray.

In a large bowl, whisk together the dry ingredients, including the whole wheat flour, baking soda, cinnamon, ginger, nutmeg, and salt.

In another separate bowl, add the egg, molasses, maple syrup, vanilla, yogurt, and milk and whisk together until evenly combined and smooth (all wet ingredients besides the coconut oil).

Add the dry ingredients to the bowl of wet ingredients and mix together until just combined. You want to avoid overmixing, as the muffins won't turn out as fluffy.

Then, add the melted coconut oil and fold it into the batter.

Divide the batter evenly between muffin liners. You will want to fill them halfway full as they will rise while cooking. Sprinkle a dash of brown sugar on top of each.

Bake the muffins for about 20 minutes, or until a toothpick comes out clean. Transfer muffins to a cooling rack and allow them to cool for 10 minutes.

Serve and enjoy!
Notes
Storage Instructions:
These muffins will store well for up to 4 days. Line an airtight container or plastic bag with a paper towel and lay the muffins in a single layer. Place another paper towel on top of the muffins. The paper towels will help prevent the muffins from becoming soggy and spoiling faster. You can enjoy the muffins at room temperature or warm them in the microwave for about 15 seconds.
Nutrition
Serving:
1
muffin
Calories:
151
kcal
(8%)
Carbohydrates:
23
g
(8%)
Protein:
3
g
(6%)
Fat:
6
g
(9%)
Saturated Fat:
4
g
(25%)
Polyunsaturated Fat:
0
g
Monounsaturated Fat:
0
g
Cholesterol:
17
mg
(6%)
Sodium:
218
mg
(9%)
Fiber:
2
g
(8%)