As the holidays approach, there's no better time to add a crowd-pleasing, delectable dish to your menu. This Artichoke and Green Bean Casserole is the perfect addition! Not only is it delicious and nutritious, but it is easy to make and is sure to be a hit with all of your guests. Even the pickiest of eaters will be begging for more!
This casserole incorporates bright green beans and artichokes into a creamy sauce that takes this dish to the next level. Not only is this a scrumptious addition to any holiday meal, but it also provides a healthy alternative to many other traditional dishes. Not to mention, the smell that fills your home while baking this casserole will leave your mouth watering.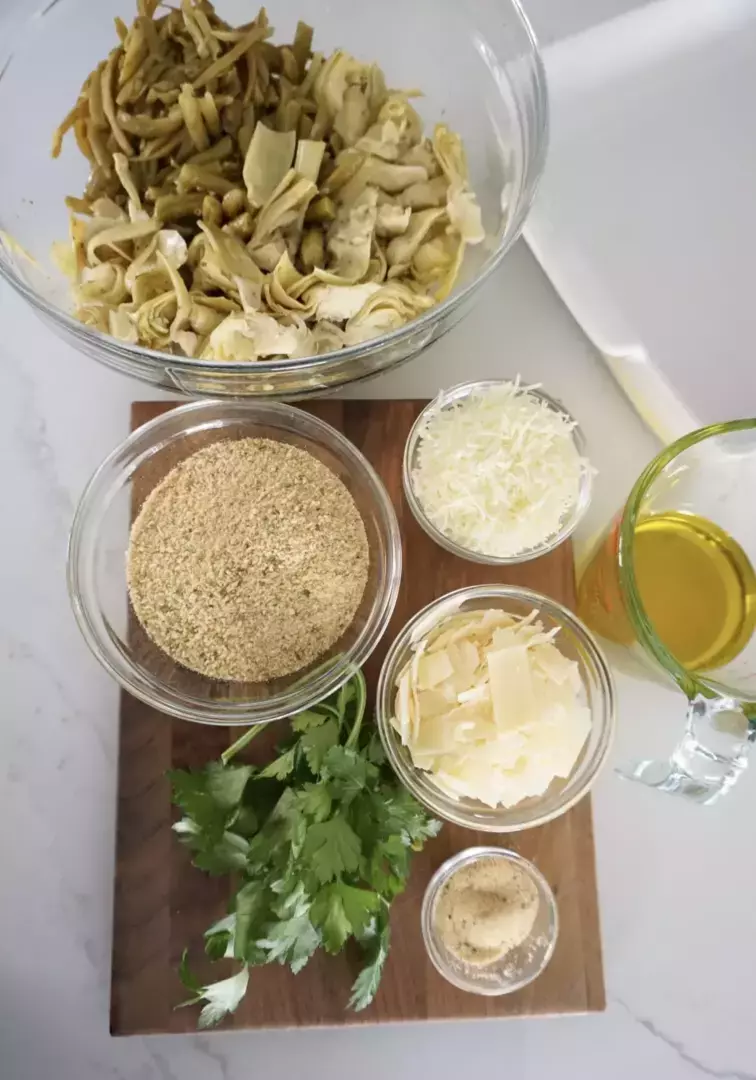 Health Benefits of Artichokes
Artichokes are incredibly healthy food. They are packed with nutrition and can provide many health benefits for those who choose to include them in their diet. Artichokes are high in vitamins C, K, and B6, as well as minerals such as potassium, magnesium, and phosphorus. They also contain important antioxidants that help protect the body from disease. Artichokes can aid in weight loss due to their low-calorie content – one medium artichoke contains only 60 calories!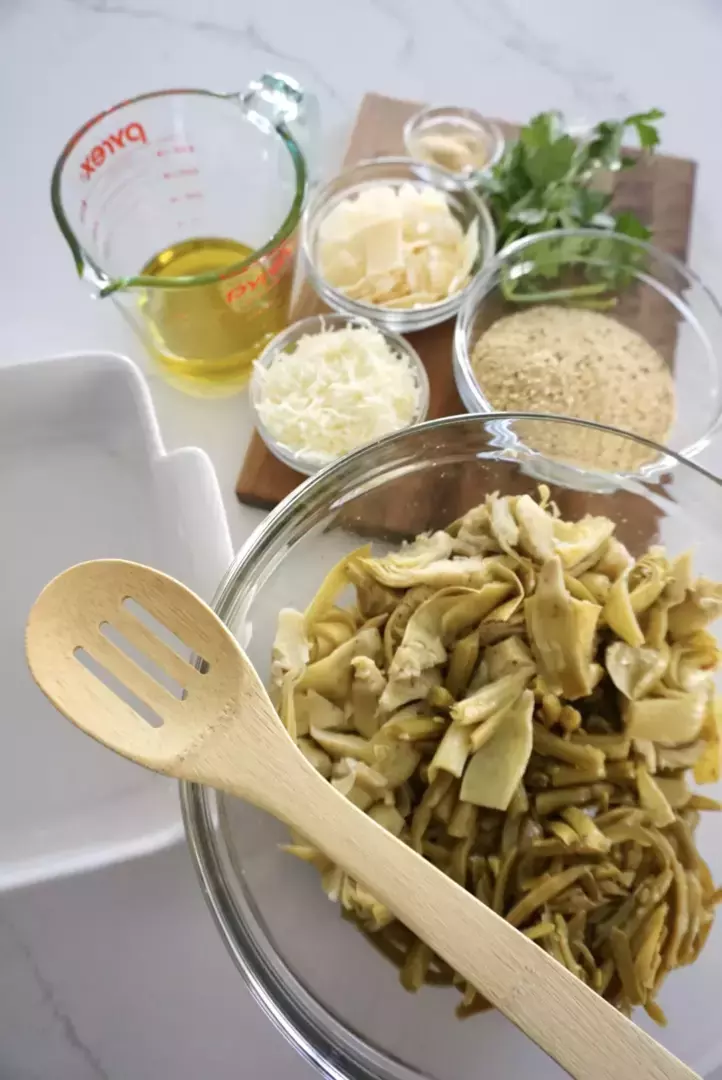 Additionally, they contain a high amount of dietary fiber which helps regulate digestion and keeps you feeling full longer. This makes artichokes a great choice for people looking to lose weight or maintain a healthy lifestyle. Furthermore, artichokes have been shown to reduce cholesterol levels by preventing the absorption of bad cholesterol from other foods.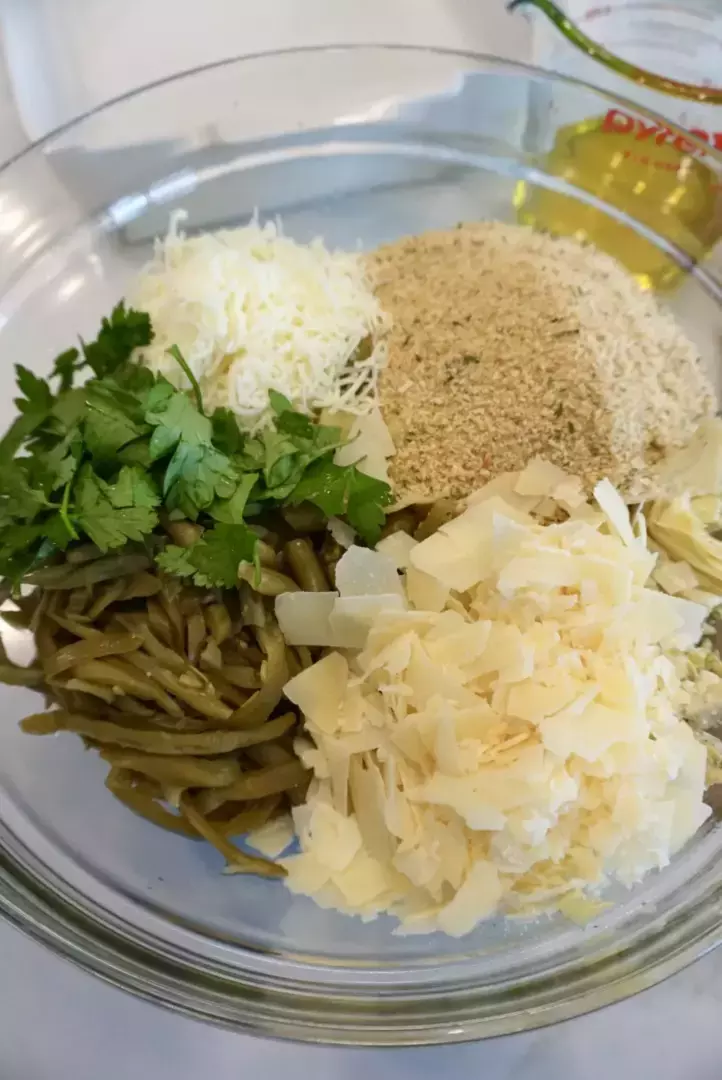 Why Casseroles Are The Ultimate Holiday Dish
Casseroles are the perfect side dish for any holiday season. They are easy to make and provide a delicious way to enjoy a meal with friends and family. During the holidays, casseroles can be made in advance, leaving more time for celebration and festivities. This helps reduce stress on busy days during this time of year. Additionally, since many holiday dishes contain a variety of ingredients, it is much quicker to prepare one large dish than several small ones.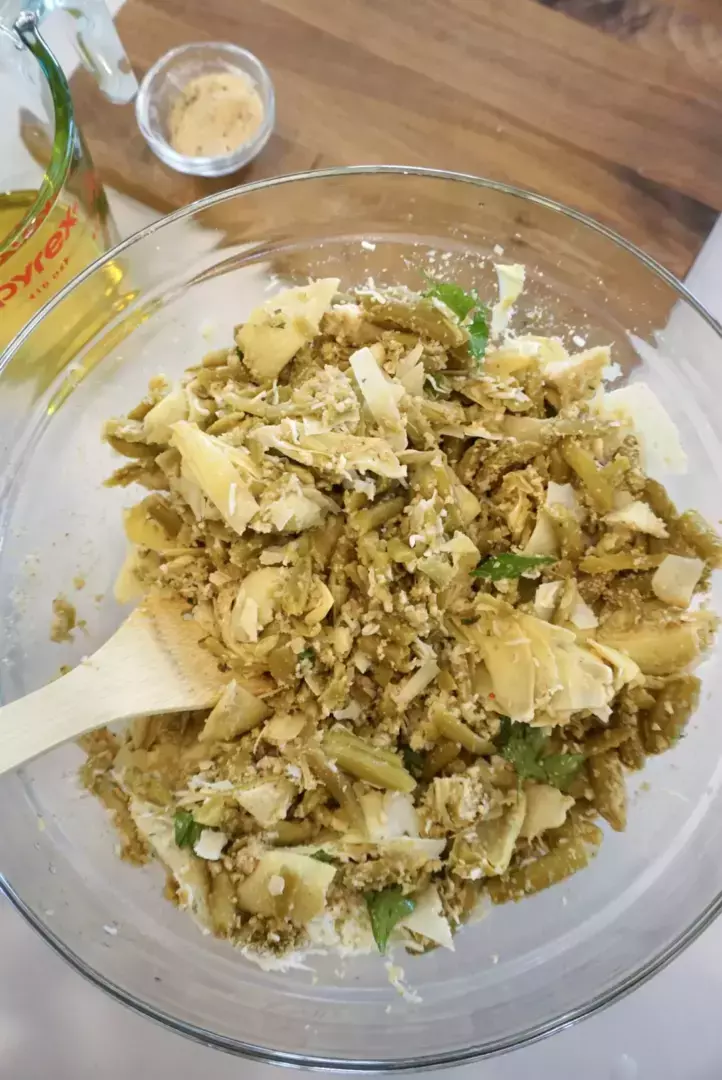 Many people make casseroles for Christmas because they can be tailored to personal preferences or dietary needs. For example, vegetarians may choose to leave out the meat while others may opt for extra cheese or vegetables in their version of the classic dish. Furthermore, regardless if it's just one person or several guests attending dinner, casseroles scale up easily without sacrificing flavor or texture.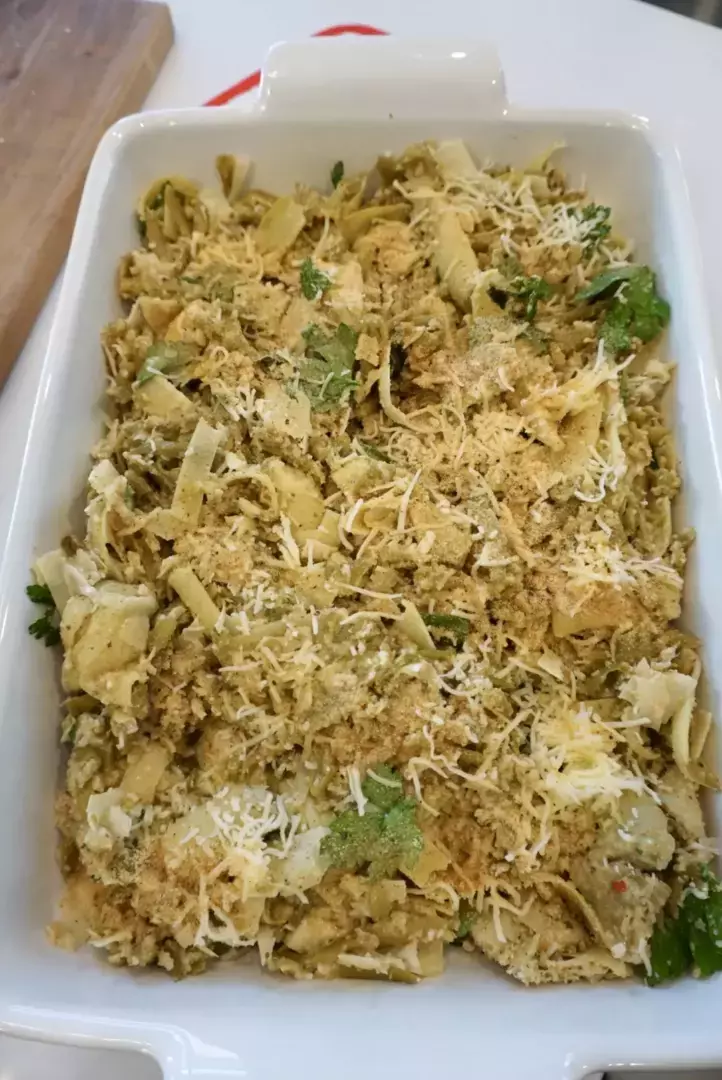 Can I Make This Casserole Dairy-Free?
The answer is – yes! Cooking a vegan casserole is surprisingly easy and delicious! Although most casseroles are made with dairy products, such as cheese, converting the recipe to a vegan dish can be done by selecting dairy-free cheeses that melt easily when cooked. These can be found at health food stores or online. Fortunately, this recipe does not use butter or milk, so the only ingredients that would need to be swapped are the cheeses.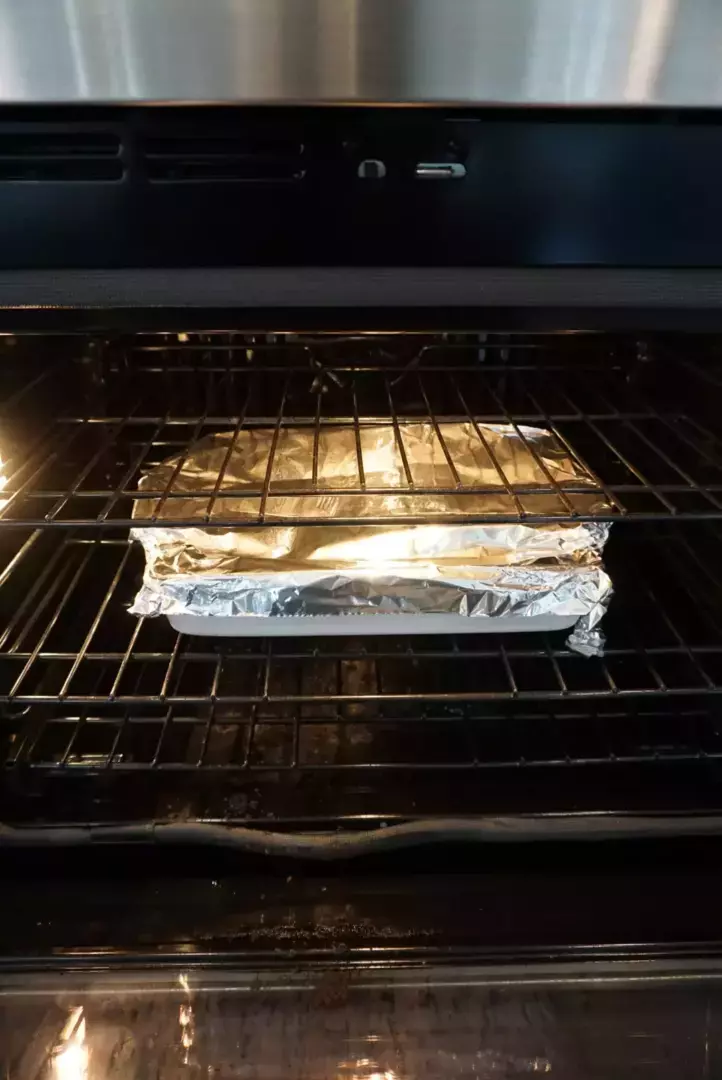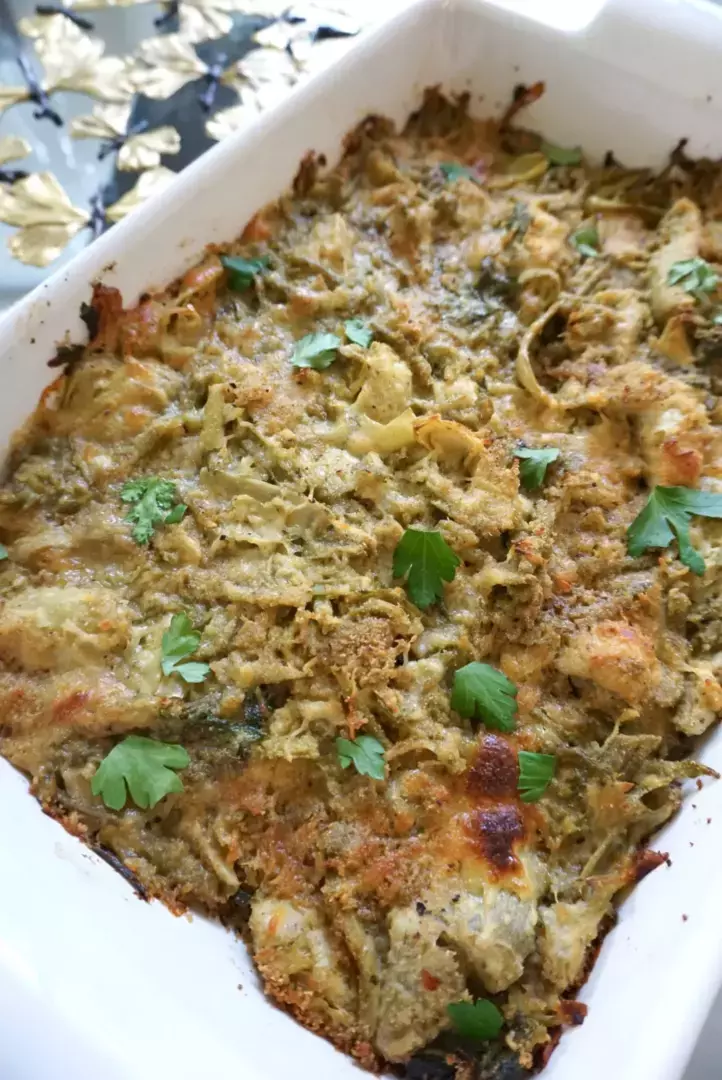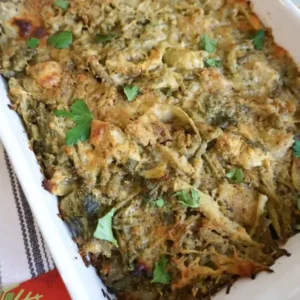 Artichoke and Green Bean Casserole Recipe
Artichoke and Green Bean Casserole is the perfect side dish to serve up to your family and friends this holiday season! It is high in fiber and protein, which makes it the ideal dish for leaving you energized and satiated. It is also vegetarian and gluten-free, which makes it a great option for those with certain dietary restrictions.
Ingredients
½

cup

olive oil

15 ½

oz

French cut green beans

-

3 cans, drained

14

oz

artichoke hearts

-

3 cans, drained and chopped

1

cup

seasoned breadcrumbs

-

or gluten-free breadcrumbs

1

cup

parmesan cheese

-

grated

¾

cup

mozzarella cheese

-

shredded

½

cup

fresh parsley

1

tablespoon

garlic powder

Pinch

cayenne pepper

Dash of salt and pepper
Instructions
Preheat the oven to 400°F.

Add green beans, artichoke hearts, breadcrumbs, cheese, and parsley in a large mixing bowl. Stir to mix everything evenly.

Pour the contents into a 9"x13" casserole dish. Drizzle with olive oil and season with garlic powder, cayenne, salt, and pepper.

Cover with aluminum foil and bake for 30 minutes. Then, remove the aluminum foil and bake for 15 minutes until the top is slightly browned.

Slice, serve, and enjoy!
Notes
Storage Instructions:
To ensure optimal freshness, start by making sure that your casserole is cooled down before storing it. Store leftovers in a covered casserole dish or in an air-tight container. Refrigerate the casserole within two hours of cooking for up to four days - any longer than that and it's best to freeze them instead. Reheat the casserole in the oven at 350°F until the casserole reaches a minimum internal temperature of 165°F.
Nutrition
Serving:
1
slice (4"x4")
Calories:
244
kcal
(12%)
Carbohydrates:
19
g
(6%)
Protein:
8
g
(16%)
Fat:
16
g
(25%)
Saturated Fat:
4
g
(25%)
Polyunsaturated Fat:
1
g
Monounsaturated Fat:
9
g
Cholesterol:
15
mg
(5%)
Sodium:
943
mg
(41%)
Fiber:
5
g
(21%)
Sugar:
4
g
(4%)