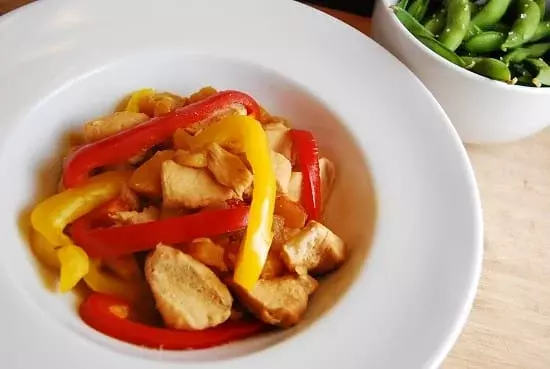 Another great Weight Watchers Crock Pot Recipe that is super easy, delicious and just 5 Points per serving. This Crock Pot Chicken Teriyaki Recipe was a hit with the whole family. I ate mine as is to avoid adding extra Points, but I served my families over some rice, and they LOVED it. The pineapple and bell pepper are a great way to add a bit more flavor to the chicken, and to get in those fruit and vegetable servings. Also, this low calorie crock pot recipe can be done with frozen chicken too…but it may closer to 8 hours cook time instead. Next time I make this, I think I'll add in some fresh sugar snap peas too….yum! Enjoy.
Crock Pot Chicken Teriyaki
Get your teriyaki craving satisfied the healthy way with this easy and delicious Weight Watchers Crock Pot Recipe. Works great served over rice or noodles for extra Points! This dish is definitely a crowd pleaser – plus it's loaded with vitamins and minerals from the fresh pineapple and veggies.
Ingredients
1lb boneless, skinless chicken breasts, cut into 1 inch pieces
1 16oz bag frozen pineapple tidbits
2 cloves garlic, minced
1/2 red bell pepper, thinly sliced
1/2 yellow pepper, thinly sliced
1/2 cup reduced sodium soy sauce
1/4 cup brown sugar
1/2 tsp pepper
Instructions
Combine soy sauce, garlic, black pepper, and brown sugar in a small bowl. Stir until combined.
Place chicken in bottom of slow cooker, cover with pineapples and top with sauce.
Cook on low 6-8 hours.
During last hour of cooking, add in bell pepper slices.
To thicken sauce, also remove lid from slow cooker in the last hour of cooking. If you prefer a thicker sauce, transfer sauce to pan and boil with flour or cornstarch until reduced to desired thickness.
Preparation time: 15 minute(s)
Cooking time: 6 hour(s)
Diet tags: Low calorie, Reduced fat, Reduced carbohydrate, High protein
Number of servings (yield): 4
Culinary tradition: Chinese
Entire recipe makes 4 servings
Serving size is about 1 ½ cups
Each serving = 5 Points
PER SERVING: 217 calories; 2g fat; 25g carbohydrates; 27g protein; 2.5g fiber