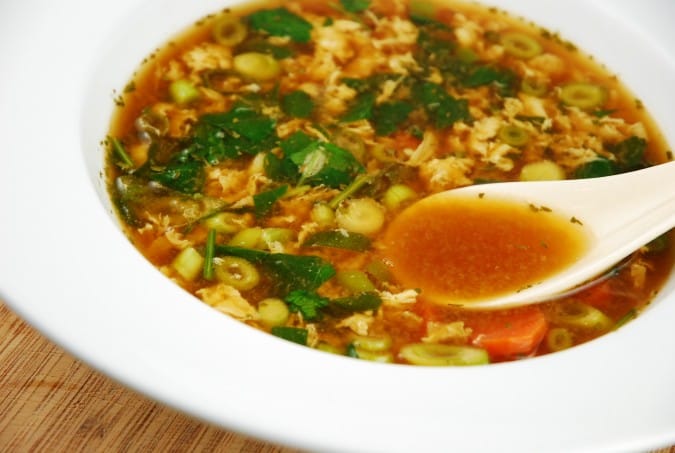 Soup is one of go to recipes whenever I'm really hungry. I eat a bowl before I eat my lunch or dinner, and then that helps to fill me up, so I don't overdo it on the main course. And egg drop soup is a delicious and light option. However, a traditional egg drop soup recipe is quite mild. So sometimes, I really want to kick up the flavor notch and I whip up this spicy version instead. It is so fast and easy to make, and is really quite delicious. And at just 1 Point for a 1 1/2 cup serving, this Spicy Egg Drop Soup is a fantastic Weight Watchers Recipe. Enjoy!
Spicy Egg Drop Soup
A spicy twist on a classic Asian-style egg drop soup, this delicious and low calorie soup is the perfect way to warm up on a chilly day. A few unique ingredient additions helps give the soup an extra flavor kick without adding extra fat or calories.
Ingredients
6 cups fat free beef broth
1 large carrot, sliced
1 large egg
1 egg white
1 garlic clove, minced
1/8 tsp ground ginger
3 thai chilies, diced
3 tbsp reduced sodium soy sauce
2 medium green onions, diced
1/4 cup fresh cilantro, chopped
Instructions
In a medium sized pot, bring broth to a boil.
Add in carrot, garlic, chilies, ginger and soy sauce, lower heat to medium, and let simmer for about 15 minutes.
In a small bowl, whisk together egg and egg white. Slowly pour into the soup, and gently whisk once or twice.
Remove soup from heat. Add in green onions and cilantro and serve.
Preparation time: 5 minute(s)
Cooking time: 15 minute(s)
Diet tags: Low calorie, Reduced fat, Reduced carbohydrate
Number of servings (yield): 4
Culinary tradition: Chinese
Calories: 55
Fat: 1g
Protein: 5g
Entire recipe makes 4 servings
Serving size is about 1 1/2 cups
Each serving = 2 Smart Points/1 Point
PER SERVING: 82calories; 2g fat; 1g saturated fat; 7g carbohydrate; 3g sugar; 9g protein; 1g fiber