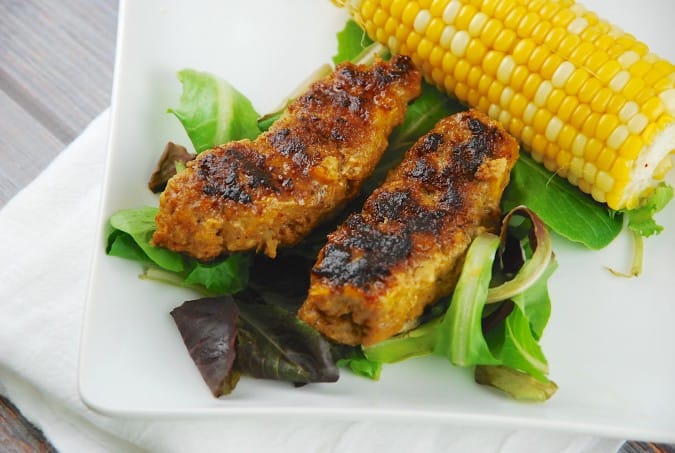 With some spare extra lean ground beef on hand one day, I decided to throw together a surprisingly easy, yet delicious meal of these Persian Beef Kebabs. Whenever I make them, I typically serve them with this Persian Lentil Quinoa and my favorite Cucumber Tomato Salad. But I was feeling pretty lazy this day, so I just served them over a bed of greens with some corn on the cob. The key to these delicious, juicy kebabs, is the grated onion. It's time consuming to manually grate them, so if you have a food processor, that would be the easiest. But the onion is grated to a watery pulp which adds tremendous flavor and moisture to the extra lean beef. They are sooooo good! And just 5 Points for 2 kebabs. My husband drizzled some tahini sauce over his (for extra Points), which was absolutely delicious. Traditionally, the meat is threaded onto long metal skewers and cooked over a charcoal grill. But I went skewer free and just grilled them up on my indoor grill pan. These Persian Beef Kebabs are easy, delicious, and a real Weight Watchers bargain. Enjoy!
Persian Beef Kebabs
Lean, yet juicy ground beef kebabs that have been perfectly seasoned, are grilled over an outdoor grill (or indoor grill pan) for a delicious Weight Watchers recipe that is absolutely mouthwatering.
Ingredients
1lb extra lean ground beef (96% lean)
1 medium onion, finely grated
1/2 cup whole wheat breadcrumbs
1/4 cup liquid egg substitute
3 garlic cloves, minced
1 tsp paprika
1 tsp tumeric
1 tsp ground sumac
Salt and pepper to taste
Instructions
Preheat a grill pan over medium heat (or use an outdoor grill, if preferred), and lightly mist with cooking spray.
Combine all ingredients together in a large bowl, using hands to make sure everything is mixed together well. Now shape meat into 8 4-5 inch cylinders, and place on grill pan.
Cook kebabs until browned on both sides and cooked through, about 4-5 minutes per side.
Preparation time: 15 minute(s)
Cooking time: 10 minute(s)
Diet tags: Low calorie, Reduced fat, Reduced carbohydrate, High protein
Number of servings (yield): 4
Culinary tradition: Middle Eastern
Calories: 241
Fat: 7g
Protein: 29g
Entire recipe makes 4 servings
Serving size is 2 kebabs
Each serving = 6 Smart Points5 Points
PER SERVING: 241calories; 7g fat; 3g saturated fat; 14g carbohydrate; 2g sugar; 29g protein; 1g fiber