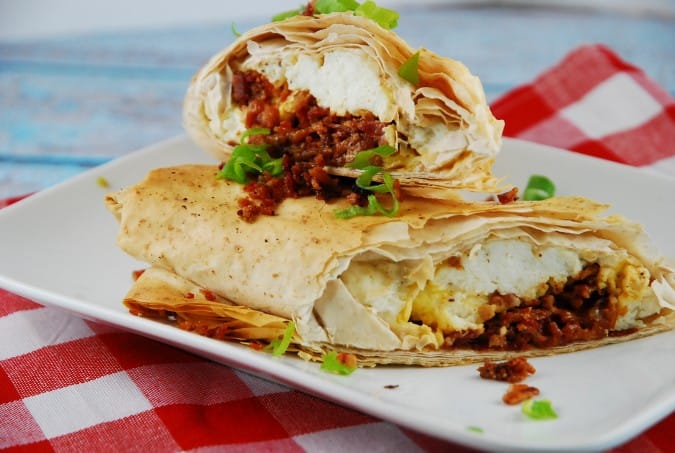 These Breakfast Phyllo Wraps are perfect for when you need a breakfast on the go! I am almost always eating breakfast while I'm in the car or while I'm walking around the house getting the kids ready for school in the morning…so something nutritious, delicious, and that can be carried in one hand is ideal. I usually make these wraps in bulk and then freeze them, so whenever I need one, I can just pop it out of the freezer and heat it up. My Breakfast Phyllo Wraps are basically a traditional breakfast of bacon and eggs topped with American cheese and rolled into a phyllo that is baked until crisp and golden brown. To keep it lighter and healthy, I used egg whites, whole wheat phyllo, and fat free cheese. If Points aren't a concern of yours, feel free to use real eggs and cheese. Also, you add in some onion, tomatoes, mushrooms…any other veggies you'd like, if you want to bulk it up a bit. They are absolutely delicious and a great Weight Watchers breakfast at just 4 Points per serving.
Breakfast Phyllo Wrap
A traditional bacon any eggs breakfast rolled up into a crispy, whole wheat phyllo wrap. This tasty Weight Watchers breakfast is great for eating on the go and a real bargain at just 5 Points per serving.
Ingredients
4 sheets of whole wheat phyllo dough (approx 13" x 18")
6 egg whites, cooked scrambled
8oz bacon (I used Applegate Reduced Sodium Sunday Bacon)
2 slices fat free american cheese, cut in half
Instructions
Prepare bacon according to package directions. Let cool, and then chop well.
Preheat oven to 375 degrees. Line a baking sheet with parchment paper.
Lay out 2 sheets of the phyllo dough. Spread 1/2 of the scrambled egg whites, bacon, and 2 halves of the cheese along one short side of phyllo stack. Fold in long sides of phyllo; roll up from one short side to make log. Repeat with remaining 2 phyllo sheets.
Mist each log with cooking spray or an olive oil mister. Place on prepared baking sheet and place in oven. Cook for about 20 minutes, or until golden brown.
Preparation time: 15 minute(s)
Cooking time: 30 minute(s)
Diet tags: Low calorie, Reduced fat, High protein
Number of servings (yield): 4
Culinary tradition: USA (Traditional)
Calories: 165
Fat: 5.5g
Protein: 11.5g
Entire recipe makes 4 servings
Serving size is 1/2 a log
Each serving = 5 Smart Points/4 Points
PER SERVING: 165calories; 5.5g fat; 3g saturated fat; 13g carbohydrate; 1.63g sugar; 11.5g protein; 0g fiber