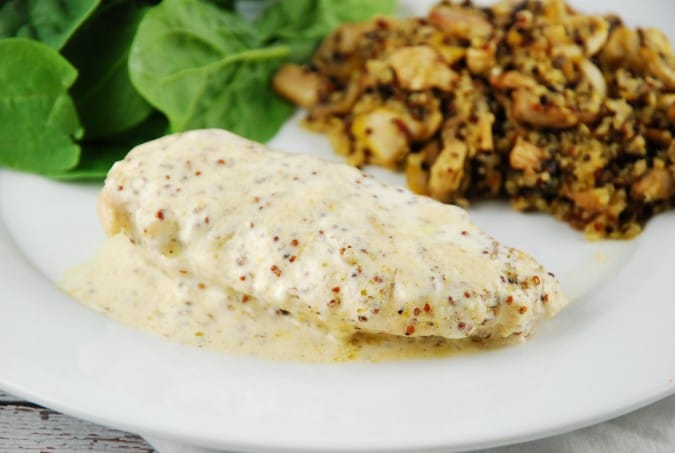 Lately, my schedule has been packed, and my days overflowing with tasks. So, I've fallen a bit behind in my menu planning for each week and often have to rely on whatever foods I have in the fridge/freezer/pantry to whip up a tasty and healthy Weight Watchers dinner. And I often have to do this in 30 minutes or less. When this situation arises, it's recipes like this Creamy Dijon Chicken Recipe that save me. Not only is it quick, easy, and delicious, it requires minimal ingredients, minimal prep AND is just 5 Points per serving. The creamy sauce is so tangy and flavorful, and it all goes perfectly over potatoes, rice or quinoa. When you need something fast, fabulous, and low in Points, this Creamy Dijon Chicken Recipe is your ticket! Enjoy.
Creamy Dijon Chicken
This decadent sauce takes standard chicken breasts to a whole new level. Creamy and tangy, it goes perfectly served over quinoa, potatoes or rice.
Ingredients
1 1/2 lbs skinless, boneless chicken breasts, cut into 4 fillets
1/2 cup fat free sour cream
1 tsp olive oil
2 tbsp dijon mustard
1 tsp pure maple syrup
Juice from 1 small lemon
Salt & pepper to taste
Instructions
Season both sides of the chicken with salt and pepper. Heat oil in a medium sized skillet, over medium high heat.
When oil begins to smoke, add in chicken and sear on both sides (about 2-4 minutes per side).
Turn heat to medium low, and whisk together remaining ingredients in a bowl. Then pour over chicken, cover with a lid, and cook until chicken is no longer pink and is thoroughly cooked through, about 8-10 minutes.
Preparation time: 5 minute(s)
Cooking time: 18 minute(s)
Diet tags: Low calorie, Reduced fat, Reduced carbohydrate, High protein
Number of servings (yield): 4
Culinary tradition: USA (General)
Calories: 221
Fat: 4g
Protein: 35g
Entire recipe makes 4 servings
Serving size is 1 piece of chicken with sauce
Each serving = 6 Smart Points/5 Points
PER SERVING: 221calories; 3.02g fat; 0.84g saturated fat; 6g carbohydrate; 3g sugar; 9.4g protein; 0g fiber