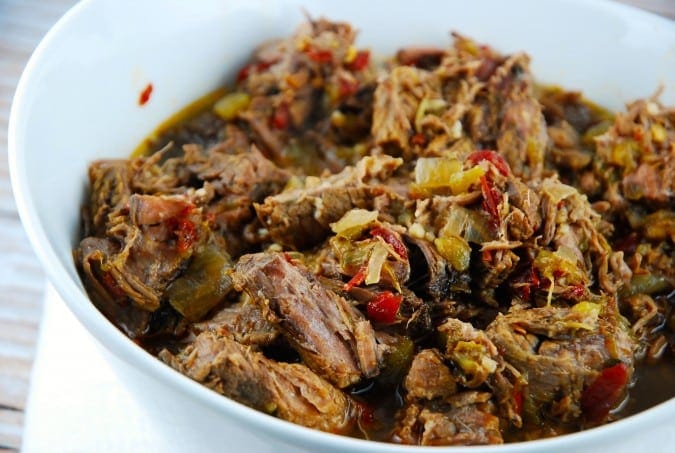 Chipotle restaurant is one of my go to fast food joints when I need food that is quick, healthy, delicious, and easy on the Weight Watchers Points. And the meat that I almost always get there is the barbacoa, which is essentially "Mexican Barbecue". It is DELICIOUS! So after a bit of research, I found the ingredients involved in making barbacoa, and I got to work putting together a Weight Watchers slow cooker recipe that would get me close to the Chipotle version. It took a couple of attempts, but I have to say….I NAILED it!! This Slow Cooker Barbacoa Recipe delivers such incredible, tender, juicy, amazingly flavored beef, you will want to make it every day. Use it in a burrito, tacos, on top of salad, or just straight up as it is. It really is amazing. This Chipotle Copycat barbacoa recipe is a must try!
Slow Cooker Barbacoa
Tender, juicy, amazingly flavored beef that is melt in your mouth delicious. Slow cooked to perfection, this tasty barbacoa can be served in so many ways!
Ingredients
3 lbs chuck roast, fat trimmed, cut into chunks
1 medium onion, diced
1 4 oz can diced green chiles
2-3 chiptoles in adobo sauce, chopped
6 cloves garlic, minced
2 tbsp apple cider vinegar
1 tbsp cumin
1 tbsp corriander
2 tsp salt
1 tsp black pepper
Juice from 3 limes
1/2 cup fat free beef broth
Instructions
Add all ingredients to slow cooker. Toss to combine.
Cover and cook on low for 6-8 hours, or until meat is tender enough to be shredded with a fork.
Using two forks, shred the meat, then stir well with the juices.
Serve using a slotted spoon, tongs or a fork.
Preparation time: 10 minute(s)
Cooking time: 6 -8 hour(s)
Diet tags: Low calorie, Reduced carbohydrate, High protein
Number of servings (yield): 10
Culinary tradition: Mexican
Calories: 308
Fat: 11g
Protein: 38g
Entire recipe makes 10 servings
Serving size is about 1/2 cup shredded meat
Each serving = 7 Points
PER SERVING: 308 calories; 11g fat; 2.5g carbohydrates; 38g protein; 0g fiber