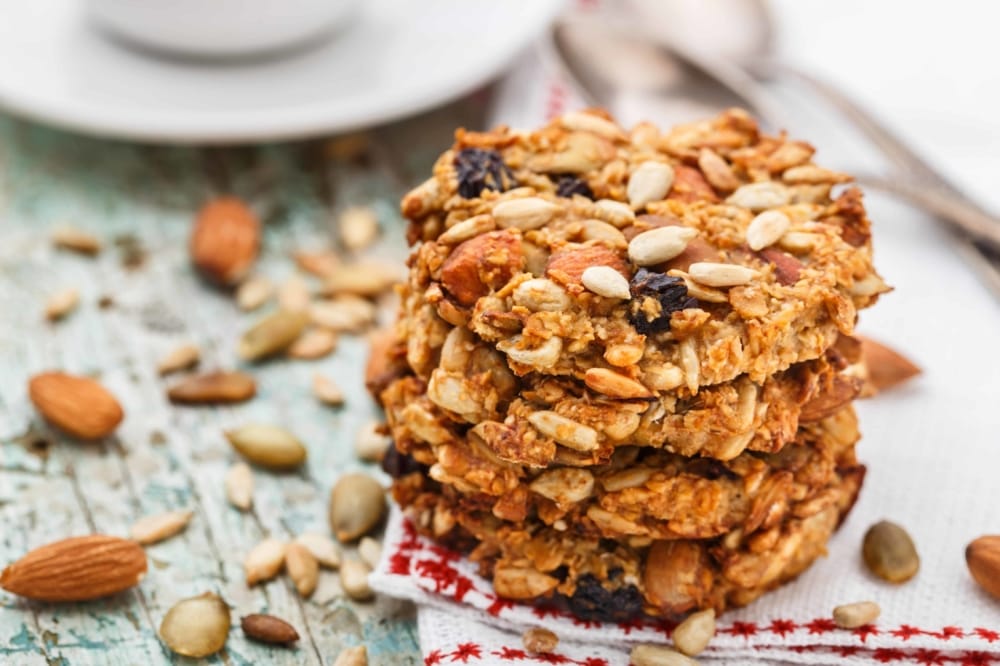 I'm always looking for ways to use my ripe bananas in recipes. This cookie is wonderful, it's moist and full of delicious nuts and raisins. I like to use them as a snack before and after my walks. They're sweet and tasty without being overly sweet or rich. The applesauce helps to add a sweet and moist quality to the cookie.
Moist & delicious banana nut oatmeal cookies, packed with flavor and nutrients.
Ingredients
3 ripe bananas, mashed
1/3 cup unsweetened applesauce
2 cups quick oats
1/4 cup milk (diary or nondairy)
1/2 cup raisins
1/4 cup chopped almonds
2 Tbsp sunflower seeds
2 Tbsp pumpkin seeds
1 tsp vanilla
1 tsp cinnamon
Instructions
Preheat the oven to 350 degrees F.
Combine the bananas, applesauce and milk, vanilla and cinnamon in a bowl and mix until well combined.
Add the oats and mix well.
Fold in the raisins, almonds, sunflower seeds and pumpkin seeds.
Drop by rounded teaspoonfuls onto a baking sheet.
Bake for 12 – 15 minutes, or until the cookies begin to set up.
Cool completely and store in an airtight container.
Preparation time: 10 minute(s)
Cooking time: 15 minute(s)
Diet type: Vegan
Diet tags: Low calorie, Reduced carbohydrate, Gluten free
Number of servings (yield): 24
Culinary tradition: USA (General)
Calories: 66
Fat: 1.7
Protein: 1.7
Entire serving makes 24 servings.
Serving size is 1 cookie.
Each serving = 2 Smart Points/2 Points
PER SERVING: 66 calories; 1.7g fat; .1g saturated fat; 11.9g carbohydrates; 4.2g sugar; 1.6g protein; 1.7g fiber