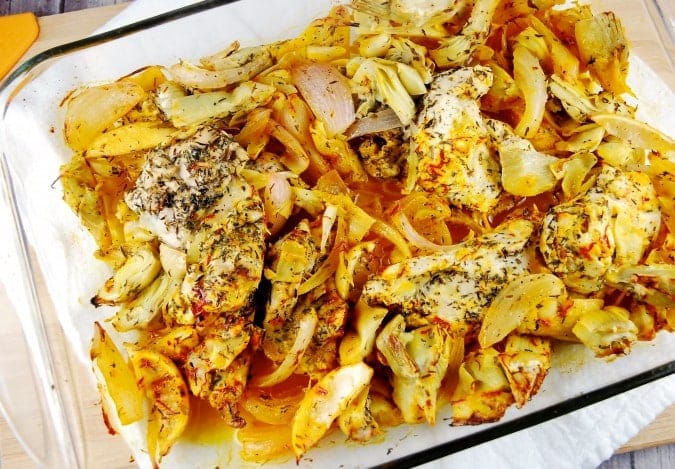 Another one of my favorite, super easy chicken dinner recipes is this delicious Lemon Artichoke Chicken dish. The seasoning are soon tasty, and the chicken comes out perfectly juicy and tender. At just 5 Points per serving, you get a delicious entree that offers a nice amount of protein and fiber with barely any carbs. Also, note that the recipe only calls for a tsp of saffron threads, but my photo may show more. I tend to get a little heavy handed with the saffron because I adore it, but feel free to use as much or as little of the saffron as you want. This dish works really nicely over orzo pasta or brown rice, and I like to serve it with a simple side salad for a complete meal. Enjoy!
Lemon Artichoke Chicken
Moist, juicy chicken thighs decadently seasoned and served over tender roasted artichoke hearts. This dish hits a ton of flavor notes yet it's such a breeze to prepare.
Ingredients
2 lbs boneless, skinless chicken thighs (about 8 thighs)
16 oz canned or frozen artichoke hearts (drained/thawed)
6 shallots, cut into thin wedges
6 garlic cloves, sliced
1 lemon, cut into thin wedges
1 tbsp olive oil
2 tsp dried thyme
2 tsp dried parsley
1 tsp saffron threads
Juice of 1 lemon
Salt and pepper to taste
Instructions
Combine all ingredients in a large bowl, and toss well with hands to coat. Cover and let marinade for at least 2-3 hours.
Preheat oven to 425 and spray a large baking dish with nonfat cooking spray.
Place chicken and artichoke mixture into baking dish, and roast uncovered for about 30 minutes. Then cover with foil, and roast for another 15 minutes. Let cool 5 minutes before serving.
Preparation time: 15 minute(s)
Cooking time: 45 minute(s)
Diet tags: Low calorie, Reduced fat, Reduced carbohydrate, High protein, Gluten free
Number of servings (yield): 8
Culinary tradition: Middle Eastern
Calories: 195
Fat: 5g
Protein: 31g
Entire recipe makes 4 servings
Serving size is about 5 – 6 spears
Each serving = 3 Smart Points/3 Points
PER SERVING: 103 calories; 7g fat; 1g saturated fat; 8g carbohydrates; 0g sugar; 1g protein; 2.5g fiber