Notcho-yo average nacho (see what I did there?), but these Cauliflower Nachos are fabulous. They're a decadent treat that is guilt free. It's healthy, tastes fabulous and is going to hit the spot. What's better than that?
Nachos are one of my favorite guilty indulgences, but I don't like blowing all my points by sitting down on a plate of nachos. So, I thought I'd make a couple of healthy changes and I'd still get to enjoy a big heaping serving of them.
I did what I've been doing a lot recently – switch the high fat, carb laden food for a mild vegetable and see how it is. And it's pretty good. It's good.
I didn't just toss a handful of cauliflower on my plate, put nacho toppings on and call it good. I sliced cauliflower and then seasoned it, roasted it and smothered it in my favorite toppings. I've learned that when you use veggies like cauliflower in place of a carb (like chips), it really helps to season your vegetable to add more flavor to it. I used the classic Mexican flavors- cumin, garlic, paprika and chili powder.
Once I'd roasted the cauliflower to perfection, which took about 40 minutes, I added a bit of cheese and then stuck the cauliflower back in for long enough to melt the cheese. All I had to do after that was add my favorite toppings.
Now, don't get me wrong, Mexican spiced, roasted cauliflower slices don't have the same "crunch" as the tortilla chips. But, let's face it…the chips are just a vehicle for the nacho toppings. And when you've got a nacho base that's this low in calories, you can go nuts with the toppings.
For this round of cauliflower nachos, I added some sour cream, red onions, cilantro and salsa. It was perfect as a filling and satisfying snack but wasn't going to ruin my next meal or throw off my points for the whole day.
If you want to make these nachos a whole meal, add some ground meat, black beans, carne asada, diced peppers, olives…whatever your heart desires. The real point value in these nachos comes down to the toppings, so you've got some room to add your favorite toppings, whether this is a snack or a meal.
Cauliflower ended up being a perfect way to make one of my favorite snacks guilt-free. Tortilla chips have so much fat, salt and carbohydrate that I have a hard time enjoying my nachos. Cauliflower was the perfect compromise for me. It's healthy and easy to prepare, but it's also mild, so once you smother it with seasonings, cheese, salsa, or sour cream…it takes on the flavor of those foods and you don't even notice you've made your nachos healthy.
I love that I get to treat myself to these nachos that have all the Mexican spices and toppings that I love, but they don't have the Points, or guilt, of the classic nachos. I cannot even begin to tell you how happy this recipe makes me. It's a MUST try!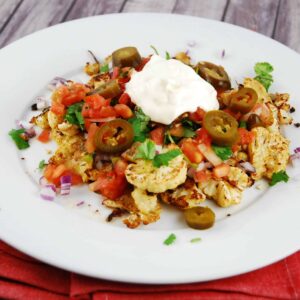 Cauliflower Nachos Recipe
Treat yourself to these decadently healthy "nachos" that are prepared with all the Mexican spices and toppings you love.
Ingredients
1

small head

cauliflower

-

(sliced)

1

tsp

olive oil

½

tsp

salt

1

tsp

ground cumin

1

tsp

garlic powder

½

tsp

paprika

½

tsp

chili powder

½

cup

reduced fat colby jack cheese

-

(shredded)

2

tbsp

reduced fat sour cream

2

tbsp

red onions

-

(diced)

2

tbsp

cilantro

-

(chopped)

Salsa as desired
Instructions
Preheat oven to 425. Line a large rimmed baking sheet with cooking spray. Place cauliflower onto baking sheet and drizzle with the olive oil. Make sure to coat each piece of cauliflower.

In a small bowl, mix together the salt, cumin, garlic powder, paprika, and chili powder. Sprinkle the seasoning mix over the cauliflower. Toss to coat. Roast for about 35-40 minutes, or until the cauliflower becomes golden brown and crisp at the edges.

Top with the cheese, and return to the oven for another 5 minutes to melt the cheese.

Plate the cauliflower, and top with red onion, cilantro, and salsa as desired. Dollop sour cream on top.
Notes
The entire recipe makes 2 servings
The serving size is 1/2 the recipe
Nutrition
Calories:
134
kcal
(7%)
Carbohydrates:
2.4
g
(1%)
Protein:
5.8
g
(12%)
Fat:
6
g
(9%)
Saturated Fat:
2.4
g
(15%)
Cholesterol:
10
mg
(3%)
Sodium:
623
mg
(27%)
Potassium:
500
mg
(14%)
Fiber:
4.2
g
(18%)
Sugar:
4.1
g
(5%)
Calcium:
90
mg
(9%)
Iron:
1.6
mg
(9%)