I used to cook a lot of recipes with coconut milk, but I have been reluctant to do so ever since the new Weight Watchers Points plan came into effect. Coconut milk is high in saturated fat, so I was concerned that it would raise the Points value of my recipe too much.
However, I was pleasantly surprised when this Salmon Curry recipe turns out to be fewer Points than I anticipated! Sometimes, you just gotta eat the good stuff and spend that extra point of two.
For me, when I splurge on a dish like this (instead of something like chocolate cake), it's always worth it and is so much more satisfying!
And let me tell you, this dish is definitely worth it. Plus, it's a fast and easy meal to cook. I don't know about you – but that means that it's high on my list of recipes.
Another reason why I like it is that it works so well with frozen salmon. I typically buy frozen salmon because I can get wild caught salmon for far less when it's frozen than when it's fresh. Plus, I don't have to use it right away. I can get it when it comes on sale and use it in the next couple of months to add variety to our meals.
This salmon is perfectly poached in coconut milk. The curry flavor is mild and isn't spicy but is enough that you can really enjoy it. Since it's not too spicy, my kids could enjoy it as well. The flavor was the best part, but a close second was that I had this on the table in less than 30 minutes!
I served mine with cauliflower rice to keep my Points lower. Truly, it was seriously delicious! I even liked it better than the quinoa that I made for my husband and the kids. The cauliflower rice can be seasoned with a little turmeric or lime and cilantro, so it blends in well with the Indian flavors of the meal. When you cook up cauliflower rice with just a little bit of flavor like that, you'll never miss the regular thing – trust me!
Salmon is a fabulous lean protein. It's low in saturated fat, but high in healthy unsaturated fats. Unsaturated fats are vital for your body. Omega-3 fatty acids (found in salmon) have been shown to decrease your risk of cardiovascular problems, improve your mood and brain function, protect your joints, keep your eyes healthy and decrease your risk of cancer. And all those benefits are in addition to the fact that it just tastes good!
What about coconut milk?
I just told you that salmon is low in saturated fat. Saturated fat is one of the "bad fats" that are supposed to be avoided, so why would I add that to my curry? For two reasons, coconut milk is traditionally added to curry, and coconut milk, especially in small quantities isn't all that bad for you.
Yes, coconut, especially coconut oil, is high in saturated fats, but there is something about the coconut that can help raise the healthy cholesterol in your body. So, not only does the coconut milk help to make this Salmon Curry delicious, but in small quantities, it's not bad for you.
I'm so glad that I decided to get back on the coconut milk train. This was a fantastically flavorful and healthy meal that left me feeling completely satisfied. Enjoy!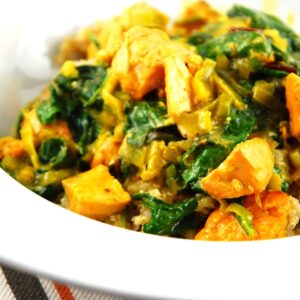 Salmon Curry Recipe
A delicious and easy way to prepare salmon, this decadent yet light curry recipe gets a healthy meal on the table in minutes. The tender salmon is perfectly poached in the creamy coconut milk and absolutely melts in your mouth.
Ingredients
1

lb

salmon

-

(skinless, cut into cubes)

1

large

leek

-

(thinly sliced)

1

tsp

coconut oil

15

oz

reduced fat coconut milk

-

1 can

3

cloves of garlic

2

tsp

curry powder

1

tbsp

fresh ginger root

-

(minced/grated)

1

tbsp

reduced sodium soy sauce

6

oz

fresh greens

-

1 bag (I used a spinach, kale, and chard mix)

Juice from 1/2 a lime

Salt and pepper to taste
Instructions
In a large skillet, heat coconut oil over medium high heat. Add in leeks, garlic, and ginger, and sauce for about 3-4 minutes.

Stir in the coconut milk, soy sauce, curry powder and salt and pepper. Mix well, and bring to a boil.

Reduce heat to medium, and add in the salmon and greens. Simmer until the salmon is cooked all the way through and the greens are wilted, about 5-7 minutes.

Stir in fresh lime juice, and serve over rice, quinoa, or riced cauliflower if desired.
Notes
The entire recipe makes 4 servings
The serving size is about 1 cup
Nutrition
Calories:
315
kcal
(16%)
Carbohydrates:
9.7
g
(3%)
Protein:
25.9
g
(52%)
Fat:
17.7
g
(27%)
Saturated Fat:
12
g
(75%)
Cholesterol:
50
mg
(17%)
Sodium:
250
mg
(11%)
Potassium:
853
mg
(24%)
Fiber:
2.3
g
(10%)
Sugar:
1.5
g
(2%)
Calcium:
90
mg
(9%)
Iron:
5.2
mg
(29%)