I don't know about you, but I'm not usually one to think about vegetables when I'm ordering Chinese takeout. Chinese takeout is something that I like to indulge in and how can I do that and think about being healthy at the same time?
There is one exception to that – Chinese-style Garlic Green Beans. Wow, they are good. The flavor is amazing. Who knew that green beans could taste so incredibly good?!
My kids LOVE these green beans. Every time we order them, they go after them with such gusto that I thought it was about time that I figured out how to make them.
But, of course, I didn't just figure out how to make them. I figured out how to make them and make them even healthier without sacrificing any of the flavors at all!
Chinese Garlic Green Beans are traditionally pretty oily, but since lots of oil also means lots of points, that was the first thing that was going to have to go. I wanted to keep these are simple, delicious, and light as possible.
To do that, I kept the oil minimal. One tablespoon of olive oil to sauté the garlic and beans and a teaspoon of sesame oil for the classic Asian flavor.
To keep that delicious, crisp flavor of the green beans, I use fresh green beans. Sure, you can use frozen, but frozen green beans are never quite as crisp after you cook them. If you use frozen, just be sure not to overcook them or you'll end up with limp and unappealing green beans.
When using fresh green beans it's really important that they are boiled for just a few minutes. You don't want to overcook the green beans while you're boiling them and then go on to cook them some more when you sauté them with the garlic.
Minced garlic and reduced sodium soy sauce are the only other ingredients in these amazing green beans. Make sure you use reduced sodium soy sauce since regular soy sauce has such a salty flavor it overwhelms the dish entirely.
Since even reduced sodium soy sauce is pretty salty, I usually don't add much, or any salt. If you like, you can always salt the water that you're cooking the green beans in before you sauté them.
The flavor is easily the best part of these Chinese Garlic Green Beans. But there's another great part – how easy these beans are to make. I love veggies that I can easily prepare while I'm making the rest of dinner and these are definitely like that.
I'll tell you what, any time that I can make something at home that is just as tasty as what we order in a restaurant is a good thing. But what's even better is when it's so incredibly tasty!!
I love how quick and easy these Chinese Garlic Green Beans are to make. They taste amazing and get wolfed down in record time every time I make them. All of that AND they're low in points!!! You've got to try these, you'll love every bite.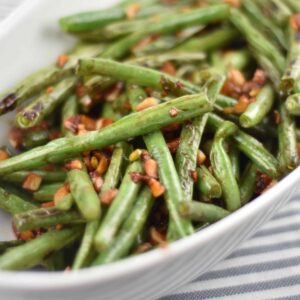 Chinese Garlic Green Beans Recipe
Quick and delicious Chinese garlic green beans are always a family favorite! Just as good as the restaurant version.
Ingredients
1

lb

green beans

-

(washed and trimmed)

1

tbsp

olive oil

1

tsp

toasted sesame oil

6-8

cloves of garlic

-

(finely chopped)

2

tbsp

reduced sodium soy sauce

Salt to taste
Instructions
Bring a large pot of water to a boil. Add in green beans, and cook for about 3 minutes. Drain and set aside.

Heat olive oil a large skillet over medium high heat. Add in green beans and garlic, and saute until beans are a bit char-marked and garlic is browned.

Stir in soy sauce and toasted sesame oil and cook until heated through, about 1-2 more minutes. Season with additional salt as desired.
Notes
The entire recipe makes 4 servings
The serving size is about 1 cup
Nutrition
Calories:
87
kcal
(4%)
Carbohydrates:
10.4
g
(3%)
Protein:
2.8
g
(6%)
Fat:
4.8
g
(7%)
Saturated Fat:
0.7
g
(4%)
Sodium:
308
mg
(13%)
Potassium:
271
mg
(8%)
Fiber:
4
g
(17%)
Sugar:
1.8
g
(2%)
Calcium:
40
mg
(4%)
Iron:
1.4
mg
(8%)