It's nearing the end of June, and I don't know about you, but with these hot and busy summer days, I don't feel like cooking much. I've been making Weight Watcher recipes that are fast, easy, and delicious but don't require me to put forth a lot of effort in the kitchen.
Trust me when I tell you that this Balsamic Roasted Chicken and Vegetables recipe is the perfect dish for this kind of situation. It's super-fast and easy, tastes amazing and my whole family loves it!! It's a win-win.
This Balsamic Roasted Chicken and Vegetables is so easy that I end up cooking it again and again. It's easy, so I'll double or triple the recipe and then freeze the extra marinade. That way, I have it for an even quicker meal in the next week or so.
The marinade is what this dish is all about. The dark and rich flavor of the balsamic vinegar mixes with the soy sauce and spicy garlic to create the perfect marinade for the chicken. It's rich and juicy and oh-so-delicious.
It's important to marinade the chicken overnight so the thighs get the flavor of the marinade soaking deep into the meat. Boneless skinless thighs are the easiest to work with, but you could also use chicken breast if you didn't want to have the extra point of two of the dark meat. I like thighs in this dish because they're so much more juicy and flavorful.
Allowing the chicken to marinate overnight allows the meat to soak up the marinade and really gets the most delicious flavor. The salt from the soy sauce helps the meat to soak up the marinade and keeps the meat juicy and delicious throughout the whole cooking process. Don't use full sodium soy sauce, or it'll end up so salty that you won't want to eat it!
I use carrots and onions in this dish because they're easy and my family will always eat them. You can marinate the veggies with the chicken if you'd like. The veggies will end up darker from soaking all night in the marinade.
You can also swap out the carrots in this dish for your favorite veggies. Or add more veggies so you don't have to add side dishes. Broccoli, green beans, snap peas, peppers, mushrooms, and tomatoes would all be just as delicious in this and won't add any extra points.
I typically roast this, since it only takes about half an hour. That gives me enough time to whip up whatever side dishes I want to serve with it. However, if it's just too hot for you to contemplate heating up the oven, try grilling the chicken and veggies.
Make sure to use a grill pan or cut the veggies big enough they won't fall through the grate. You'll end up with chicken and veggies that are juicy and have the delicious marinade, and they'll have the fabulous smoky flavor from the grill as well.
Serve this with some brown rice, pasta, or just a nice side salad. This Balsamic Roasted Chicken and Vegetables is just amazing for these hot and busy summer nights.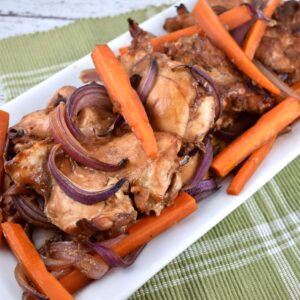 Balsamic Roasted Chicken and Vegetables Recipe
Succulent chicken thighs marinated in a soy balsamic sauce, paired with sweet carrots and onions, makes for an easy and healthy dinner recipe.
Ingredients
1

lb

chicken thighs

-

(skinless, boneless)

1

red onion

-

(thinly sliced)

2

large

carrots

-

(chopped)

¼

cup

reduced sodium soy sauce

3

tbsp

balsamic vinegar

3

cloves of garlic

-

(minced)

Salt and pepper to taste
Instructions
In a large bowl, mix together the soy sauce, vinegar, garlic, and salt & pepper. Add in the chicken, cover and marinate overnight.

Preheat oven to 425. Mist a large baking dish with cooking spray.

Add vegetables in with the chicken, and toss to coat. Transfer veggies, chicken, and marinade to baking dish (do not crowd chicken).

Place in oven, and roast for about 30-40 minutes, turning once halfway through, or until chicken is cooked through.
Notes
The entire recipe makes 4 servings
The serving size is about 1 1/2 chicken thighs with vegetables
Nutrition
Calories:
220
kcal
(11%)
Carbohydrates:
8.3
g
(3%)
Protein:
34.4
g
(69%)
Fat:
6.5
g
(10%)
Saturated Fat:
2.3
g
(14%)
Cholesterol:
101
mg
(34%)
Sodium:
656
mg
(29%)
Potassium:
477
mg
(14%)
Fiber:
1.7
g
(7%)
Sugar:
3.3
g
(4%)
Calcium:
30
mg
(3%)
Iron:
2
mg
(11%)