When it comes to summertime, there are always a few things that you can find in abundance that are so much better than they are the rest of the year. Tomatoes, zucchini, and cucumbers are some of those things. Cucumber salad is a perfect side dish to have during these summer months.
Thai Cucumber Salad is light and refreshing. It's so easy to prepare but it's a delightful salad that's a perfect complement to your favorite Asian meal. It's simple and easy with just a few ingredients. But the flavors, oh the flavors, they're vibrant and amazing.
I love how simple this salad is to put together. Just thinly slice the cucumber, whip together the dressing ingredients and you're good to go! You can slice the cucumbers by hand, since that's the easiest and usually has the fewest dishes involved.
You could alternatively use a mandolin or even a spiral slicer.
There is nothing like a side dish of bright, refreshing, and delicious vegetables that's ready to go in 10 minutes or less. It's quick and easy but it adds a pop of color to your meal. It also adds tons of vitamins, minerals, and fiber.
Summer always has plenty of potlucks and picnics and this is the perfect salad to bring. It's cool and refreshing for those warm summer days. And, because almost everyone sticks to the traditional salads, this one is sure to be a hit.
You can use any variety of cucumbers that you like in this salad. I don't usually peel the cucumbers, so I like to use English cucumbers or those mini cucumbers in this salad. Regular cucumbers often seem to have very tough and thick skins that can be a little bitter. Both the English cucumbers and the mini cucumbers have much softer, thinner skins that I like better.
The rice vinegar dressing is the perfect way to make this salad stand out. The slightly tangy rice vinegar is perfect for the Asian flavor. Rice vinegar tends to be a little milder and not quite as strong as the traditional white distilled vinegar. Adding just a little sugar takes the edge off the bite without adding too many points – or losing that delicious vinegar tang.
To me, so Asian recipe is complete without a little sesame oil! The sesame oil in this Thai Cucumber Salad adds a little smooth flavor to the salad that gives you the Asian flavor. That subtle and smooth sesame oil makes it a perfect complement to your favorite Asian meal.
Don't skimp on the red pepper flakes!! I use ½ a teaspoon and it's the perfect amount of heat in my opinion. But don't be afraid to add a few more if you really like heat. Or add only a pinch if you're not a big fan of them.
And don't skimp on the salt either! The salt in this helps the cucumber absorb the dressing. It is the cherry on top – so to speak – that makes this salad amazing and delicious.
This salad has it all – flavor, color, just a few ingredients, easy and quick. It's everything you need as a side dish for your next Asian meal. Plus, it's a great way to take advantage of those delicious and inexpensive cucumbers! Enjoy!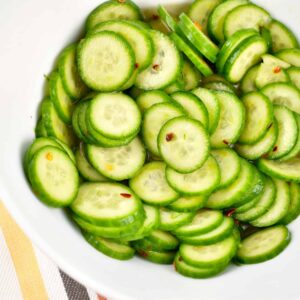 Thai Cucumber Salad Recipe
A light and refreshing salad that boasts deliciously bold flavors. It's a fast and easy salad that makes an excellent side dish to any Asian inspired meal.
Ingredients
2

large

cucumbers

-

(thinly sliced)

⅓

cup

rice vinegar

1

tbsp

sugar

1

tsp

toasted sesame oil

½

tsp

red pepper fakes

½

tsp

salt
Instructions
In a small bowl, whisk together the vinegar, sugar, sesame oil, salt, and red pepper flakes. Let sit until sugar is completely dissolved.

Combine remaining ingredients in a bowl, pour in the dressing, and toss well to combine.
Nutrition
Serving:
0.66
cup
Calories:
52
kcal
(3%)
Carbohydrates:
8.5
g
(3%)
Protein:
1
g
(2%)
Fat:
0.7
g
(1%)
Saturated Fat:
0.1
g
(1%)
Sodium:
3
mg
Potassium:
221
mg
(6%)
Fiber:
0.8
g
(3%)
Sugar:
5.5
g
(6%)
Calcium:
20
mg
(2%)
Iron:
0.4
mg
(2%)