There's just something about the chill of winter and fall to make us constantly crave warm and satisfying comfort food.
And to me, there's nothing more comforting than a good old-fashioned, big bowl of soul-satisfying beef stew. It's rich, it's hearty, it's delicious, and it really fills you up.
In the past, I've always made slow cooker beef stew recipes, and don't get me wrong – they are all fantastic. But the thing is, they take at least 8 hours to cook, which means I have to make sure I get everything prepared and in the crock pot earlier in the day. Not a problem, if I have the time.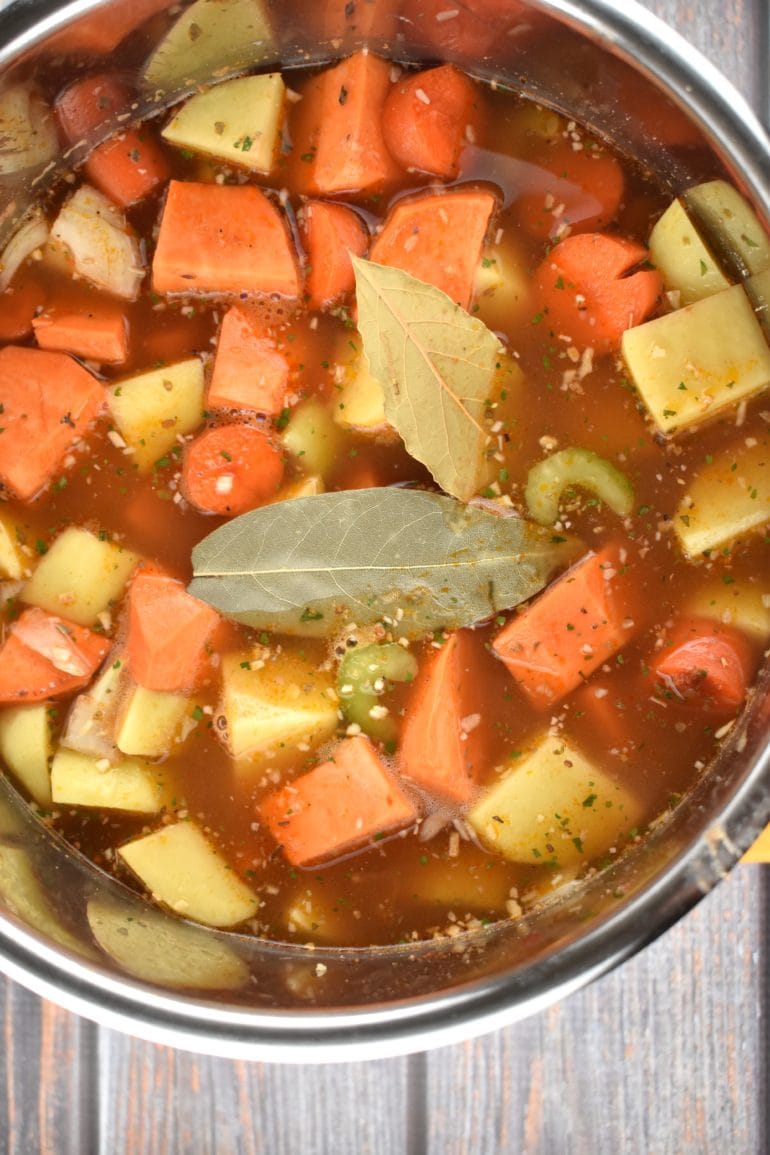 But with my busy schedule these days, it's not often that I have a lazy Sunday morning to work on my crock pot beef stew. I usually have just an hour or two before mealtime to get my cooking done, and this is where my Instant Pot comes to the rescue.
I know, I know…you've heard all about the Instant Pot a gazillion times, and I have posted a lot of Weight Watchers Instant Pot recipes lately. But I can't help it! With two kids involved in tons of sports or activities, my days are busy, busy, busy, and I use my Instant Pot a lot. A LOT. And I'm afraid I can't be stopped.
Plus, I'm excited, and just want to share tasty recipes that will help out other busy moms or families, so that they can get a healthy and delicious meal on the table in a lot less time. Can you blame me for that?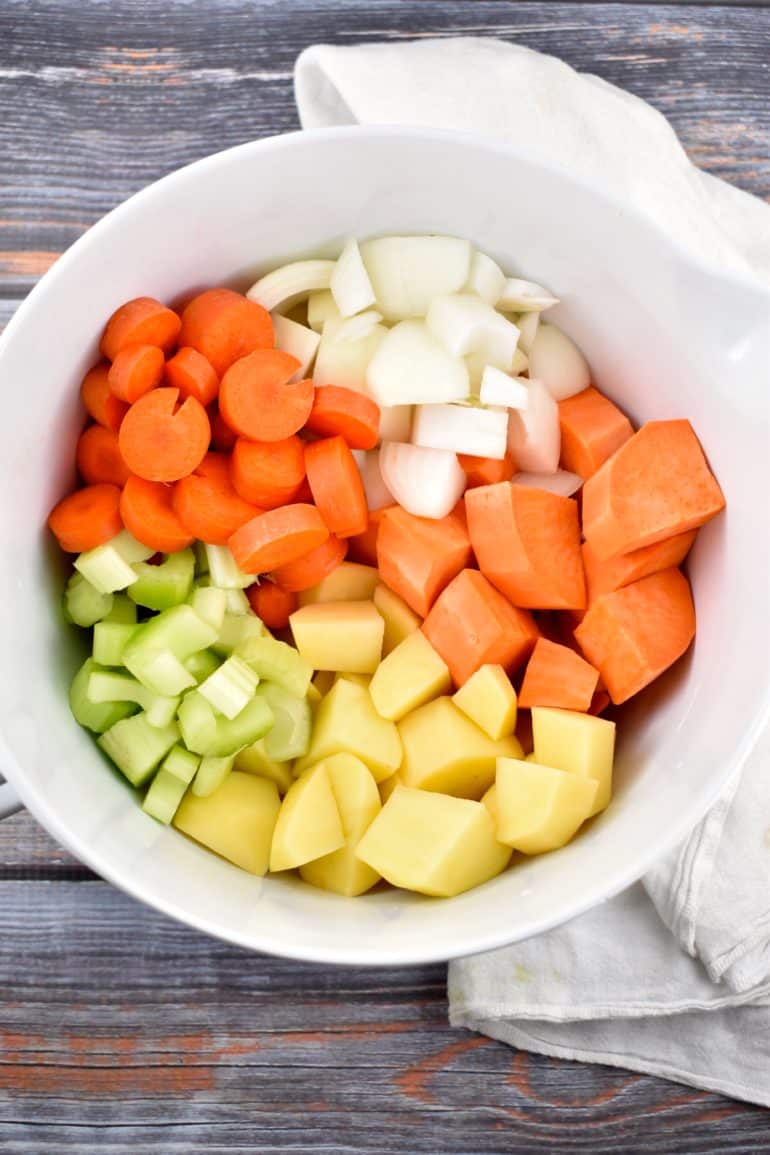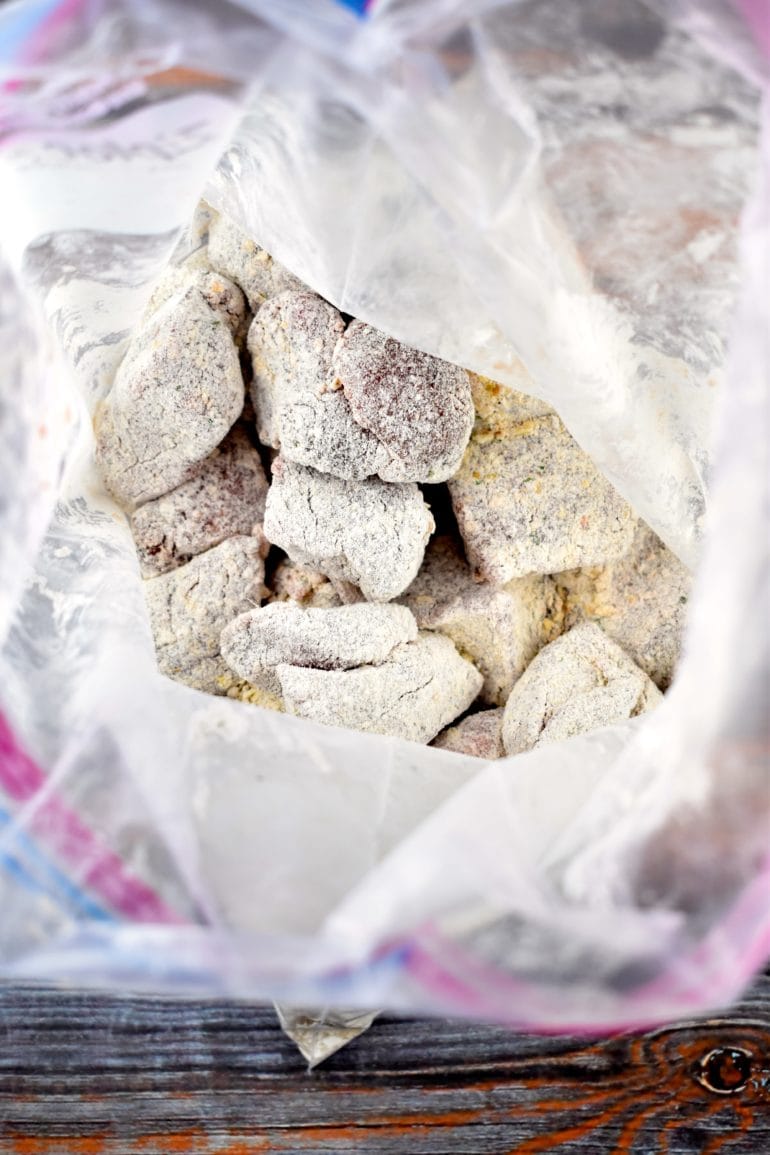 However, I know that not everyone has an Instant Pot, and some of you may not have even taken yours out of the box yet! Or maybe you're waiting for Black Friday to buy one. Either way, I've got your back. I'll make sure to include the instructions for cooking this in the slow cooker too so that you can still partake in the deliciousness of what may be the best beef stew recipe you'll ever make.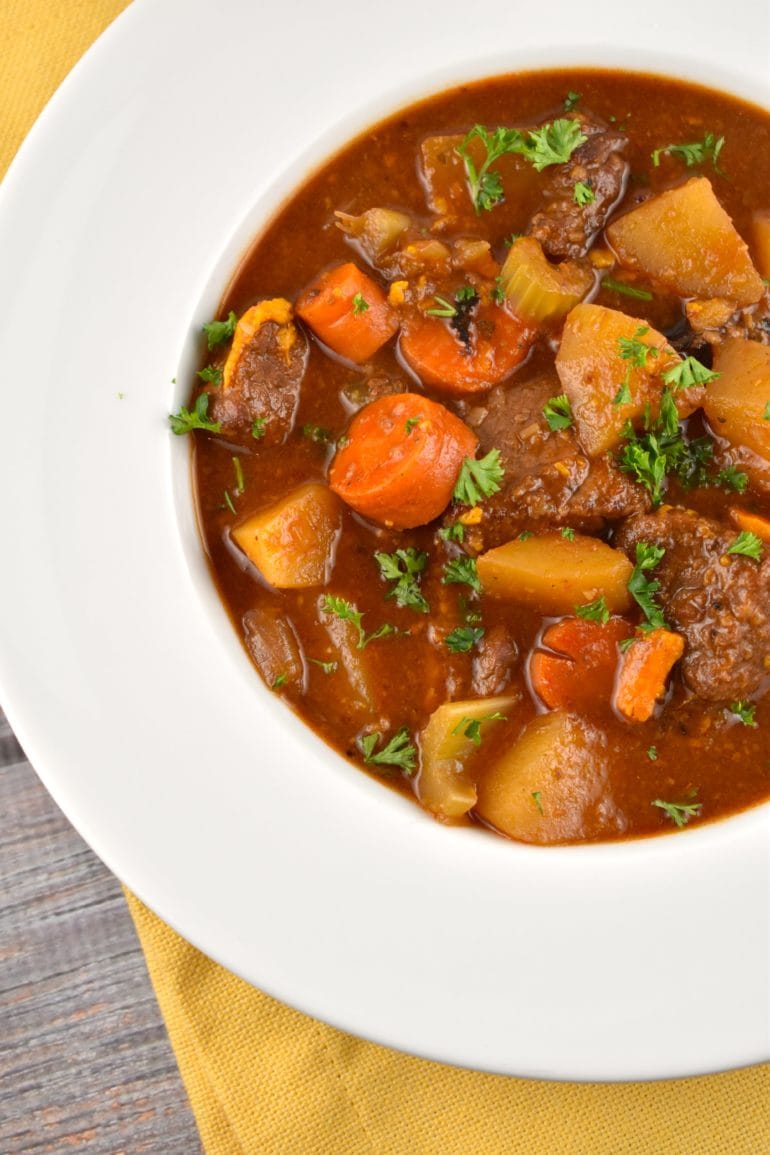 Not only does the pressure cooking make the vegetables and beef fall apart-tender in such a short amount of time, it really helps to develop all those deep, rich flavors of the stew. And if you happen to have any leftovers, those flavors get even better overnight!
This Instant Pot Beef Stew Recipe has become a family favorite. No one can seem to get enough of it – especially my kids, which makes this mama's heart SO happy. I love serving it with a warm, crusty baguette and fresh salad. Yum!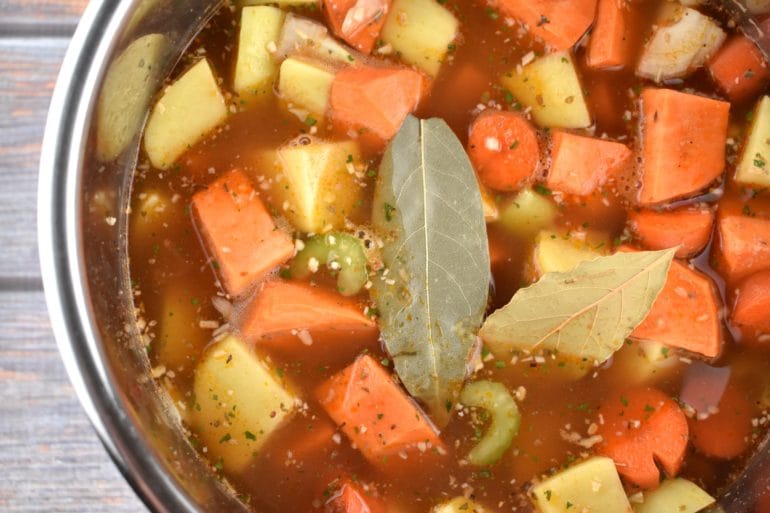 I still pull out my trusty slow cooker every now and then, but this, as with many of my other Instant Pot recipes has me saying that I'll never cook beef stew any other way again. It's just too fast and too easy to cook it this way. Truly, this perfect Instant Pot Beef Stew Recipe will have you saying the same, soon enough.
PRO TIP: Browning the meat first really helps to caramelize the meat and brings on an extra layer of flavor that's worth that bit of extra time it takes to do it. But if you are really short on time, you can skip that step, and just dump everything in the pot and go.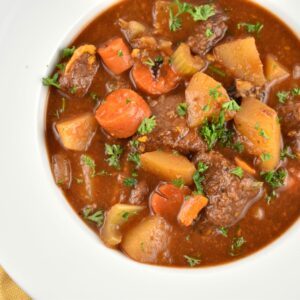 Instant Pot Beef Stew Recipe
Hearty and satisfying beef stew cooked in less than an hour with the Instant Pot. It's full of tender vegetables and juicy, succulent beef that will melt in your mouth.
Ingredients
2

lbs

lean chuck roast

-

(fat trimmed, cut into chunks)

1

large onion

-

(diced)

1

large sweet potato

-

(peeled and diced)

2

large Yukon Gold potatoes

-

(peeled and diced)

2

large carrots

-

(diced)

2

celery stalks

-

(diced)

2

tsp

Worcestershire sauce

¼

cup

2

bay leaves

1

tbsp

olive oil

4

cloves

garlic

-

(minced)

1

tsp

dried oregano

1

tsp

onion powder

1

tsp

garlic powder

1

tsp

dried parsley

1

packet onion soup mix

2

tbsp

balsamic vinegar

6

cups

fat free beef broth

¼

cup

whole wheat flour

Pinch

of allspice

Salt and pepper to taste
Instructions
In a large Ziploc bag, combine the flour, oregano, onion powder, garlic powder, parsley, salt and pepper. Add in the beef chunks, and shake well to evenly coat meat.

Set Instant Pot to saute. When hot, add in oil and meat to pot. Working in small batches, brown the meat on all sides. Make sure not to overcrowd the pan! Transfer browned meat to a dish and set aside.

Add in the onions and garlic to the Instant Pot, and saute for a about 2 minutes. Then stir in balsamic vinegar, tomato paste, and ½ cup of the beef broth, and using a wooden spoon, deglaze the pan, making sure to scrape up all the browned bits.

Return the beef to the Instant Pot, and then add vegetables, and all remaining ingredients. Stir to combine, and in some water, if necessary to cover everything.

Place lid on Instant Pot and turn saute setting off. Set to high pressure on manual mode for 25 minutes. Let release naturally for 15 minutes.

*Optional Step: If you prefer your stew to be thicker, just whisk together 2 tablespoons of water with 2 tablespoons cornstarch. Switch the Instant Pot to saute, and let the stew to come to a simmer and the liquid should thicken up.
TO COOK IN SLOW COOKER:
Complete steps one and 2 as is, but brown meat in a skillet instead of the Instant Pot.

Add browned beef and remaining ingredients to slow cooker. Cover and cook on high for 8 hours or low for 10 hours.
Notes
The entire recipe makes 8 servings

The serving size is about 1 ½ cups
Nutrition
Calories:
339
kcal
(17%)
Carbohydrates:
23.2
g
(8%)
Protein:
30.8
g
(62%)
Fat:
13.2
g
(20%)
Saturated Fat:
4.6
g
(29%)
Cholesterol:
90
mg
(30%)
Sodium:
285
mg
(12%)
Potassium:
770
mg
(22%)
Fiber:
3.2
g
(13%)
Sugar:
5.4
g
(6%)
Calcium:
40
mg
(4%)
Iron:
5
mg
(28%)