Today, I'm sharing what has become one of my all time favorite vegetarian lunch recipes – my Egg and Chickpea Salad. And since today is officially the first day of spring, egg recipes are going to be all the rage this season – especially now that they are 0 Points.
I'm not a vegetarian by any means, but I absolutely enjoy eating meatless meals on a regular basis, not only because it's a great way to help enforce a more plant-based diet, but also because there are so many delicious vegetarian recipes that keep things interesting!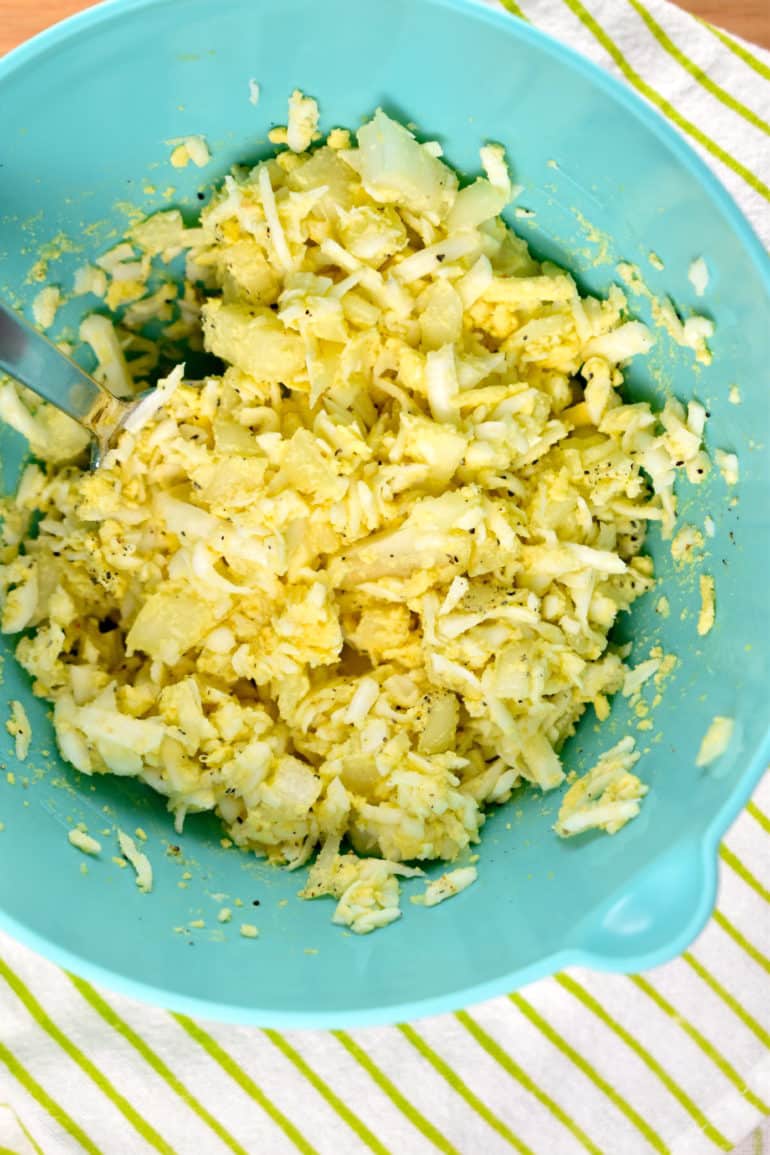 I really cannot get enough chickpeas these days. They are soft, buttery, and have a mild, creamy flavor that works well in so many dishes. Now that they are also zero Points, I'm beyond and excited, and always looking for new ways to incorporate them into my healthy recipes.
The idea for this Egg and Chickpea Salad came to me one evening when I was SUPER short on time. I needed to throw a meal together for myself – FAST. Now, usually, in these times of duress, I end up going through a drive-thru, or grabbing some type of packaged/processed food which, of course, I end up feeling super guilty about later. And I end up blowing a lot of Points.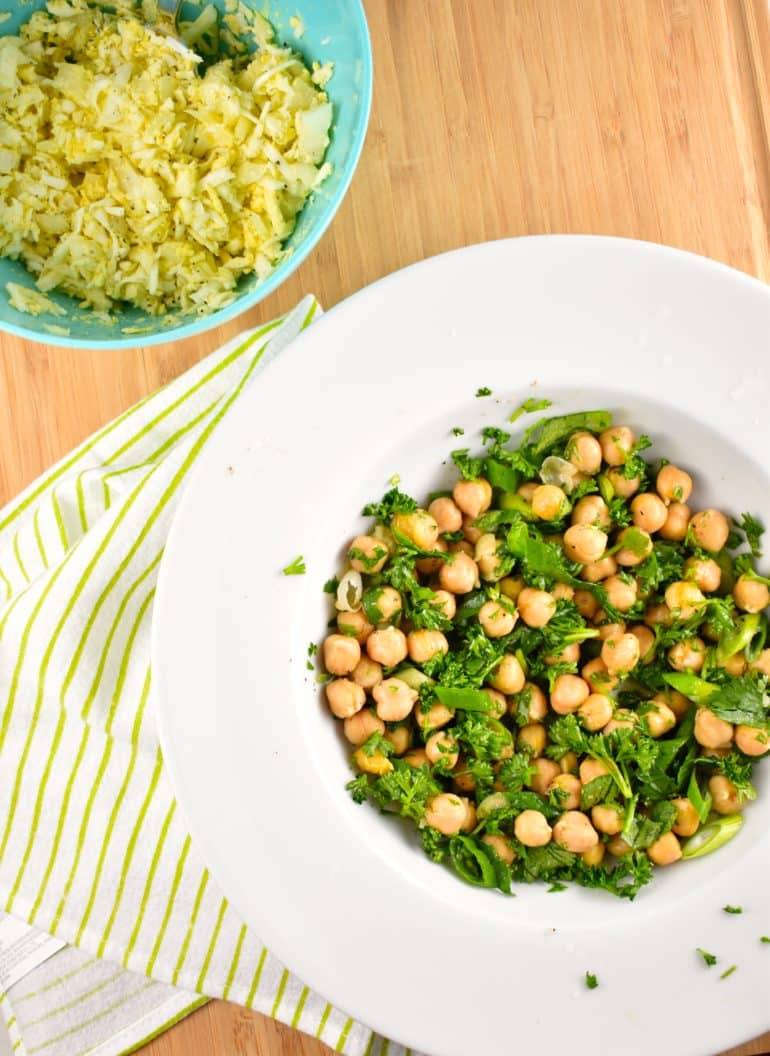 But this time, I was determined to take a few minutes and put together a healthy meal for myself that kept me on track with my Weight Watchers Points.
So I started by throwing together my Easy Egg Salad Recipe, which literally takes 5 minutes to make. Then I grabbed a can of garbanzo beans, and tossed them with some fresh herbs, lemon juice, garlic, and S&P. I topped it all off with a big scoop of my homemade egg salad, and voila! A delicious, satisfying healthy salad, made in just 10 minutes with just a few simple ingredients that I always have on hand.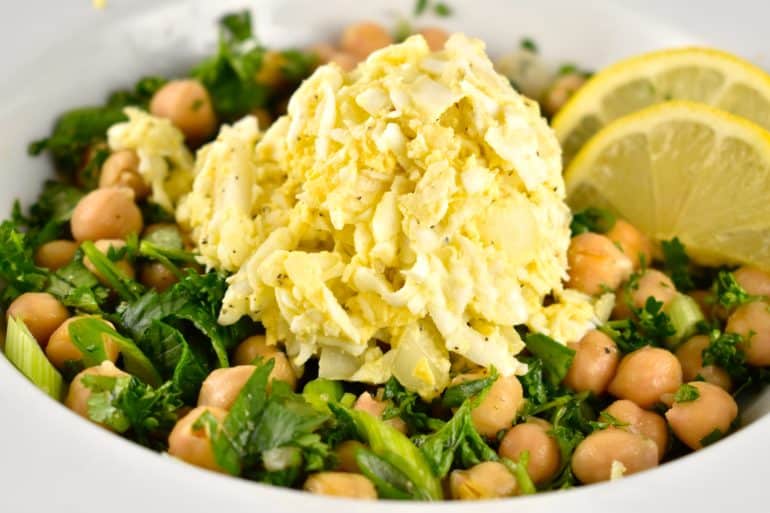 And let me just mention that if you haven't tried my Easy Egg Salad Recipe yet, you must! It's a much lighter and healthier take on traditional egg salad, and is made without any mayonnaise. I promise – it's still incredibly delicious.
PRO-TIP: I find it SO helpful to always have a big bowl of hard boiled eggs in my fridge. Not only do they make a great snack, but it's great to have some on hand, ready to go, to use in other recipes. Such a time saver!
This high protein vegetarian salad recipe also keeps well in the fridge, so it works perfectly for make ahead meals and meal prep.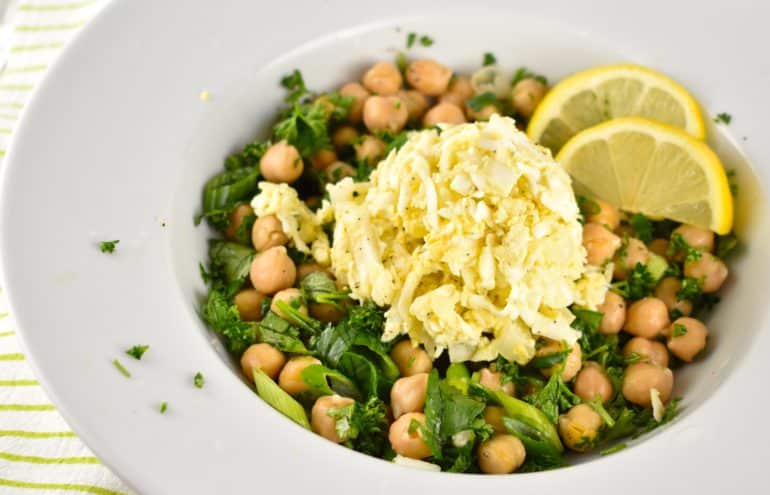 So the next time you need a delicious and easy lunch idea, give this Egg and Chickpea Salad a try. It's incredibly satisfying, nutritious and versatile.
CHICKPEA EGG SALAD VARIATIONS
Bulk this salad up by adding in some extra greens like spinach, arugula, or butter lettuce. And throwing some diced tomatoes, sliced cucumbers, or chopped bell peppers.
Want more protein? Mix in some tuna or shredded chicken breast.
Add in some extra heart healthy fats by topping this salad with some sliced avocado and/or chopped walnuts.
Kick up the flavor a notch by mixing in a sprinkle of sumac in with the garbanzo beans and herbs. Sumac is one of my all time favorite spices, btw.
CHECK OUT THESE OTHER EGG RECIPES!
Egg Drop Soup
Cheese, Onion, Vegetable, and Egg White Frittata
Egg White Salad Recipe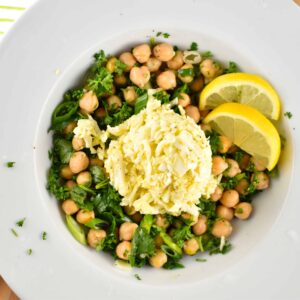 Egg and Chickpea Salad Recipe
This vegetarian salad recipe is simple, satisfying, and delicious! Packed with protein, nutrients, and some serious flavor, it makes a wonderful alternative to a basic salad.
Ingredients
4

hard boiled eggs

-

(peeled)

1

tbsp

olive oil

⅓

cup

white onions

-

(diced)

½

tsp

paprika

1

cup

canned garbanzo beans

-

(drained and rinsed)

2

green onions

-

(diced)

¼

cup

cilantro

-

(chopped)

¼

cup

parsley

-

(chopped)

1

small garlic clove

-

(minced)

Juice from ½ a lemon

Salt and pepper to taste
Instructions
Start by making the egg salad. Using a cheese grater, grate the peeled eggs.

In a bowl, combine the eggs, onion, olive oil, paprika, salt, and pepper.

In a separate bowl, toss together the garbanzo beans, green onions, cilantro, parsley, lemon juice, garlic clove, salt, and pepper. Stir gently to combine.

Divide chickpea mixture between two serving bowls. Top each with ½ of the egg salad mixture. Serve immediately.
Notes
The entire recipe makes 2 servings
The serving size is ½ of the entire recipe
Nutrition
Calories:
355
kcal
(18%)
Carbohydrates:
34.2
g
(11%)
Protein:
18
g
(36%)
Fat:
17.4
g
(27%)
Saturated Fat:
3.9
g
(24%)
Cholesterol:
327
mg
(109%)
Sodium:
491
mg
(21%)
Potassium:
496
mg
(14%)
Fiber:
6.7
g
(28%)
Sugar:
4.9
g
(5%)
Calcium:
90
mg
(9%)
Iron:
4.1
mg
(23%)