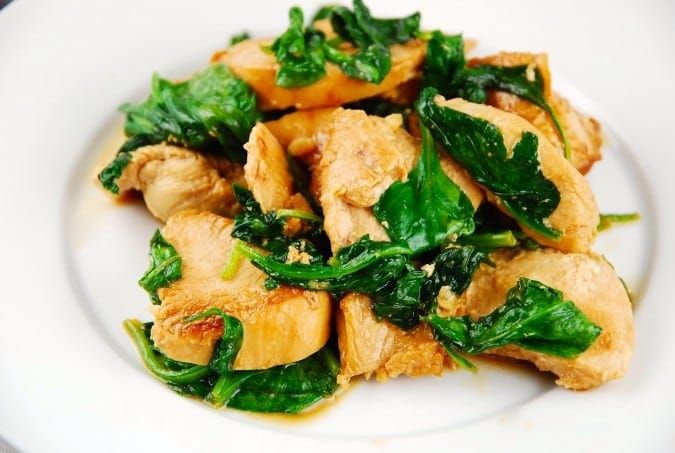 When I'm pressed for time during the week, this Chicken and Spinach Sauté Recipe is a life saver. It requires minimal prep and cook time, yet tastes incredibly delicious and is quite healthy. My kids love it too, which is a huge plus. I simply get the chicken into the marinade before I leave to go pickup my kids from school, then come and home and toss it in the skillet for dinner. Easy peasy. The only problem is that it's so good, there are never any leftovers! Simple, delicious, and satisfying, this Weight Watchers Chicken Recipe is a must try.
Chicken and Spinach Saute
A simple, yet impressive meat and vegetable dish, this Chicken and Spinach Sauté is hearty and delicious. The garlic and soy marinade adds such wonderful flavor, and allows for a very simple prep and fast cook time.
Ingredients
1 lb skinless, boneless chicken breast (sliced into strips)
16 oz fresh, baby spinach leaves
6 garlic cloves, minced
1/4 cup reduced sodium soy sauce
2 tsp olive oil
2 tsp sesame oil
1 tbsp honey
Juice of 1 lime
Salt and pepper to taste
Instructions
In a medium sized bowl, whisk together the sesame oil, soy sauce, honey, garlic, and lime juice. Add chicken strips to marinade, and toss well to coat. Cover and let marinate in refrigerator for 1-2 hours.
Preheat olive oil in a large, nonstick skillet over medium high heat. Place chicken in skillet, and then sauté until cooked through, about 3-4 minutes on each side.
Add in spinach leaves in batches, stir well, and cook until all spinach is wilted. Season with salt and pepper as needed and serve immediately.
Preparation time: 5 minute(s)
Cooking time: 10 minute(s)
Diet tags: Low calorie, Reduced fat, Reduced carbohydrate, High protein, Gluten free
Number of servings (yield): 4
Culinary tradition: Chinese
Calories: 245
Fat: 8g
Protein: 30g
Entire recipe makes 4 servings
Serving size is about 1 cup
Each Serving = 5 Smart Points/6 Points
PER SERVING: 245 calories; 8g fat; 1.1g saturated fat; 9g carbohydrate; 5.3g sugar; 30g protein; 1.5g fiber