I'm all about Soup Recipes these days, and my Lentil, Beef, and Quinoa Soup was definitely one of my favorite new recipes that came out of my kitchen this week. I love soups that are hearty, and filling, and pretty much a complete meal in one bowl.
This fabulous Lentil, Beef and Quinoa soup is just that. The lentils are tender and delicious, but they're also packed with fiber to help you feel full longer and be more satisfied. The juicy ground beef adds flavor and protein to this amazing soup.
Despite being so healthy, this soup is not boring at all. The earthy quinoa and wholesome vegetables are perfectly complemented by the spices. Parsley and thyme add to the earthy flavor of the soup, while the cumin adds a little spice. The balsamic vinegar adds a delicious richness to the flavor without being overpowering.
WHAT IS QUINOA
Quinoa is an ancient seed, even though many people mistakenly refer to it as a 'grain'. It burst onto the food scene several years ago and has remained a popular component in many recipes.
It's high protein – containing all the essential amino acids – high in fiber, antioxidants, and more than a half dozen vitamins, including iron and calcium. It's also gluten free, so it's perfect for those who are gluten intolerant and gluten sensitive.
You might think that it's a great idea to switch out the extra lean ground beef for fat free turkey breast. Sure, you get to save a point or two, but you'll end up sacrificing the flavor. This soup needs the juicy beef to enhance the flavor of the lentils and quinoa.
Now, there will be those people in your family that aren't big fans of soup. One of the frequent comments that I hear about soup is that it's hard to eat enough to feel like you got something to eat. Don't worry – that won't be an issue with this hearty and delicious soup. It's full of fiber, protein and vitamins, but it doesn't taste like it's super healthy, it just tastes downright fantastic.
Soups are perfect for these cold days. They're a great way to warm you up and help you feel cozy. Soups are great as a comfort food. And one of the reasons why I love soups for dinner is that they smell great.
This soup needs to simmer for more than an hour, so by the time it's ready to eat, everybody will be starving because the whole house will smell amazing!
Don't be daunted by the cooking time though. This soup is perfect to put together for a family meal night. It just takes a few minutes to get it cooking, and once it begins to simmer, you can get the next thing on your to-do list done.
It's also a great soup to make a large batch of to have leftovers for later in the week or lunches. Or, you can freeze the soup and have a hearty, healthy soup in minutes on the next cold and dreary day that comes along.
Lentil, Beef and Quinoa soup goes well by itself, but it's also an easy one to pair with a salad, or a piece of crusty bread. Seriously, get this soup into your meal plan now, you won't regret it.
TRY THESE OTHER LENTIL RECIPES!
Quinoa and Lentil Salad Recipe
Winter Lentil Vegetable Soup Recipe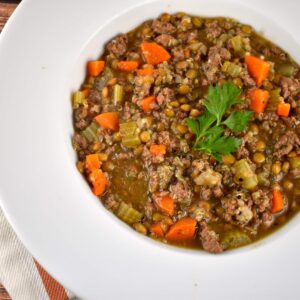 Lentil, Beef, and Quinoa Soup Recipe
A healthy and heart soup that will leave you feeling satisfied. Packed with protein and fiber, this tasty soup is a nutritious way to fill up for just a handful of Points.
Ingredients
1

lbs

ground beef, extra lean

-

(96/4)

⅔

cup

lentils

-

(uncooked)

½

cup

quinoa

-

(uncooked)

5

cups

fat free beef stock

1

large

onion

-

(diced)

4

stalks of celery

-

(diced)

2

large

carrots

-

(diced)

4

cloves of garlic

-

(minced)

1

tbsp

olive oil

1

tbsp

dried parsley

2

tsp

dried thyme

1

tsp

ground cumin

2

tbsp

balsamic vinegar

Salt and pepper to taste
Instructions
Heat oil in a large pot or Dutch oven over medium high heat. Add in celery and onions, and cook for about 2 minutes.

Add in ground beef, and cook until meat is browned and cooked through, about 5 minutes.

Stir in garlic, parsley, thyme, cumin, and salt & pepper. Cook for another 1-2 minutes.

Add in lentils, carrots, and 4 cups of broth and stir well. Bring to a simmer, then turn heat to low, cover, and let simmer for 60 minutes. Lentils should become tender.

Now stir in quinoa and remaining cup of broth. Cover and cook for another 30-40 minutes, or until quinoa is completely cooked and tender.

Turn off heat and stir in balsamic vinegar. Season with additional salt and pepper as desired.
Notes
The entire recipe makes 6 servings
The serving size is about 1 1/2 cups
Nutrition
Calories:
334
kcal
(17%)
Carbohydrates:
28.8
g
(10%)
Protein:
33
g
(66%)
Fat:
8
g
(12%)
Saturated Fat:
2
g
(13%)
Cholesterol:
60
mg
(20%)
Sodium:
554
mg
(24%)
Potassium:
450
mg
(13%)
Fiber:
9
g
(38%)
Sugar:
3.5
g
(4%)
Calcium:
510
mg
(51%)
Iron:
1.1
mg
(6%)