As temperatures drop and the holidays come to an end, the new year is a great time to start fresh. Eating healthy dishes is one of the most popular resolutions for 2023 and this orange pomegranate salad with honey is sure to fill your kitchen with delicious aromas. Both sweet and tart, this salad combines seasonal winter flavors like oranges, pomegranates, and honey that will satisfy any appetite.
This salad only takes 10 minutes to prepare, making it a great choice for busy weeknights. Using fresh ingredients and minimal mess, you can whip up a delicious and healthy side dish in no time.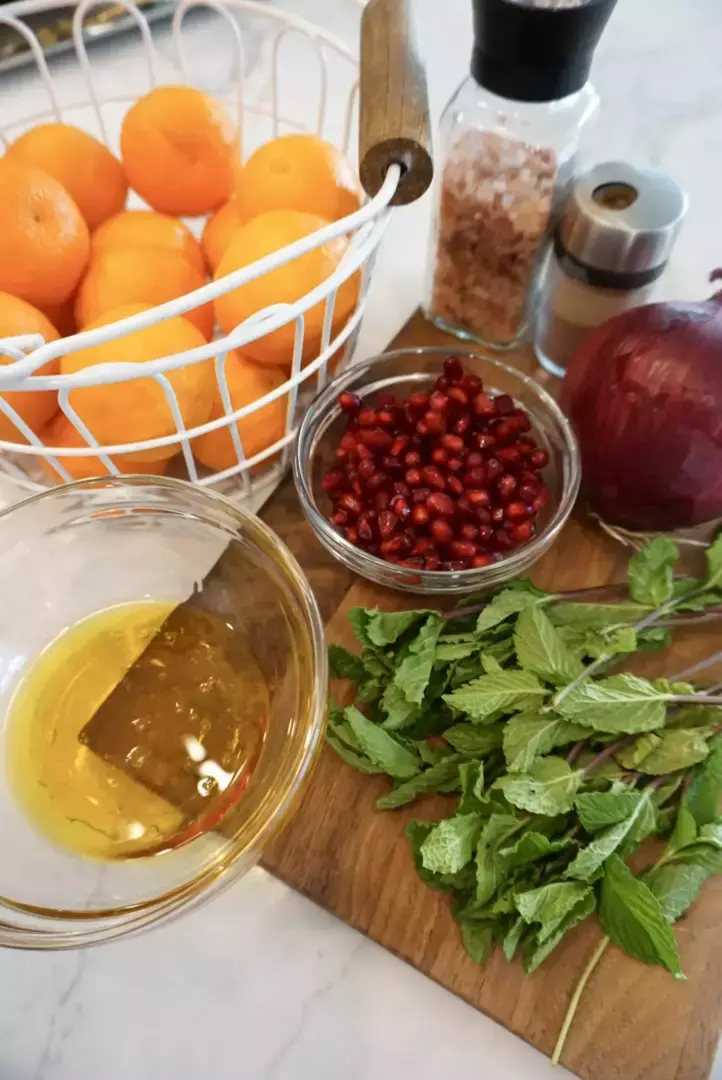 Is Pomegranate Healthy?
Pomegranate consumption has been linked to reducing inflammation and fighting cancer, heart disease, and arthritis. The powerful antioxidant properties found in the fruit have been known to reduce oxidative stress, which can lead to premature aging. Pomegranates also contain high levels of vitamin C, potassium, and fiber which contribute to improved digestion and general well-being.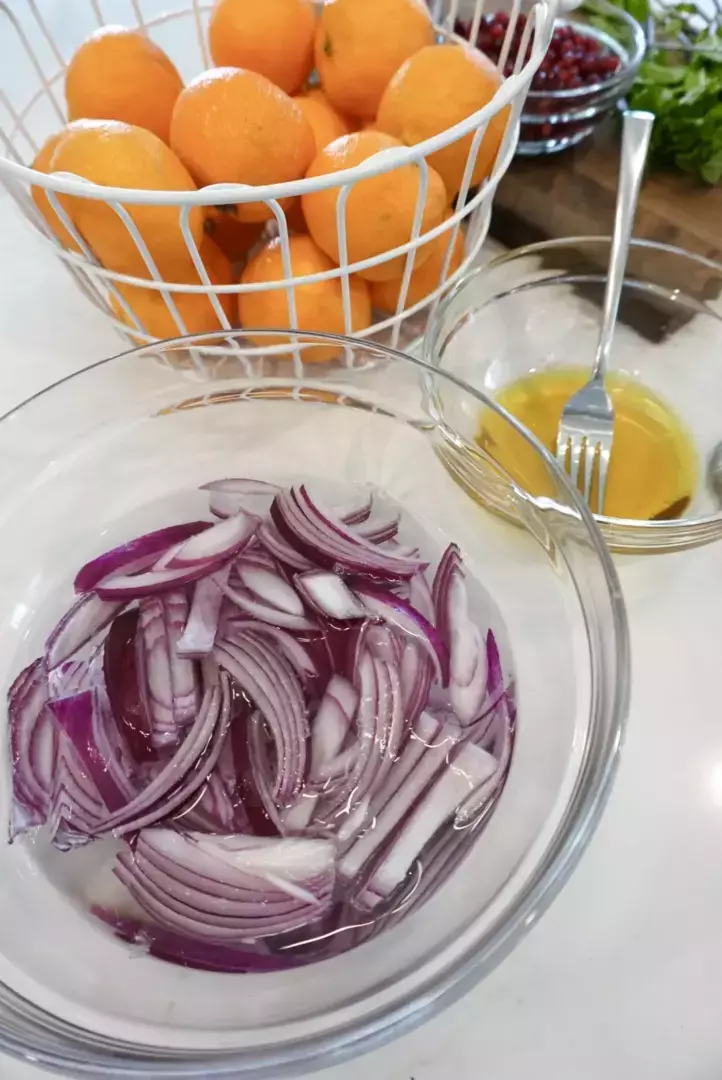 In addition to these physical health benefits, research has suggested that consuming pomegranate juice can help improve one's mental health by boosting mood and reducing anxiety levels. With its vast array of nutritional value, it is no wonder why pomegranates are considered a superfood!
Can I Use Fresh Pomegranate?
This recipe calls for pomegranate seeds, as it makes it a bit easier and removes a few steps that are required when using fresh pomegranate. But – can you substitute fresh pomegranate seeds instead of prepackaged seeds? The answer is yes! When substituting fresh pomegranate for the seeds in a recipe, it is important to consider how much juice and pulp may be released into the dish. They may carry more moisture and add excess liquid to the recipe.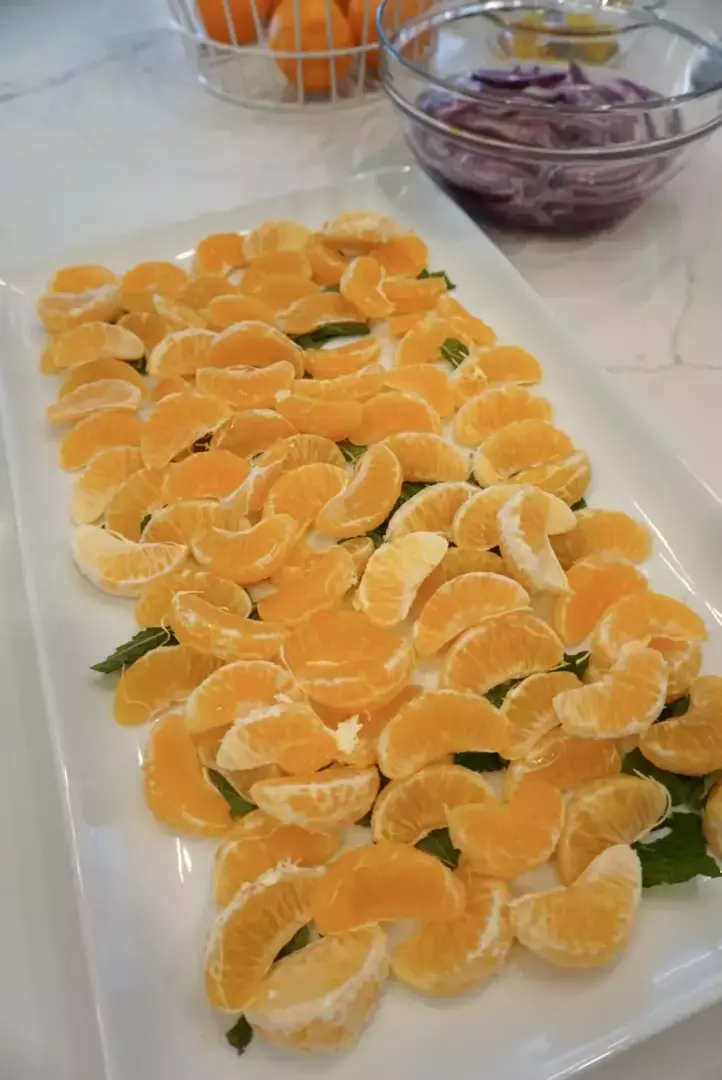 If using fresh pomegranate in place of the seeds, start by cutting the fruit in half and then scoop out all of the seeds into a dish. It's possible that some juice will escape from the fruit while doing this; if too much liquid has been released, you can always strain it away before adding it to the salad. The fresh arils can then be used as a replacement for pre-packaged dried or frozen pomegranate seeds.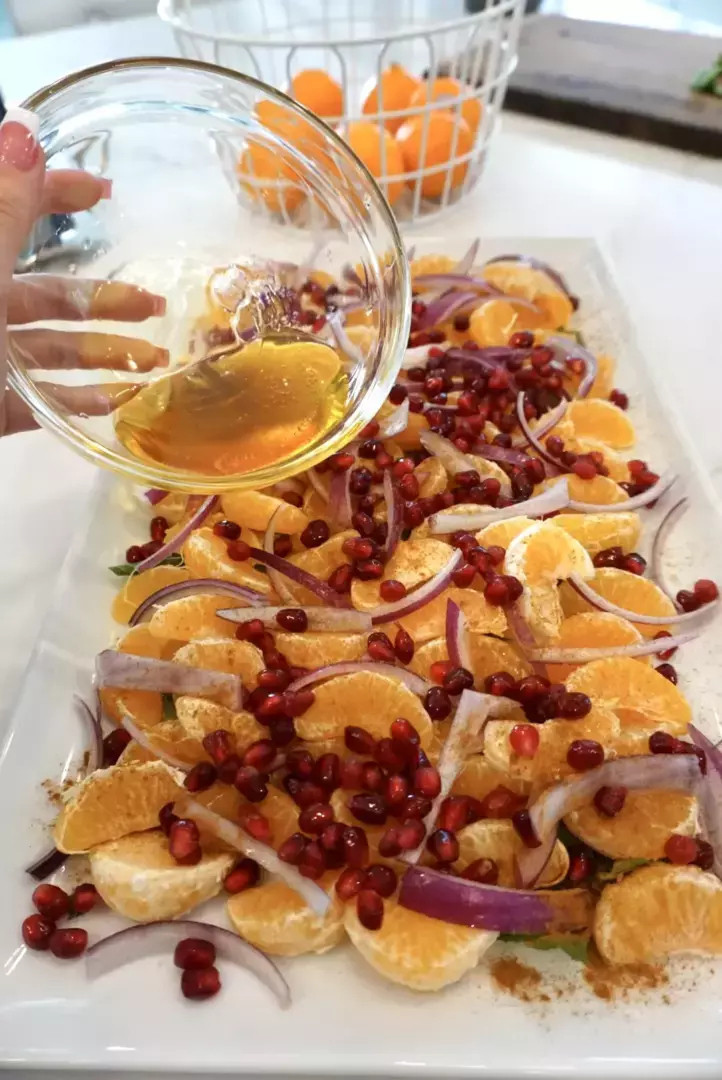 Perfect Pairings for Orange Pomegranate Salad
Because of this salad's bright colors and refreshing flavors, it complements well with entrees that are primarily protein-based, such as chicken, steak, fish, or lamb. Check out some of these awesome recipes that would pair perfectly with this crisp salad.
Moroccan Beef & Lamb Meatballs: These meatballs are a popular dish that is a favorite in so many households. The flavors from the orange salad are the perfect balance to the bold flavors from the meatballs.
Lebanese Grilled Chicken Kebabs: These grilled chicken kebabs combine delicious flavors from the middle east that will leave your mouth watering.
Broiled Salmon in Wine Dijon Sauce: This salmon recipe is a healthy and scrumptious dish that is perfect for any occasion. The dijon sauce adds the perfect complement of flavors to this entree.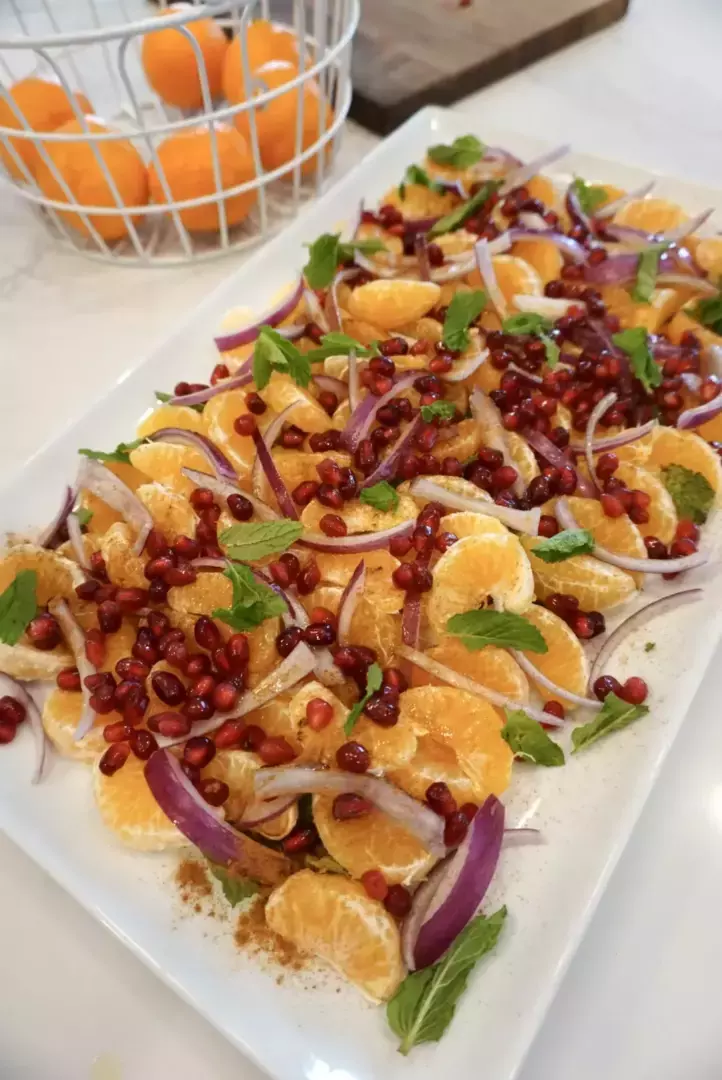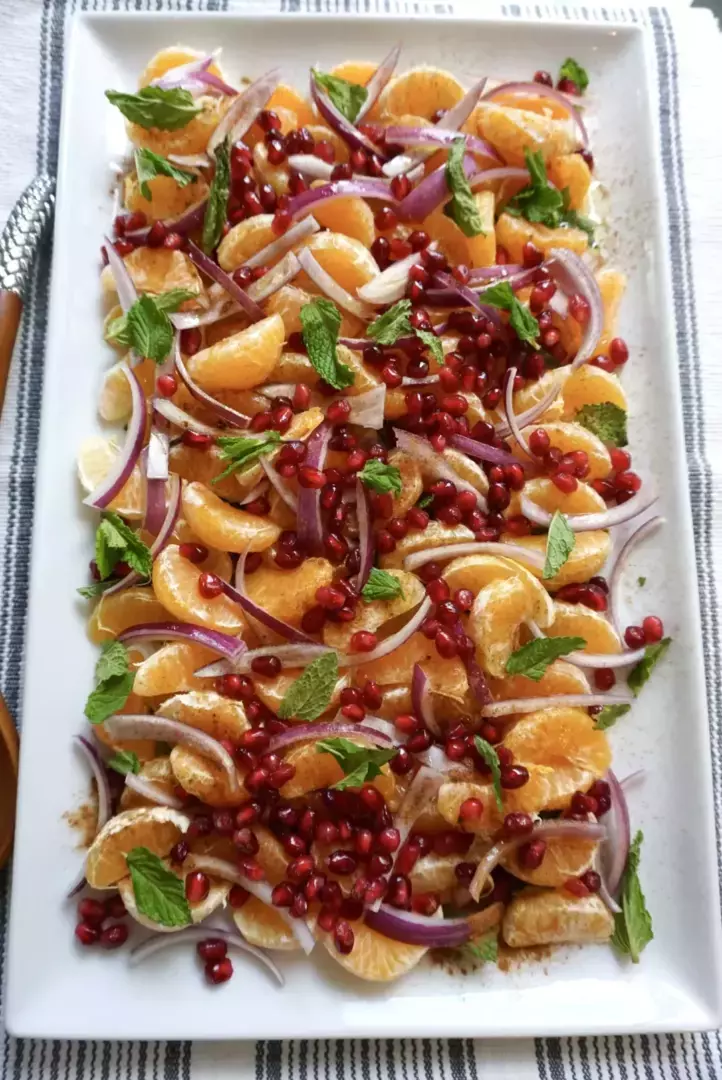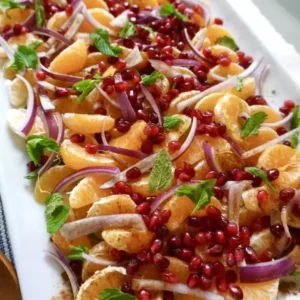 Orange Pomegranate Salad Recipe
This easy-to-make recipe is full of nutrient-packed ingredients that are essential for a balanced diet. Oranges are rich in vitamin C while pomegranates contain powerful antioxidants that help reduce inflammation. When combined, these ingredients make a refreshing dish perfect for lunch or dinner that everyone can enjoy. This salad is suited for almost any diet, as it is vegan, dairy-free, gluten-free, and paleo.
Ingredients
5

oranges or 10 clementines

-

peeled

1

small red onion

-

thinly sliced

1

cup

fresh mint leaves

-

chopped

½

cup

pomegranate seeds

Dash salt

Dash of ground cinnamon

Dash of sweet paprika
Dressing:
1

lime

-

juiced

1

tablespoon

olive oil

1

tablespoon

honey
Instructions
First, make the dressing. In a small bowl, mix the lime juice, olive oil, and honey together and set aside.

Take the sliced onions and place them in a bowl of ice-cold water. Allow them to soak for 10 minutes. Then, remove the onions and dry them completely.

Take a serving platter and evenly arrange half of the chopped mint leaves on the platter. Then, place the orange slices and the onions on top.

Sprinkle a dash of salt, paprika, and cinnamon on top. Next, evenly spread out the pomegranate seeds over the entire arrangement.

Drizzle the dressing over the salad and top with the remaining mint leaves.

Set aside for 5 minutes before serving to allow the dressing to exert its flavors into the fruit.
Notes
Storage Instructions:
This salad is best enjoyed fresh, but it can be stored in an air-tight container for up to 3 days. If you prefer to prep this salad in advance to serve at a later time, I recommend keeping the dressing separate and drizzling on top a few minutes before serving. Make sure to shake the dressing up to ensure that there is no separation!
Nutrition
Serving:
0.5
cup
Calories:
148
kcal
(7%)
Carbohydrates:
33
g
(11%)
Protein:
2
g
(4%)
Fat:
3
g
(5%)
Saturated Fat:
0
g
Polyunsaturated Fat:
0
g
Monounsaturated Fat:
2
g
Cholesterol:
0
mg
Sodium:
10
mg
Fiber:
5
g
(21%)
Sugar:
23
g
(26%)