Admittedly, I'm not as big of a salad eater as I'd like to be. Don't get me wrong, I like salads. But as an entree, I almost always prefer something else. And I often think that salads can be predictable, and maybe even a bit boring. But every now and then, I hit on a salad that I just cannot stop eating. And this Grilled Chicken and Roasted Butternut Squash Salad with Tahini Dressing is it.
Not only is the flavor combination going to blow your mind, but the fact that it is hearty enough and is so filling and satisfying, really had me gaining a new perspective on salads.
Now I find myself fantasizing about the next time I'm going to eat it! And once you try it, you're going to feel the same way.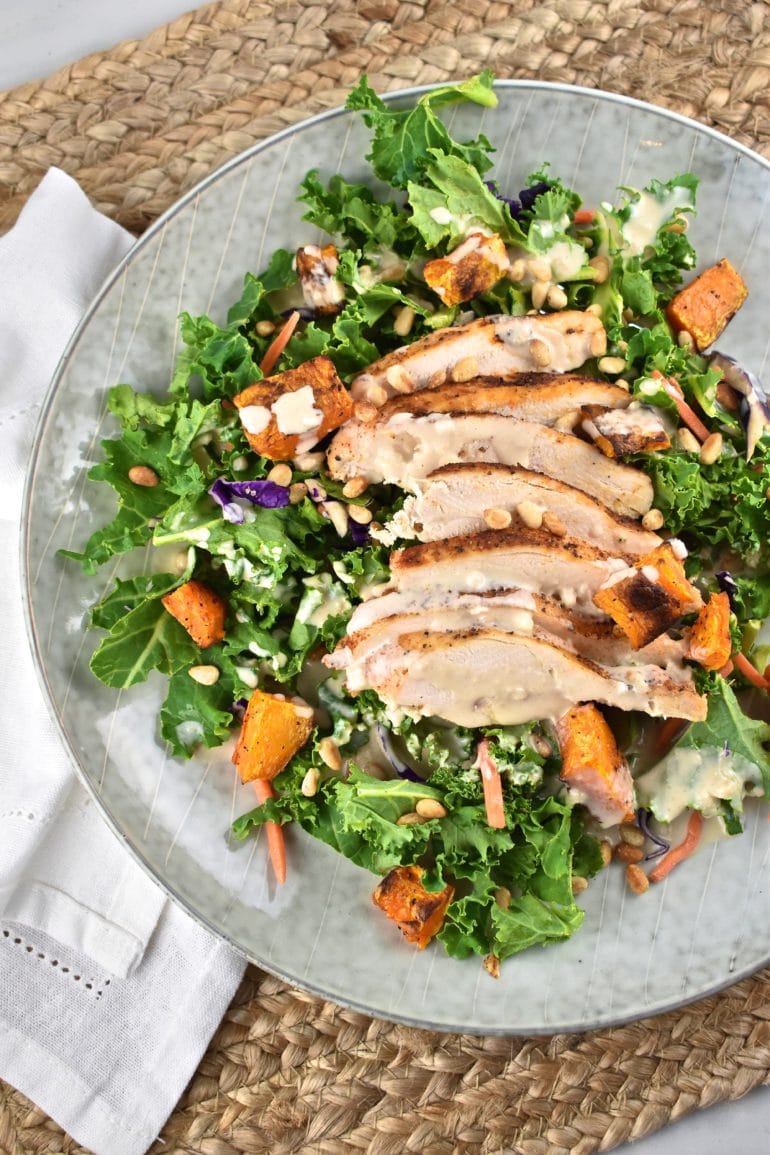 I've always adored butternut squash, but I tend to just eat it alone, roasted, with nothing more than salt and pepper to season it. Simple, but DELISH. What's not to love about butternut squash? It has tons of fiber and vitamin A is low in calories, and has zero fat. And its tender, buttery flavor is to die for. I'm hooked on it.
The simple act of roasting the butternut squash is one of the steps that really makes this salad come to life. That beautiful, caramelized crust that the roasting imparts just can't be matched.
But I feel like butternut squash is often overlooked, because people don't want to take the extra effort to peel, seed, and dice it. I get it. It's an intimidating looking vegetable. And it takes some work to get it to the table. But the flavor that it brings to this salad is so worth it!
PRO TIP: Don't want to learn how to peel a butternut squash? Or just don't want to deal with it? Many grocery stores now carry fresh containers of it already peeled, seeded, and diced! For an extra buck or two, you can pick up one of those, and save yourself the squash work. Just make sure NOT to use the frozen butternut squash – your squash will still end up pretty and mushy and soggy after roasting.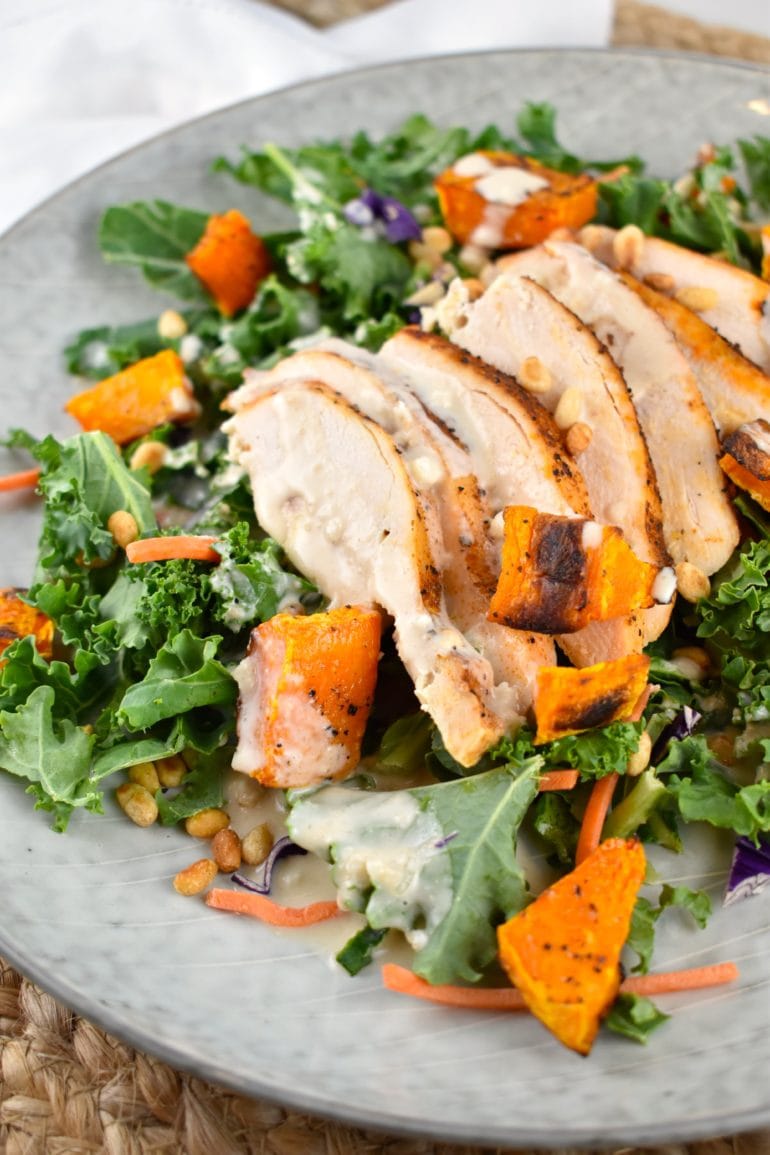 Once that butternut squash is roasted, the bulk of your work is done, and you can get this salad put together in less than 15 minutes.
Adding the chicken gives a nice boost of protein, and the toasted pine nuts bring a nice, buttery crunch. And the homemade tahini dressing is what pulls all of these beautiful flavors and textures together!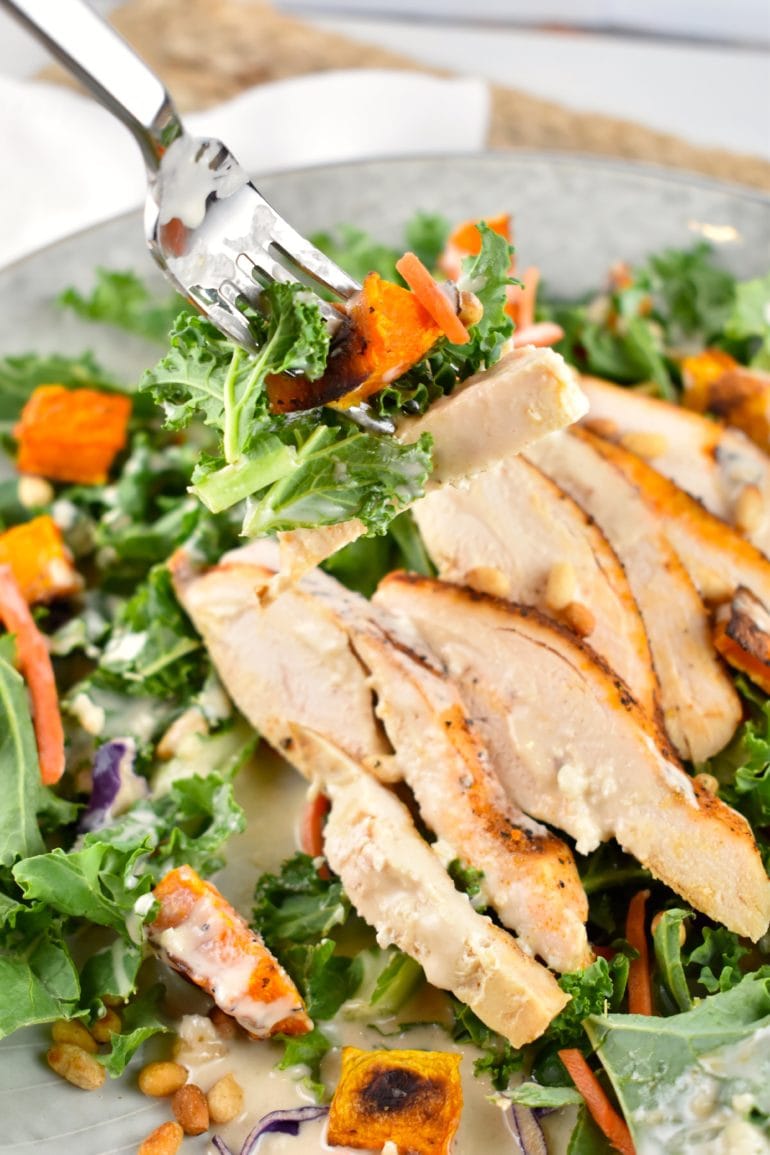 WHAT IS TAHINI?
Tahini is a paste made from sesame seeds, and it looks a lot like peanut butter. When mixed with other ingredients, it's often served as a dressing or dip. And it's one of the main ingredients in hummus. Tahini is packed with vitamins and minerals, and even delivers a nice dose of protein and fiber. It has a beautiful, nutty flavor, and can be used in lots of different ways.
I'm a HUGE fan of tahini and I always keep a jar on hand.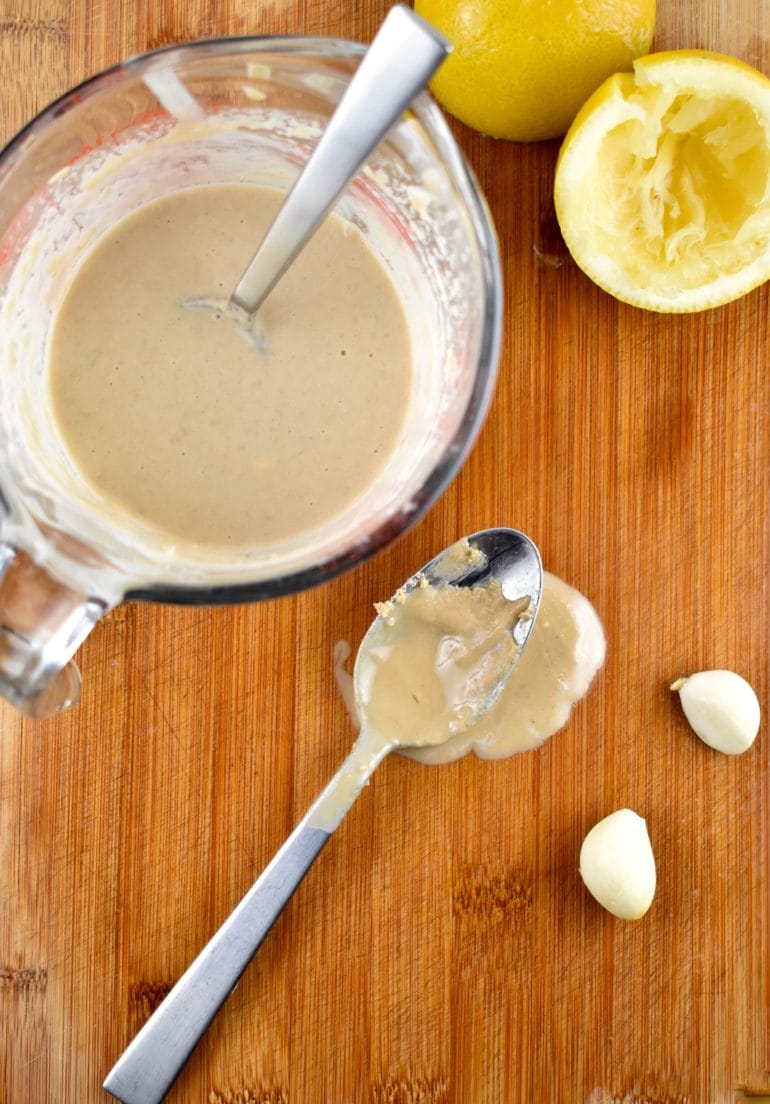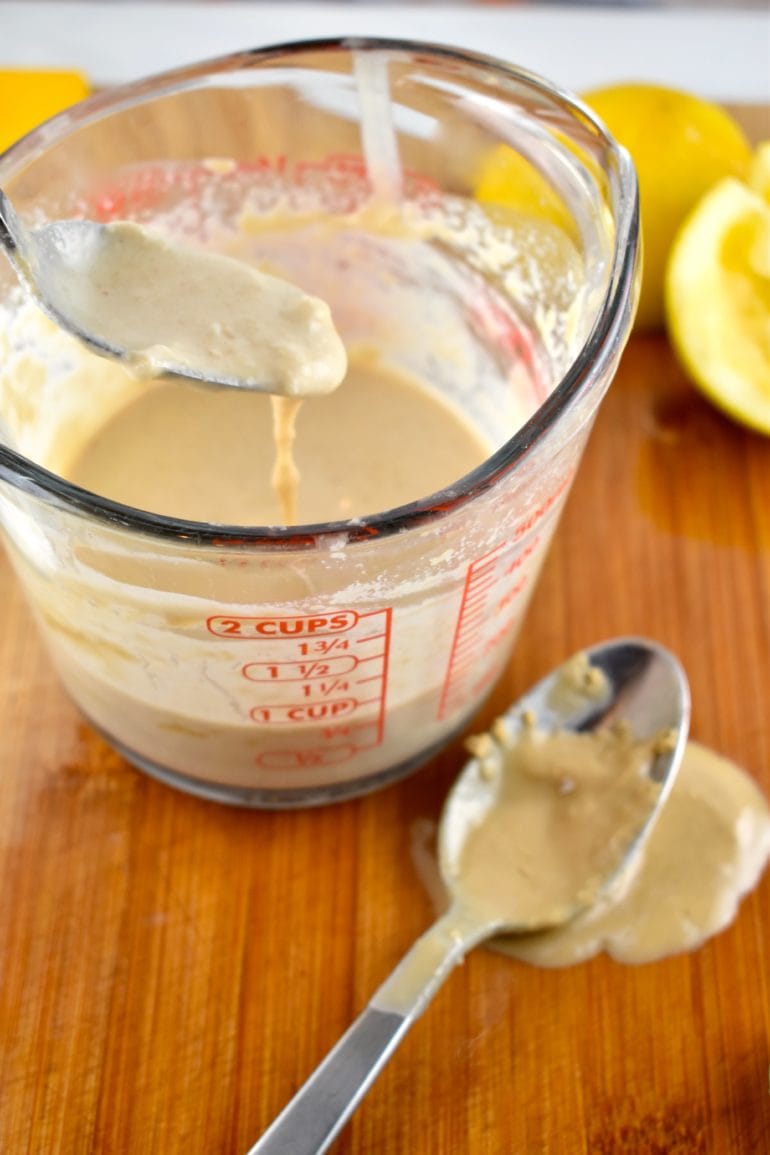 There are SO many ways you can customize this salad too. If you'd rather serve this as a side dish, just eliminate the chicken. Not a fan of kale? Try arugula or butter lettuce. Don't care for pine nuts? Use toasted walnuts or candied pecans instead. Want a little sweetness with all that savory goodness? Try adding some pomegranate seeds, dried cranberries, or fresh sliced pears or apples.
Seriously – no limit to what can be done here!! Get creative and have fun. The amount of delicious options is endless. Any way you serve it, this Grilled Chicken and Roasted Butternut Squash Salad is one incredibly impressive and delicious meal!
TRY THESE OTHER DELICIOUS SALAD RECIPES!
Mexican Street Corn Salad
Egg and Chickpea Salad
Asian Broccoli Salad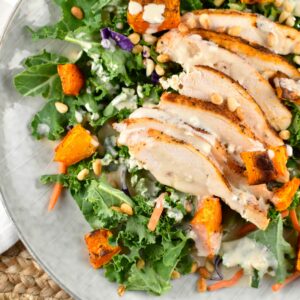 Grilled Chicken and Roasted Butternut Squash Salad with Tahini Dressing Recipe
A rustic salad that is substantial enough to be served as an entree. Fresh kale greens, topped with grilled chicken, roasted butternut squash, drizzled with a zesty lemon tahini dressing, and topped with toasted pine nuts. Flavorful and bursting with nutrition.
Ingredients
FOR THE DRESSING
3

tbsp

tahini

2

garlic cloves

-

(minced)

1-2

tbsp

water as needed

Juice of 1 lemon

Salt to taste
FOR THE SALAD
1

lb

chicken breast

-

(cooked - grilled or roasted)

1

large butternut squash

-

(peeled, halved, seeded, and diced)

2

tsp

olive oil

1

package of kale salad mix

-

(about 10 - 12oz)

¼

cup

pine nuts

-

(toasted)

Juice of ½ a lemon

Salt to taste
Instructions
TO MAKE THE DRESSING
Combine all ingredients in a small bowl and whisk well. Add water tablespoon by tablespoon until desired consistency is reached.
TO MAKE THE SALAD:
Heat oven to 425 and line a rimmed baking sheet with parchment paper.

Toss the diced squash with olive oil and spread in an even layer on the prepared baking sheet. Season with salt and pepper.

Roast, stirring occasionally, until the squash is tender and slightly caramelized, about 30-35 minutes. Remove from oven and allow to cool for at least 15 minutes.

Place kale salad in a large bowl. Squeeze lemon juice over the salad and sprinkle with a bit of salt. Massage the salad using your hands, just enough to soften it slightly and to evenly distribute the lemon juice and salt.

Divide the salad mix evenly between 4 serving plates. Top each evenly with cooked chicken breast, and butternut squash. Drizzle dressing evenly over salads. Sprinkle with pine nuts and serve.
Notes
The entire recipe makes 4 servings
The serving size is about 3 cups
Nutrition
Calories:
322
kcal
(16%)
Carbohydrates:
22
g
(7%)
Protein:
30.5
g
(61%)
Fat:
16
g
(25%)
Saturated Fat:
1.4
g
(9%)
Cholesterol:
73
mg
(24%)
Sodium:
111
mg
(5%)
Potassium:
1196
mg
(34%)
Fiber:
4.1
g
(17%)
Sugar:
3.4
g
(4%)
Calcium:
160
mg
(16%)
Iron:
3.8
mg
(21%)