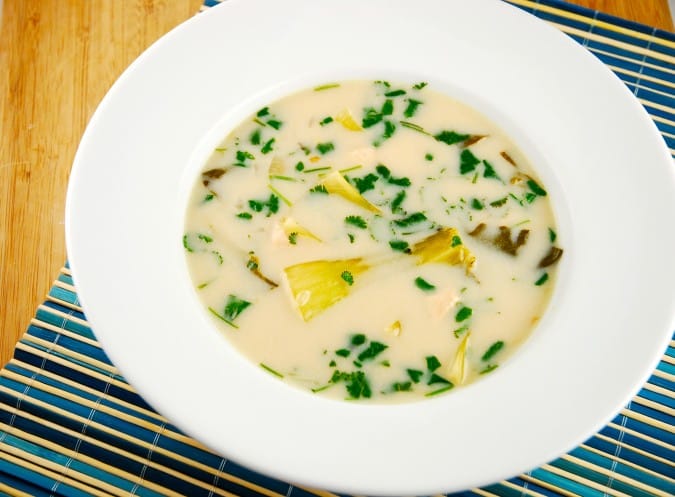 Well, here we are…my last recipe post of 2013. I CANNOT believe a whole year has flown by already! And I know that for many of us, the start of the new year means the start (or re-start) of a new healthy eating and weight loss plan. So, as we say goodbye to 2013, let me leave you with this delicious Coconut Lime Chicken Soup Recipe that is sure to warm you up on a cold winter's day. Soup is a GREAT food to help fill you up without using a lot of Weight Watchers Points, and I always like to try and eat some before going to a big party/dinner/event where I will be tempted by lots of yummy, high fat foods. I love this Coconut Lime Chicken Soup because it is so incredibly flavorful and fresh while still tasting light and revitalizing. And each serving is just 3 Points +! Have a nice sized bowl of this with your favorite salad for a light and healthy lunch, or serve it as an appetizer before dinner to help satiate your appetite. It's absolutely delicious and very easy to prepare. The serrano peppers can make it a bit spicy, so if you'd prefer it less spicy, just use one or half of one. Enjoy!
And since I won't be posting again until next year, I want to take a moment thank you all for an incredible 2013….I'm so glad that we all have each other to support and encourage through the struggle of weight loss, as it can seem an insurmountable task to accomplish alone. You have all been an incredible inspiration to me, and I am happy to be able to share my recipes with such a fabulous group of readers. I wish you all a safe and healthy New Year's! Here's to a wonderful new year…2014….LET'S DO THIS!!!!!
Happy New Year, everyone!!!