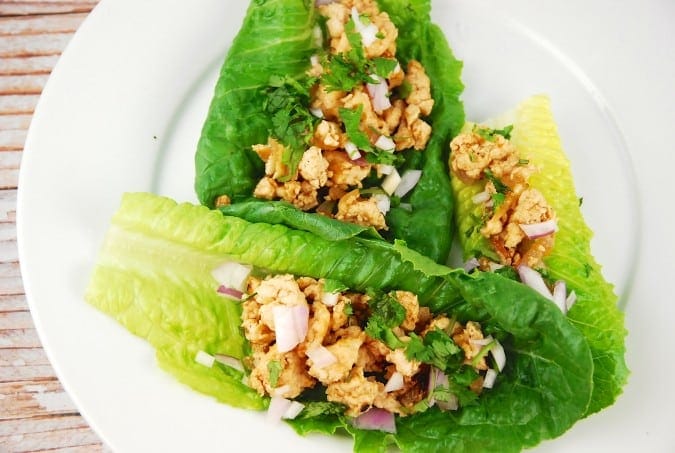 For those of us trying to eat low carb, these Thai Chicken Lettuce Cups are a perfect carb-free recipe that is super easy and quick to make, but also tastes absolutely amazing. Ground chicken breast is sautéed with wonderful Thai spices and are then served atop fresh, chilled lettuce leaves. I used romaine leaves with this, so it's more like Thai Chicken Lettuce Boats, but butter lettuce and iceberg lettuce also work really well if you want more of a "cup-like" form. Each 2 lettuce boat/cup serving is just 5 Points. On e word of caution…these Thai Chicken Lettuce Cups are incredibly addictive, and you may fid yourself craving that at 1am while watching Netflix…just sayin'.
Thai Chicken Lettuce Cups
Boldly flavored Thai-spiced ground chicken is served casually in fresh lettuce leaves for a delicious, low carb meal. Light, yet satisfying, they are amazingly addictive.
Ingredients
2 lbs ground chicken breast
12 medium sized romaine lettuce leaves
1 tbsp olive oil
1 tbsp sesame oil
1 small red onion, finely chopped
4 cloves garlic, minced
1 1/2 tbsp fresh ginger, grated
3 tbsp fish sauce
2 tbsp soy sauce
2 tbsp honey
1/2 cup cilantro, finely chopped
1 tbsp thai chili paste (not in oil)
Zest and juice from 2 small limes
Salt and pepper to taste
Instructions
Wash romaine leaves and set aside on a paper towel to dry.
Heat olive oil in a large skillet over medium high heat. Add in ginger and onions. Cook for about 2-3 minutes. Then add in garlic and cook for another minute.
Add in ground chicken, and cook, breaking apart with a wooden spoon, until half way cooked through.
Stir in sesame oil, fish sauce, soy sauce, honey, lime zest, lime juice and chili paste. Continue cooking, while breaking apart with wooden spoon as needed, until chicken is fully cooked through, about another 5-7 minutes. Season with salt and pepper as desired.
Spoon into lettuce cups, garnish with fresh cilantro, and serve.
Preparation time: 5 minute(s)
Cooking time: 10 minute(s)
Diet tags: Low calorie, Reduced fat, Reduced carbohydrate, High protein, Gluten free
Number of servings (yield): 6
Culinary tradition: Thai
Calories: 218
Fat: 6g
Protein: 33g
Entire recipe makes 6 servings
Serving size is 2 medium lettuce cups with approx 1/3 cup ground chicken
Each serving = 4 Smart Points/5 Points
PER SERVING: 218 calories; 6g fat; .8g saturated fat; 9g carbohydrates; 5.9g sugar; 33g protein; 1g fiber