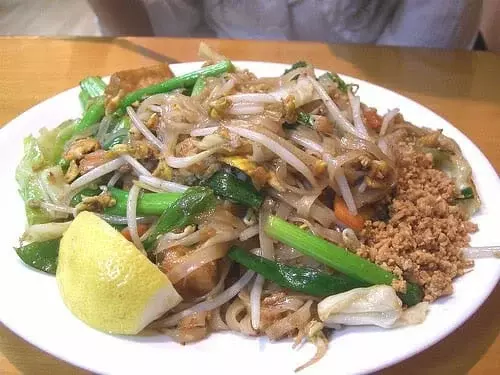 photo credit: taste defined
Lately, I've had a non-stop craving for Weight Watchers Thai food recipes, and I've managed to find a much healthier version of one of my favorite Thai food staples – Chicken Pad Thai. It's a pretty simple recipe that really tastes amazing and even though it's 9 Points per serving, it has waaaaaay less fat and calories than the traditional Pad Thai recipes. I could have made it a few points less, but it was important to me to keep the peanut oil and peanuts, so as not to lose the flavor integrity of the dish. And if you'd rather have a Vegetarian Pad Thai Recipe, just sub out the chicken for tofu or shrimp. So if you need to get your Thai food craving satisfied, give this recipe a try!
Chicken Pad Thai Recipe
This low calorie Pad Thai Recipe with Chicken, is so delicious and yet has so much less PointsPlus than traditional chicken Pad Thai Recipes. It's a great healthy meal idea to help satisfy your craving for Thai food, while still keeping you on track with Weight Watchers.
Ingredients
6oz chicken skinless, boneless chicken breast, chopped into bite size pieces
4 oz dried rice noodles
1/4 cup egg beaters
2 cups bean sprouts
1/2 cup sliced scallions
1/4 cup shallots, minced
4 cloves garlic, minced
4 tbsp rice vinegar
2 tsp peanut oil
1 tsp salt
2 1/2 tablespoons fish sauce
2 tbsp chopped dry-roasted peanuts
2 tbsp fresh cilantro, finely chopped
1 tbsp sugar
1 1/2 tsp chili-garlic sauce
Instructions
In a large bowl, soak rice noodles in warm water until they are limp and white, about 20 minutes.
Heat oil over high heat in a wok until very hot. Add the shallots and garlic and stir-fry until golden, about 10 seconds.
Add the egg and cook, stirring, until scrambled, about 30 seconds. Add chicken and stir-fry until mostly cooked through, about 5 minutes
Drain the noodles and add to the wok, tossing with tongs until they soften and curl, about 1 minute.
Add bean sprouts, cilantro, scallions, vinegar, fish sauce, sugar , salt and chile-garlic sauce; toss until the chicken is fully cooked and noodles are heated through, 1 to 2 minutes.
Sprinkle with peanuts and serve immediately.
Cooking time (duration): 45
Diet (other): Reduced fat, High protein
Number of servings (yield): 3
Meal type: dinner
Culinary tradition: Thai
Entire recipe makes 3 servings
Serving size is 1 ¼ cups
Each serving = 9 Points
PER SERVING: 323 calories; 6g fat; 49 g carbohydrates; 25 g protein; 3 g fiber