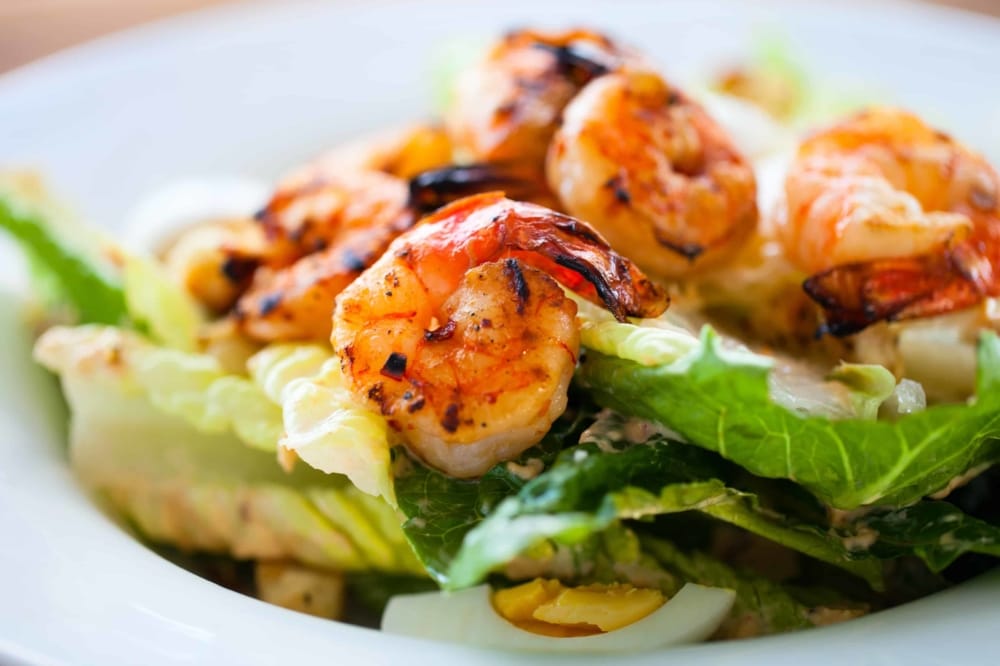 This shrimp salad is a favorite. It's full of flavor, simple, delicious and perfect for a summer meal. The shrimp are marinated before they're cooked, so they have a spicy Creole flavor that goes so well with the mild salad. Grilling the asparagus and peppers add flavor and a wonderful look to the salad. Drizzle on the lemon juice to keep everything bright and beautiful. This meal is elegant and will definitely become a family favorite.
A simple and delicious shrimp salad that is elegant and beautiful.
Ingredients
Salad
4 cups romaine lettuce leaves, chopped or torn
3/4 lb asparagus, washed and chopped into 1 inch long pieces
1 large red bell pepper, chopped into large chunks
1 tsp olive oil
Salt & pepper
1/2 lemon
1/2 cup low fat feta cheese
1 lb shrimp, peeled and deveined
Marinade
1/2 cup beer (use gluten free beer if needed)
1/4 cup olive oil
1 Tbsp hot sauce
1/2 stalk fresh rosemary
5 cloves garlic, minced
1 lemon, squeezed and sliced
1/4 cup Worcestershire sauce
Instructions
Combine the marinade ingredients and shrimp in a large ziploc bag and marinade in the fridge for at least 1 hour. The longer they marinade, the more flavor they will have.
Drizzle the asparagus and pepper with olive oil and season with salt and pepper.
Place the asparagus and pepper in a grill pan or aluminum foil and grill for about 10 minutes.
Skewer the shrimp onto flat skewers and grill until they are opaque.
Evenly divide the lettuce onto four plates.
Top with the asparagus and peppers.
Place the shrimp on top and sprinkle with feta.
Drizzle on olive oil (if desired) and lemon juice.
Serve immediately.
Preparation time: 10 minute(s)
Cooking time: 15 minutes (+ 1 hr marinade)
Diet tags: Low calorie, Gluten free
Number of servings (yield): 4
Culinary tradition: USA (Southern)
Calories: 219
Fat: 8.7
Protein: 23
Entire recipe makes 4 servings
Serving size is about 1 2/3 cups (including 4 oz shrimp)
Each serving = 6 Smart Points/5 Points
PER SERVING: 219 calories; 8.7g fat; 3.2 saturated fat; 14.5g carbohydrates; 4.4g sugar; 22g protein; 4.5g fiber