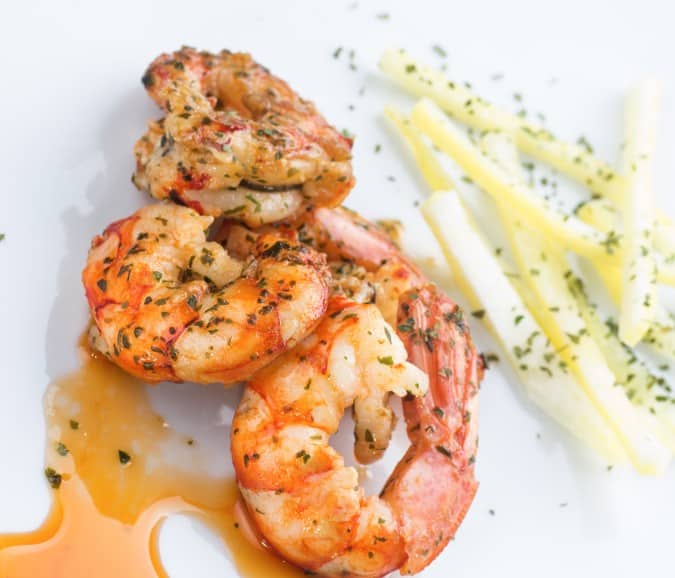 Shrimp scampi is a popular restaurant dish. It's made with garlic and oil or butter then broiled. It's delicious, don't get me wrong, but it's also pretty unhealthy. Anything broiled in butter, doesn't exactly lend itself to being healthy. However, this garlic herb shrimp is a perfect substitute. It's delicious and full of flavor, but without the broiling in butter – you'll love it. I usually saute the shrimp in a skillet, but you can also grill the shrimp. If you're pining for some pasta to go along with your garlic herb shrimp, add zucchini noodles to it. It's simple and delicious.
A delicious and light alternative to shrimp scampi. Instead of broiling the shrimp in butter, add the seasonings and lightly saute the shrimp. You get just as much flavor for half of the points!
Ingredients
1 1/2 lbs shrimp
5 cloves garlic, minced
½ tsp ground mustard
1.4 tsp seasoned salt
¼ tsp red pepper flakes
1/8 tsp pepper
2 Tbsp fresh parsley, minced
1 Tbsp fresh tarragon, minced
1 Tbsp oil
¼ cup lemon juice
Instructions
Combine the shrimp, garlic, mustard, salt, peppers, parsley and tarragon in a large bowl and toss to coat the shrimp with the herb mixture.
Cook in a skillet with the oil until the shrimp turns opague, about 4 – 5 minutes.
Sprinkle with lemon juice and serve hot.
Preparation time: 5 minute(s)
Cooking time: 10 minute(s)
Diet tags: Low calorie, Reduced fat, High protein, Gluten free
Number of servings (yield): 6
Culinary tradition: Italian
Calories: 165
Fat: 6.5
Protein: 23.3
Entire recipe makes 6 servings
Serving size is about 4 -5 shrimps.
Each serving = 3 Smart Points/4 Points
PER SERVING: 165 calories; 6.5g fat; .6g saturated fat; 2.2g carbohydrates; .3g sugar; 23.3g protein; .2g fiber