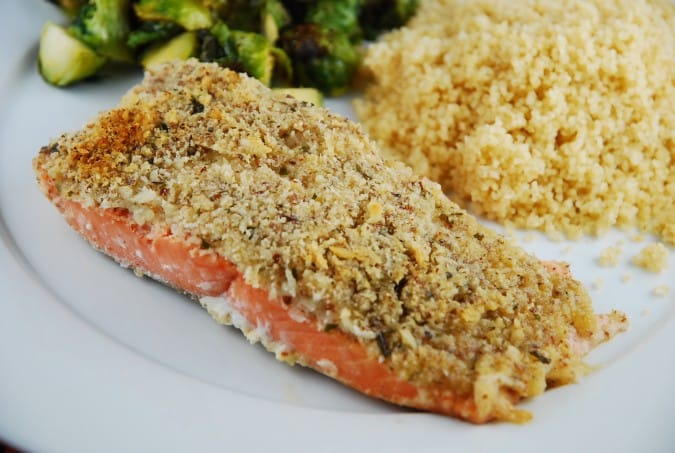 I have recently created my new, most favorite Weight Watchers Salmon Recipe ever….this Almond Breaded Salmon is nothing short of mouth-watering perfection. The tender and moist salmon is topped with a lemony, buttery almond based breading that literally just melts in your mouth. For the breading, I used a combination of almond meal (which I found at Trader Joe's) and panko breadcrumbs for an incredibly soft, nutty coating, that is loaded with fiber and heart healthy fats. If you can't find almond meal, just place whole, raw almonds in a food processor, and process until they become breadcrumb-like in texture. Each of serving is just 7 Points, so serve it with some roasted veggies and/or a light salad or a soup for a very satisfying meal. This Almond Breaded Salmon is a must make!
Almond Breaded Salmon
Moist, juicy and wonderfully flavored, this Weight Watchers salmon recipe is my absolute favorite. The almond based breading adds such a wonderful, comforting feel to this dish, while keeping it light and packing it with additional nutrients.
Ingredients
2 lbs salmon fillets
2 tbsp light butter
Juice from 1 lemon
1/2 cup Panko breadcrumbs
1/2 cup almond meal
1 tbsp dried parsley
1 tsp onion powder
1 tsp garlic powder
Salt and peper to taste
Instructions
Preheat oven to 425 degrees. Spray a baking dish with cooking spray or an olive oil mister.
In a small bowl, combine Panko, almond meal, parsley, garlic powder, onion powder, and salt & pepper. Mix well and set aside.
Place salmon into the baking dish, skin side down, and salt and pepper it generously.
Squirt lemon juice evenly all over the salmon. Then spread the butter evenly over top of the salmon.
Now sprinkle the almond meal mixture over top of the salmon, pressing it firmly to coat.
Place in oven and bake for 8-10 minutes or until salmon is cooked through. Cut into 6 equally sized portions and serve.
Preparation time: 10 minute(s)
Cooking time: 10 minute(s)
Diet type: Pescatarian
Diet tags: Low calorie, Reduced fat, Reduced carbohydrate, High protein
Number of servings (yield): 6
Culinary tradition: USA (Southern)
Calories: 305
Fat: 14.5g
Protein: 35g
Entire recipe makes 6 servings
Serving size is 1/6th of salmon (1 cut fillet)
Each serving = 7 Points
PER SERVING: 305 calories; 14.5g fat; 5g carbohydrates; 35g protein; 1g fiber