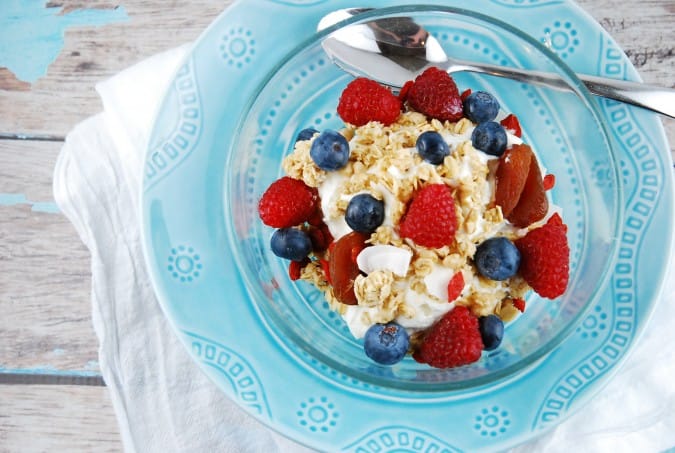 Recently, this gourmet yogurt parfait has been one of my staple breakfast meals. It takes just minutes to make and it is SO good and filling! The creamy and tangy yogurt are complemented by the sweet, crunchy granola and the sweet, chewy dried fruit. I often use plain yogurt in this Weight Watchers breakfast recipe too, because I really like the contrast of flavors. But if you prefer your yogurt to be a bit more sweet, you can stick with the vanilla flavored. This is really a versatile parfait…you can use whatever type of granola and fruit you'd like. My personal favorite is Nature's Path Coconut Chia Granola. And for dried fruit, I used dried apricots and goji berries, but again, just about any kind of dried fruit will work well. Just avoid any that have added sugars. When I have extra Points to spend, I'll even toss in some sliced almonds or sunflower seeds. If I eat this yogurt parfait for breakfast, I'm totally full and satisfied until lunch – it's a pretty big serving! A very well spent 8 Points. Enjoy!
Yogurt Granola Parfait
A delicious and very satisfying yogurt parfait that packs a powerful punch of nutrition and really fills you up. The combination of flavors and textures make this easy breakfast recipe a real treat.
Ingredients
6oz non-fat Greek vanilla flavored yogurt
1/4 cup granola cereal (I used Nature's Path Coconut Chia Granola)
1/4 cup dried fruit mix
1/4 cup blueberries and raspberries
Instructions
Place yogurt into a bowl and top with remaining ingredients.
Preparation time: 5 minute(s)
Cooking time:
Diet type: Vegetarian
Diet tags: Reduced fat, High protein
Number of servings (yield): 1
Culinary tradition: USA (General)
Calories: 324
Fat: 3.5g
Protein: 18g
Entire recipe makes 1 serving
Serving size is about 1 3/4 cup
Each serving = 10 Smart Points/8 Points
PER SERVING: 294.43calories; 4.16g fat; 1.97g saturated fat; 54.21g carbohydrate; 12.38g sugar; 12.26g protein; 3.43g fiber