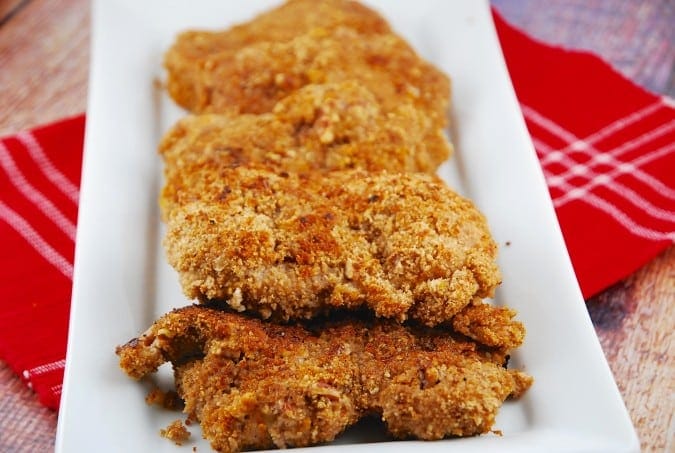 In this delicious and easy Weight Watchers Chicken Recipe, standard chicken breasts get a serious facelift with a wonderful, crispy, spicy crust coating. Chopped buttery pecans and whole wheat panko breadcrumbs are blended with chipotle pepper seasoning and orange zest to add a wonderful, nutty and spicy crust. The coated chicken fillets are then pan fried with barely any oil at all, relying on the natural fats of the pecans to help the frying process. The end result is a healthy and incredible flavorful chicken dish that offers a buttery crisp, with a hint of citrus and a kick of heat. All this mouth-watering flavor for just 6 Points per serving!
Spicy Pecan Crusted Chicken
These wonderful, crispy, spicy, nutty coated chicken breasts make an easy and delicious Weight Watchers dinner recipe. A hint of orange and a kick of chipotle seasoning give this meal a lot of pizzazz.
Ingredients
2 lbs skinless, boneless chicken breasts cuts into 6 fillets
1/2 cup chopped pecans
1 cup whole wheat panko breadcrumbs
2 tsp ground chipotle pepper
1 tbsp orange zest
2 large egg whites
Salt and pepper to taste
Instructions
Using a mallet, flatten each chicken fillet to about 1/3" thickness.
Place pecans, panko, orange zest, chipotle, and salt & pepper in a food processor, and pulse until the pecans are crumbled well and the mixture is uniformly breadcrumb-like. Pour into a shallow dish.
Dip each piece of chicken into the egg whites, gently shake off the excess, and then dredge in the pecan breadcrumb mixture. Coat well.
Spray a large, nonstick skillet with an olive oil mister or cooking spray, and set over medium high heat. Add the chicken, cover, and cook until browned on the outside and no longer pink in the middle, about 3-4 minutes per side. Serve immediately.
Preparation time: 15 minute(s)
Cooking time: 15 minute(s)
Diet tags: Low calorie, Reduced fat, Reduced carbohydrate, High protein
Number of servings (yield): 6
Culinary tradition: USA (General)
Calories: 279
Fat: 9g
Protein: 35g
Entire recipe makes 6 servings
Serving size is 1 fillet
Each serving = 6 Smart Points/6 Points
PER SERVING: 270calories; 9g fat; 2.31g saturated fat; 10.5g carbohydrate; 1.56g sugar; 35g protein; 1.8g fiber