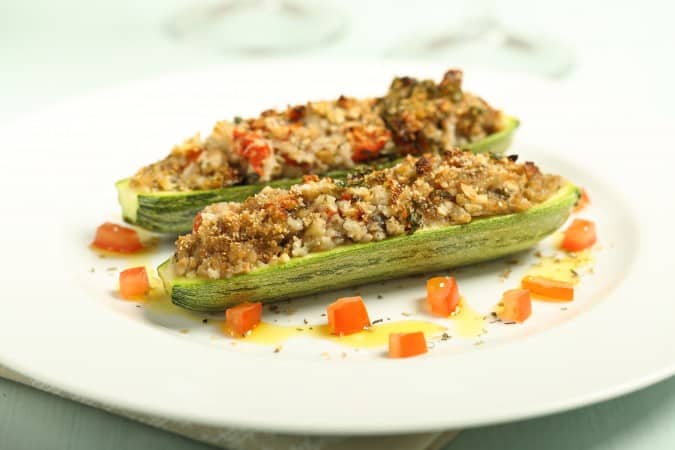 This is the time of year that everyone is starting to have a lot of zucchini. All of my friends and family are desperately trying to give away more zucchini to me. For me, actually, that works really well, since our two huge zucchini plants this year only have two tiny little zucchini on them. The downside is figuring out what to do with the zucchini. Chocolate zucchini cake is always a good bet, but so are these stuffed zucchini boats. They not only look adorable, but they are easy and delicious. The sweet onion and buttery breadcrumbs provide a perfect filling, that's made rich and delicious with a little cheese. The best part – you get two zucchini halves for only 3 points +!
These zucchini boats are easy and delicious, filled with sweet onion, breadcrumbs and mozzarella. They're sure to please everyone, as a side dish or an appetizer.
Ingredients
4 medium zucchini
Salt & Pepper to taste
2 Tbsp butter
1 medium sweet onion, chopped
1 garlic clove, minced
1 medium tomato, diced finely
1/3 cup dry breadcrumbs
1/2 cup mozzarella cheese, shredded
Instructions
Preheat the oven to 375 degrees F and lightly grease a baking sheet.
Slice the ends off each zucchini and then slice them in half.
Hollow out a cavity in the middle.
Chop the pulp from the zucchini and set aside.
Saute the onion and garlic in the butter for 5 minutes over medium heat.
Season with salt and pepper and add the chopped zucchini pulp. Cook for 3 minutes.
Add the tomato and breadcrumbs and cook for an additional minute.
Evenly divide the mixture into the zucchini halves and top with the shredded cheese.
Bake for 8 – 10 minutes, or until the zucchini boats are tender.
Serve hot.
Preparation time: 5 minute(s)
Cooking time: 20 minute(s)
Diet type: Vegetarian
Diet tags: Low calorie
Number of servings (yield): 4
Culinary tradition: USA (General)
Calories: 171
Fat: 6.7
Protein: 8.7
Entire recipe makes 4 servings
Serving size is about 1 zucchini (2 halves).
Each serving = 6 Smart Points/3 Points
PER SERVING: 171 calories; 6.7g fat; 5.1g saturated fat; 21g carbohydrates; 6.2g sugar; 8.7g protein; 3.6g fiber