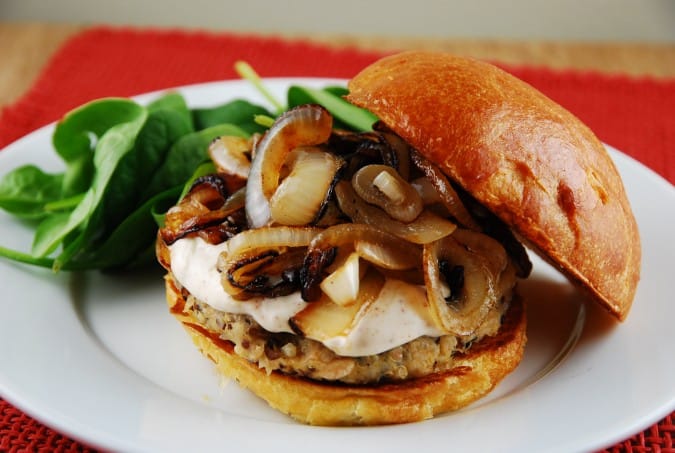 Vegetarians, you may just want to marry me after eating this burger. It is UNBELIEVABLY good. I am not a vegetarian, and I'd eat this quinoa burger a million times over again. Granted, this is a 9 Points Weight Watchers Recipe, BUT, because the burger patty is made with quinoa and white beans, it's incredibly filling. I also used a real brioche bun, to give it that added gourmet flair. You could shave off another Point or two by using a sandwich thin or another light bread roll. The caramelized onions really give it a that extra something special, and the chipotle lime mayo ties it all in perfectly. It's truly a unique Weight Watchers Quinoa Recipe like you've never had before. Pair it with a light salad, roasted veggies or a low calorie soup for a complete meal. This vegetarian burger recipe is a must try, folks.
Quinoa Burgers with Caramelized Onions and Chipotle Lime Mayo
These fantastic quinoa burgers are as incredibly delicious and filling, as they are beautiful! It's a Weight Watchers vegetarian recipe for those who crave a hearty, satisfying meal with a gourmet flair.
Ingredients
For the burgers:
8 high fiber rolls or hamburger buns (I used Eli's Bread Brioche Hamburger Rolls)
1 cup uncooked quinoa
1 cup cannelini beans, drained and rinsed
1/2 cup Panko breadcrumbs
1/4 cup liquid egg substitute
4 garlic cloves, minced
1/2 cup reduced fat Mexican cheese blend, shredded
1/2 tsp paprika
1 tsp coriander
1 tsp salt
1/2 tsp black pepper

For the Caramelized Onions:

2 large yellow onions, thinly sliced
1 tbsp light butter
1/2 cup beer (I used Samuel Adams Winter Lager)
For the Chipotle Lime Mayo :
6 oz plain, nonfat Greek yogurt
Juice and zest from 1 lime
1 tbsp reduced fat mayonnaise (I like Vegenaise)
1 tsp ground chipotle pepper (or more, to taste)
Salt to taste
Instructions
Cook quinoa according to package directions.
While quinoa is cooking, place beans in a large bowl, and mash well with a fork. Add in cooked quinoa, cheese, egg, panko, garlic, paprika, coriander, and salt & pepper. Mix well with hands. Form into 8 patties, place on a plate, cover with plastic wrap and place in the refrigerator for at least 3 hours.
To make chipotle lime mayo, combine the yogurt, mayonnaise, lime juice, lime zest, chipotle pepper, and salt together in a small bowl. Cover and refrigerate for at least 1 hour.
Caramelize onions by melting butter in a large, non-stick skillet over medium high heat. Add in onions and cook for about 15 minutes, or until all the onion are softened. Add in beer, and cook, stirring frequently, until all the beer has evaporated. Place onions into separate bowl and set aside.
Lightly mist it a large skillet with an olive oil mister or cooking spray and set over medium high (I just use the same skillet). Place quinoa patties into the heated pan, and cook until golden and browned, about 4-5 minutes per side.
Transfer cooked burgers to a plate, and then place burger buns face down on skillet to toast the inside of the buns a bit, about 1minute.
Assemble burgers by placing one patty on each bun, topping it with about 1 tbsp of chipotle lime mayo, and equal amounts of caramelized onions.
Preparation time: 15 minute(s)
Cooking time: 20 minute(s)
Diet type: Vegetarian
Diet tags: Low calorie, Reduced fat
Number of servings (yield): 8
Culinary tradition: USA (Nouveau)
Calories: 359
Fat: 8.5g
Protein: 16g
Entire recipe makes 8 servings
Serving size is 1 burger
Each serving = 9 Points
PER SERVING: 359 calories; 8.5g fat; 52g carbohydrates; 16g protein; 6g fiber