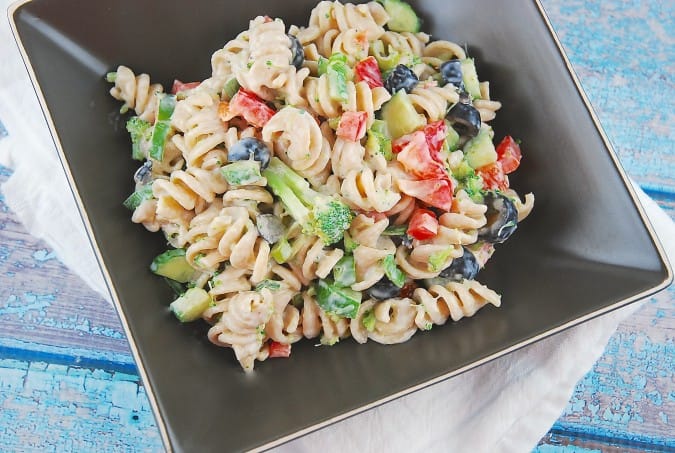 Nothing says summer bbq to me like a good, old fashioned pasta salad. Growing up, they were at EVERY family bbq and I've grown accustomed to expecting them. Over the years, I've experienced a variety of pasta salads, but my favorite was always the creamy/sweet/tangy one. But the traditional version of this pasta salad recipe is very heavy on the mayo and sugar, making it pretty high in Weight Watchers Points, as well as cholesterol! My healthier version makes just a couple changes to make it lighter and lower in Points, but still delicious. First of all, I used a whole wheat pasta – that's a no-brainer. Then, I subbed out most of the mayo for a fat free Greek yogurt. But I had to keep some mayo to maintain the taste and texture, so I used my favorite mayonnaise alternative – Reduced Fat Vegenaise instead. You can really use just about any veggies you want in this Weight Watchers Pasta Salad Recipe – I just used what I traditionally knew as the most popular ingredients for it. And it turned out to be everything I hoped for…crunchy vegetables with a creamy, sweet, and slightly tangy dressing. Perfect!
Creamy Summer Pasta Salad
Creamy, crunchy, sweet and tangy, this easy pasta salad has all the flavors and textures you need for that perfect Weight Watchers summer side dish. Its healthy and delicious while still only 6 Points per serving.
Ingredients
8oz whole wheat pasta
2 medium cucumbers, diced
1 red bell pepper, diced
1 cup broccoli, chopped
1 small red onion, diced
1 3-4oz can sliced black olives,drained
1/2 cup plain, non-fat Greek yogurt
1/4 cup reduced fat mayonnaise (I used Vegenaise)
1 tbsp sugar
2 tbsp white vinegar
Salt & pepper to taste
Instructions
Cook pasta according to package directions. Right before removing the pasta from the heat, add broccoli to the water, and cook for about 45 seconds. Drain pasta and broccoli, and rinse well with cold water.
Place pasta and broccoli in a large bowl and add in bell pepper, onions, cucumber and black olives. Toss to combine.
In a small bowl, whisk together the yogurt, mayo, sugar, vinegar and salt & pepper. Pour over pasta salad and toss well to coat. Cover and refrigerate until ready to serve.
Preparation time: 15 minute(s)
Cooking time: 15 minute(s)
Diet type: Vegetarian
Diet tags: Low calorie, Reduced fat
Number of servings (yield): 6
Culinary tradition: USA (Southern)
Calories: 2315
Fat: 6g
Protein: 8g
Entire recipe makes 6 servings
Serving size is about 1 cup
Each serving = 7 Smart Points/6 Points
PER SERVING: 215calories; 6g fat; 1g saturated fat; 37g carbohydrate; 6g sugar; 8g protein; 6g fiber