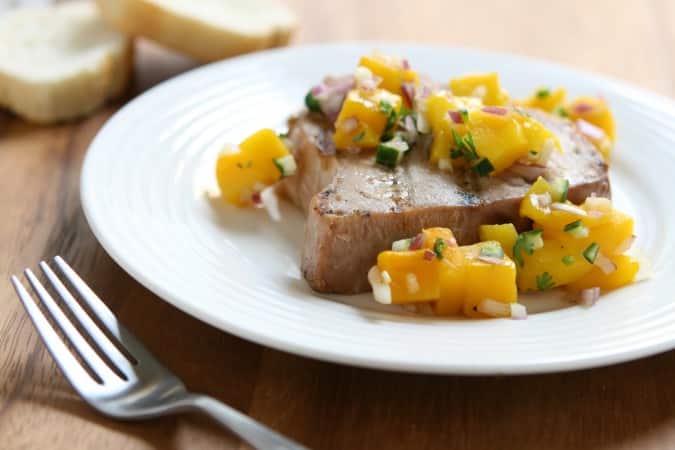 My husband and I recently went tuna fishing with his parents. It wasn't the best fishing trip. I don't have the patience for fishing (it's so boring), and the seas were a bit rough, so half of us got seasick. We also didn't catch anything. What it did do, was give me the desire to have some grilled tuna. The first recipe I wanted to try was this one with mango salsa. Fish and fruit go well together since the fish is usually mild and the sweet and juicy fruit sets it off nicely. This is really wonderful and so simple to make. Just make sure you don't over cook the tuna. It's easy to do, and it'll turn out really dry. The center of the tuna should be a little pink still. Give this tuna and mango salsa a try. It's perfect for a date night with your significant other – add some grilled vegetables and you've got an elegant and delicious meal.
This grilled tuna is delicious and simple. Top the tuna steaks with sweet and juicy mango salsa. This is a low fat, high protein meal is wonderful, easy and elegant. It's great for a date night, or just a simple evening meal.
Ingredients
4 tuna fillets (4 oz each)
1 Tbsp olive oil
Salt & Pepper
Mango Salsa:
1 mango, peeled and diced
1 Tbsp jalapeno, finely chopped
1/3 cup red onion, diced
1 Tbsp lime juice
1/3 cup cilantro leaves, roughly chopped
Salt & Pepper
Instructions
Brush the tuna with the olive oil and season with salt and pepper.
Grill the tuna over medium high heat for 4 – 6 minutes per side, depending on desired doneness.
Let the tuna rest, covered, for 5 minutes before serving.
While the tuna is grilling, prepare the salsa.
Combine all the ingredients in a bowl and mix until well combined.
Season to taste with salt and pepper.
Chill until serving.
To serve: top the tuna with the salsa.
Preparation time: 10 minute(s)
Cooking time: 10 minute(s)
Diet tags: Low calorie, Reduced fat, Reduced carbohydrate, High protein, Gluten free
Number of servings (yield): 6
Culinary tradition: USA (General)
Calories: 176
Fat: 5
Protein: 24
Entire recipe makes 4 servings
Serving size is about 1 tuna fillet (4 oz) with 1/3 cup salsa.
Each serving = 4 Smart Points/4 Points
PER SERVING: 176 calories; 5g fat; .8g saturated fat; 8g carbohydrates; 7.7g sugar; 24g protein; 1g fiber