There are always those days when you really feel like you need something a little…classy. The stand by hamburger helper or spaghetti just won't cut it. Whenever I feel like I need a little bit of a fancy dinner, I whip up this Italian Herbed Chicken in a Creamy Mushroom Wine Sauce. Let me tell you, it's just the ticket.
I had something similar once at an Italian restaurant in Los Angeles, and I was blown away by how rich and flavorful this dish was. It was so good that it immediately went on my list to make a healthy, but equally delicious, knockoff recipe.
One of the things that I almost always have to do when I make a knockoff recipe is to lighten it up. My goal is always to lighten the recipe without sacrificing the flavor or feel of the dish. You know what I mean…there are just those dishes that feel decadent.
Now, I might have lightened this up, but I was definitely keeping the red wine sauce. First of all, I love ANY sauce with red wine in it. Seriously, I will just eat it all up with my spoon…and then lick the plate (if I can get away with it).
If you don't like to cook with alcohol, that's fine, but you should know the sauce won't be quite as rich and delicious. Red wine adds a depth of flavor that you really can't get with chicken broth.
First, red wine sauce, next, a red wine sauce simmered with milk and parmesan cheese. It's heavenly. Of course, most of the time, cream sauces are made with heavy whipping cream.
But since I didn't feel like blowing my entire day's Points on one sauce, I lightened it up a bit. I used reduced fat milk (2%) and a little cornstarch to achieve the same consistency and flavor as the cream. The advantage is that it's got a LOT less saturated fat and calories. Plus, many of us keep reduced fat milk on hand, so you don't have to get special ingredients for one recipe.
The sauce is just made better by the fact that you deglaze the pan you cooked the chicken in. The chicken is seasoned liberally with basil, oregano, thyme and parsley. Seasoning the chicken and then cooking them allows the seasonings to flavor the chicken. But, there's always a little left in the pan afterward.
When you deglaze the pan with the wine (after sautéing the garlic and mushrooms), you get to keep all those delicious flavors from the spices and pan-fried chicken.
My kids ate this over steamed rice, with a side of roasted brussels sprouts. It was so good! It's not the fastest meal you can make, since it takes a little while to cook up the chicken and then cook up the sauce but trust me – it's worth every minute.
If you want to up your chicken dinner game, try this Italian Chicken in a Creamy Mushroom Wine Sauce. You'll wow your whole family!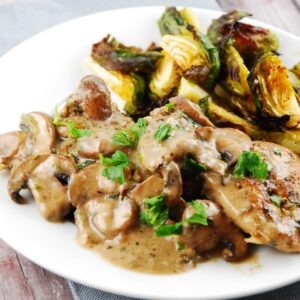 Italian Herbed Chicken in a Creamy Mushroom Wine Sauce Recipe
Tender, juicy chicken thighs sautéed in Italian herbs, and simmered in a velvety, creamy wine sauce that has been dramatically lightened up while still tasting incredibly decadent.
Ingredients
1 ½

lbs

chicken thighs

-

(skinless, boneless)

8

oz

mushrooms

-

(sliced)

1 ½

tbsp

olive oil

1

tsp

dried basil

1

tsp

dried oregano

1

tsp

dried thyme

1

tsp

dried parsley

4

garlic cloves

-

(minced)

1

cup

2% milk

½

cup

red wine

¼

cup

Parmesan cheese

-

(grated)

1

tbsp

cornstarch

2

tbsp

fresh parsley

-

(chopped)

Salt and pepper to taste
Instructions
Preheat oven to 400 degrees.

In a large bowl, toss chicken thighs with 1 tbsp olive oil until evenly coated. Add in the dried basil, oregano, thyme, parsley, and salt & pepper. Toss well to coat. Heat remains 1/2 tbsp olive oil in a large skillet over medium high heat. Add in the chicken, and sear chicken thighs until golden and crispy on each side (about 3-4 minutes each side). Transfer the skillet to the oven, and roast until chicken is entirely cooked through, about 20-25 minutes.

Remove chicken from skillet, leaving the juices in the skillet, and return skillet to medium high heat. Sauté the garlic in the pan juices for about 1 minute, then add in the mushrooms and a bit more salt. Cook until the mushrooms begin to soften a bit.

Add in the wine, and sauce until wine reduces by half.

Reduce heat to medium, and pour in the milk. Bring to a gentle simmer, stirring occasionally, and being careful not to boil. Mix cornstarch with 1 tbsp of water, and pour it into the pan, and continue to simmer while quickly stirring the mixture through until the sauce thickens.

Add in the parmesan cheese and allow sauce to simmer for a further minute until cheese melts throughout. Add the chicken back into the pan and allow to simmer for another 1-2 minutes. Sprinkle parsley over chicken, and serve.
Notes
The entire recipe makes 6 servings
The serving size is about 1 chicken thigh with sauce
Nutrition
Calories:
294
kcal
(15%)
Carbohydrates:
6.1
g
(2%)
Protein:
36
g
(72%)
Fat:
11.1
g
(17%)
Saturated Fat:
2.8
g
(18%)
Cholesterol:
101
mg
(34%)
Sodium:
164
mg
(7%)
Potassium:
462
mg
(13%)
Fiber:
0.6
g
(3%)
Sugar:
2.7
g
(3%)
Calcium:
90
mg
(9%)
Iron:
3.1
mg
(17%)