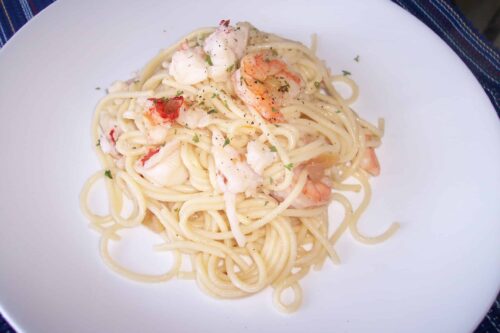 I absolutely love seafood. I started creating some scampi recipes that did not have butter in them to see what they would taste like and I was pleasantly surprised. This lobster and shrimp scampi is the perfect dish to have at the end of the week when you have some points to use. It is delicious. Some recipes use all parts of the lobster, but I prefer to use the tails, especially if I want to reduce time in the kitchen. I have found it easier to check the tenderness of the tails verses the whole lobster. I used regular organic pasta noodles. You certainly can use whole wheat or whole grain pasta as I have done that with shrimp scampi. But I do prefer the regular pasta for this recipe.
Although this recipe is higher in points, it's made without the butter and heavy oil. This lobster and shrimp scampi recipe may seem like it has many steps, but it really is easy to prepare and worth the wait.
Ingredients
8 oz Spaghetti uncooked
2 lobster tails small size
12 peeled and deveined shrimp, large size
3 garlic cloves, minced
¾ cup dry white wine
¾ cup low-sodium chicken broth
¼ cup lemon juice
3 tbsp Extra Virgin Olive Oil
2 tbsps fresh minced parsley (or dry)
2 tbsps fresh ground pepper
Instructions
Prepare spaghetti according to directions on box.
When pasta is done save about ¼ cup of the pasta water and drain the rest.
In a 3-quart or large saucepan bring about 6 cups of salted water to a boil and add lobster tails.
Simmer lobster tails uncovered about 8-12 minutes or until the shell is bright red (you can poke a fork in the meat to check to see if it is tender).
Once the lobster tails are done; drain and add cold water to cool them.
You will need to crack open the shells and pull out the lobster meat (I give them a quick rinse to make sure all the shell and pieces or rinsed off).
In a large nonstick skillet, add olive oil and heat on medium-high.
Saute shrimp and cook until shrimp is just pink or coral color, about 2-3 minutes.
Add the garlic and cook stirring constantly, about 1 minute.
Transfer shrimp to a large dish and keep warm (I cover the dish with foil).
In the skillet, combine the broth, wine, lemon juice, parsley, the salt and pepper; and bring it to a boil.
Boil uncovered about 5 minutes.
Chop up lobster meant into small pieces and add both lobster and shrimp to the sauce; mix well.
In a large pasta bowl add pasta and scampi sauce; mix well.
If the pasta seems a little dry, you can add the left over pasta water, if not, you can throw it out.
(Optional) You can top with shredded Parmesan cheese; but you must recalculate and update your points.
Preparation time: 20 minute(s)
Cooking time: 25-30 minute(s)
Diet tags: Reduced fat, High protein
Number of servings (yield): 4
Culinary tradition: Italian
Calories: 393
Fat: 9
Protein: 27
Entire recipe makes: 4 servings
Serving size is about: ½ cup serving
Each serving = 10 Points +
PER SERVING: 393 calories; 9 g fat; 47 g carbohydrates; 27 g protein; 2.1g fiber