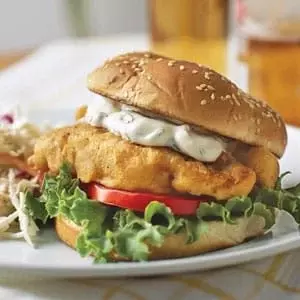 Fried fish sandwiches are SO incredibly good. But typically, they are dripping with grease and loaded with extra and unnecessary fat and calories. So when I found this Weight Watchers Fish Sandwich Recipe for the Momentum Plan, I was really excited to give it a try! I made a few alterations to it, knocked a whole Point off the original recipe and added more fiber. And it turned out really, really GOOD!!! It's technically not "fried" – it's a baked fish sandwich recipe. But it delivers a very similar (if not, better) taste and has a LOT less fat and calories. Plus the fact that it packs in so much protein and fiber makes it an excellent Momentum Recipe to incorporate into your Weight Watchers New Year's Diet Plan! Serve it up with some tasty 1 Point Butternut Squash French Fries, and you've got yourself one AMAZINGLY yummy low Weight Watchers Points meal!
Weight Watchers Momentum Plan "Fried" Fish Sandwich Recipe
Ingredients:
– 1 spray olive oil cooking spray, or enough to coat pan and fish
– 1/2 cup Fiber One cereal, ground to a powder like consistency
– 1 tsp garlic powder
– 1 tsp onion powder
– 1 tsp paprika
– 1 /12 tsp salt
– 1/2 tsp pepper
– 1 1/4 pound cod fillet, (four 5 oz pieces)
– 1/4 cup Dijon mustard
– 4 medium sized mixed-grain hamburger rolls
– 8 pieces lettuce
– 4 slices onion
– 1 small tomato, sliced
Directions:
Preheat oven to 400ºF. Coat a large baking sheet with olive oil cooking spray.
Combine Fiber One crumbs, garlic powder, onion powder, paprika, salt and pepper in a shallow dish. Coat both sides of each cod fillet with mustard and then turn fish in Fiber One crumbs mixture to coat. Arrange fillets on baking sheet and spray surface with cooking spray. Bake until fish is fork-tender and coating is golden brown, about 20 minutes.
Place fish on rolls and top each with 2 lettuce leaves and 1/4 of tomato and onion slices.
** I also topped each sandwich with a tablespoon of McCormick's Fat Free Tarter Sauce (this did not increase Points value)
Serving size is 1 Sandwich
Each Serving = 5 Weight Watchers Points